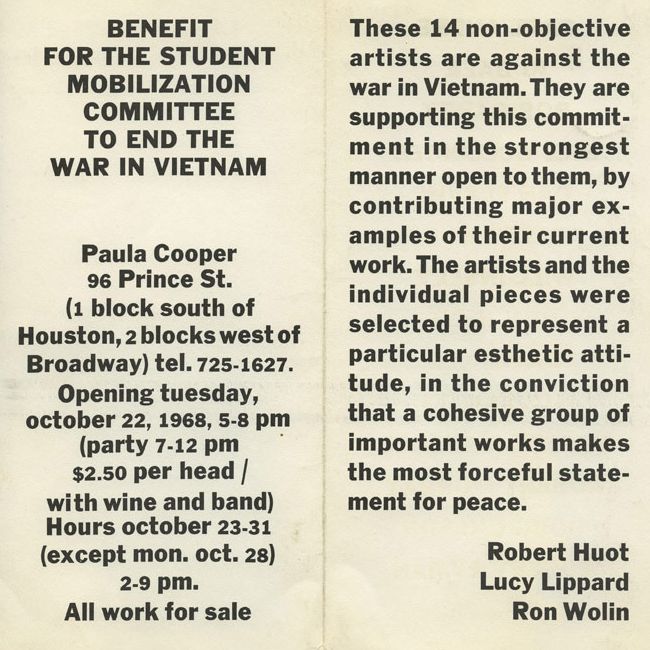 Paula Cooper Gallery's October 1968 announcement.
Photo: Courtesy of Paula Cooper Gallery
Paula Cooper Gallery turned 50 years old last month, and the resolutely independent Paula Cooper herself is 80. She was the first gallerist in Soho, at 96 Prince Street, way back in 1968 when that was a desolate area that had just recently been saved from having a highway bulldozed across it by Robert Moses. Donald Judd, who made the desk Cooper sits at to this day, bought an entire five-floor factory building at 101 Spring Street that same year for $68,000, a block south of her new gallery.
He was also a part of her gallery's first show. It was billed as a "Benefit for the Student Mobilization Committee to End the War in Vietnam." According to the (admittedly rather quaintly optimistic) curatorial manifesto which accompanied it, "The artists and the individual pieces were selected to represent a particular esthetic attitude, in the conviction that a cohesive group of important works makes the most forceful statement for peace."
There is a reenactment of sorts of that first show right now at her gallery (Cooper pioneered in then-desolate Chelsea, too, in 1996). A number of the artists in it are now a part of what's become the minimalist and conceptualist canon. Many things have changed since then, of course: Check out the price list. Note that you paid Sol LeWitt by the hour to make his wall drawings at the time.
Of course other things haven't changed, including Cooper's commitment to showing just the artists she found interesting (including, over the years, Lynda Benglis, Carl Andre, Walid Raad, Elizabeth Murray, Robert Wilson, Robert Gober, Sherrie Levine, Christian Marclay, Rudolf Stingel, Kelley Walker and Tauba Auerbach), and her commitment to social justice: Long after the war in Vietnam was ended, she's raised money for causes ranging from ACT UP to March for Our Lives. And while she's said, "I don't believe in political art. I believe in art," she did have Sam Durant's lightbox sculpture End White Supremacy hoisted onto her gallery's facade right after the election in November 2016. "A positive, albeit reflexive act," Cooper described it then.
It's probably too much to call her entire career a kind of political act, but it's hard not to admire a woman of her generation who says things like, "My first husband didn't allow me to work, so I stopped being married," and refused to learn how to type out of self-defense for her ambitions: "I just never wanted to be tempted to ever fall back on being someone's secretary."