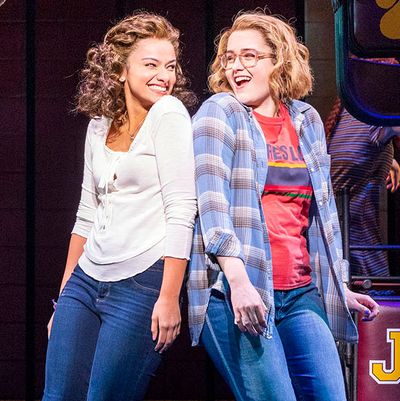 Isabelle McCalla, left, and Caitlin Kinnunen in
The Prom.
Photo: Deen van Meer/2018
Throughout Broadway's new musical comedy, The Prom, Caitlin Kinnunen faces the difficult task of playing the straight man, though her character is not straight herself. Based on real-life stories of queer teenagers banned from high-school dances, the show centers on a girl named Emma (Kinnunen) whose school cancels its prom after she invites her girlfriend, and a quartet of self-involved Broadway stars — played by theater pros Beth Leavel, Brooks Ashmanskas, Christopher Sieber, and Angie Schworer — descend on her town and do as much good as will get them good publicity. The show marks Kinnunen's first time in a principal role on Broadway, after she moved to the city ten years ago at 16 to join the cast of Spring Awakening. Vulture caught up with Kinnunen during the show's previews to talk about its four-year development, learning from her co-stars, and getting fan mail from queer teens like Emma.
So did you go to your own high-school prom?
I didn't. I was actually homeschooled, so I didn't have a prom. All of my friends went to public school and I went to the before and after-party, but I did not go to the actual prom. Did not get the invite. Now I get to go to the prom every night.
You started acting when you were young, right?
I did my first professional show when I was 11. I had been doing kids' theater since I was 3. It's just always been a part of my being. I have an older sister, and my mom put us in theater when we were young because she didn't want us to be afraid of public speaking. I took classes and camps when I was little because my sister was doing it, and then I just kept doing it, and then I got my first professional show when I was 11, I did Annie. When I was 15, I went to an open call for the national tour of Spring Awakening. In the callback process they figured out how old I actually was. They were like, "You actually can't go on tour because you're 15, but you can be in the Broadway show. So, we want you to do that."
Was that a hard change, going from Seattle to New York?
It was pretty overwhelming. We had two weeks notice. My parents were pretty incredible, and they were like, "If we say no to this opportunity, it will never present itself again. So we're gonna do this." My mom and I moved across the country to New York, my sister followed a couple months after and stayed with us. Then, my parents had a long distance relationship for two-and-a-half years until my mom moved back to Seattle. It was a huge change. I went from this tight-knit theater community in Seattle to this place I knew nothing about, thrown into this show in a very short amount of time. It was the hardest six months of my life. I feel like most 16-year-olds try to act like they're 22, and I was acting like I was 13.
And yet, you were in Spring Awakening.
It made no sense. But yeah, it was hard. Having to show up and be professional every day, a new living environment, not having any of your friends there, and then trying to make new friends with this cool group of teenagers who are acting like they're, like, 25. It definitely took me a lot longer to adjust than I thought it would, but it ended up okay. I think.
You also got to be in Bridges of Madison County, what was that like?
I got to do the show out of town, in Williamstown, and then I did it on Broadway. And, like, then entire process was just so creative and collaborative — just watching theater legends and working with Bartlett Sher was just outstanding. I was in the show but I wasn't a huge part of the show. I had my scenes and then didn't really do anything else. To be able to watch the people in the show do their thing was so cool. Watching Kelli O'Hara do that every single night was just mind-blowing. She's incredible.
So you started working on The Prom about four years ago?
Four years ago in October was my first audition. I actually went in for another part, I went in for the role of [Emma's girlfriend] Alyssa, which at that point was the cheerleader. I was like, "Well, I'm not right for this. But okay." Casey Nicholaw very quickly was like, "Hey, you're not right for this role. How about you read for Emma?" So I did that. It apparently went very well, because I ended up booking the role. At that point, when I auditioned for the show, I knew nothing about it. It was just like, "Oh, Casey Nicholaw is attached to this project. It's probably gonna be good." When we showed up for the reading it was like, "Oh my God, this is actually an amazing show. This is awesome." I did the 29-hour read of that, and then the following summer we did a lab of it. And then the next summer we went out to Atlanta. Now, four years later, we're on Broadway.
How was Emma first described when you first auditioned?
It was pretty basic. It was just, like: Emma, 17, lesbian, trying to find herself. Pretty straightforward, no-nonsense, which I think she's kind of stayed true to, four years later.
I was wondering because it must be hard to play the most earnest person in a show that has so much camp and commentary.
It's a really challenging role in that way, because I'm surrounded by Brooks Ashmanskas and Beth Leavel and Christopher Sieber and Angie Schworer who are crazy-smart comedians. They get to let loose onstage and do their thing, and I have to remain so focused and calm and poised and not laugh. Caitlin would definitely laugh. There have been a couple times during previews where Brooks has done something that I've lost it to. You have to look away, otherwise you keep laughing.
The plot of The Prom is based on an amalgam of various true stories about queer kids in America. How did you find Emma as a character?
It's unfortunate because this scenario has happened to many people. It is not a one-and-done story. News articles keep popping up. We have a group thread where we post them, and it's like, "It happened again." I tried really hard to just make Emma a real person and not a stereotype or caricature of these kids, and I think that actually a lot of the credit needs to go to Matthew Sklar, Chad Beguelin, and Bob Martin, because they have written a character so well and so truthfully, that being able to play that honestly every night is very easy. I try to show up with honesty and clarity, and not any of the other junk that can come along with it.
It's rare to see a musical with a queer woman lead, outside of Rent or Fun Home, or more recently Head Over Heels.
This one is fun to me, because I always feel like the stories about queer women don't always get a happy ending. Not everyone's queer experience is heartbreaking. Yes, a lot of them are, but you also want to show the good in it. I love this story because we get to show the heartbreak and the struggle, but then at the end it's happy tears. It ends on a good note, which I think is important.
I get so much just incredible open and honest fan mail. It's completely overwhelming but so magical and special. I got a letter on Sunday that was from this teenage girl, and she said she saw the show and it gave her the courage to ask the girl out that she likes. So now they're going on a date. You can come and see the show and leave feeling empowered, and feeling like, "Oh my God, I can do that too."
Do you consider yourself a member of the queer community?
I don't. I consider myself an ally. I'm just trying to represent as best as I can and be honest and to use my voice and privilege to represent people who don't always get to do that. I try very hard to try to be honest with it and to let Emma be herself, because that can get complicated.
Emma has a complex relationship with her girlfriend Alyssa, played by Isabelle McCalla, who's afraid of coming out of the closet.
I love the way Emma and Alyssa's relationship is portrayed because it's real. It's not this, like, perfect, happy couple. They go through their struggles, they're trying to figure it out. We're had a lot of people come up and say that Emma and Alyssa's relationship is their relationship, that they were with someone who's afraid to come out.
What's it like to try to find parts that are right for you?
I feel like I'm definitely not the typical Broadway ingenue. I am really awkward, I don't apologize for that, and I feel like I'm playing real people. I've been very fortunate to play honest characters and not perfect versions of people that shows are trying to present. There's a time and place for that. But I feel very lucky that I've been able to play real people onstage, and I feel like with each show that I've done, I've been able to really connect with it, because you get to play a part of yourself. It's funny, because people always ask me, "What's your dream role?" I definitely have my standard musical-theater dream role, but it's like, "No, I want people to keep writing new things and I want a new thing to be my dream role."
Well, what is your standard musica- theater dream role?
Eva Peron. Which will never happen, but I want to play it so bad.
Having lived here since you were 16, do you feel you've gotten more enmeshed in this kind of life?
Yes and no. I feel like I'm kind of coming into it now; I've been working here for over ten years now, and I feel like I'm there, but no one really knows. Sometimes you see me, sometimes you don't. I'm finally in a place where I'm actually here. I'm doing a show. People will see it, and they'll see me in it. I've worked really hard to be where I am, and everything is kind of falling into place and I'm where I'm supposed to be. Hopefully it will go well.
Was there a moment when it hit you?
I have those moments every day now, but I get to take the final bow in the show and that is completely mind-blowing. Every night is a good reminder of knowing I'm where I need to be and I'm doing the right thing. It kind of hits you when you come out and you're like, "I'm talking the final bow in a new Broadway musical. What is my life?"
This interview has been edited and condensed for clarity.