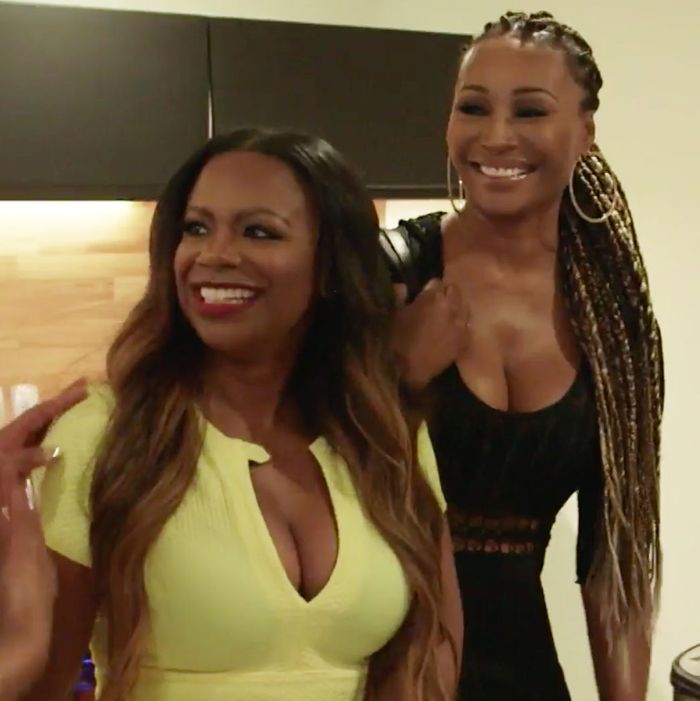 I'm about to say something I never thought I would say: I deeply love Porsha this season. After all her drama with Kandi and Phaedra, she's reemerged as a beautiful butterfly, keeping everything light and buoyant. There's not a lot of drama brewing yet, and NeNe is taking care of Gregg — someone has got to pick up the slack, and it's even better if that slack is delusional and prancing around throughout multiple outfit changes. Kandi is trying to stir up some drama, but I have a feeling that drama isn't going to give us what we need. So thank goodness for Porsha. Can you imagine me of all people saying that? Let's get to it.
We pick up immediately from last episode's "To Be Continued," in which Dennis the Hot Dog King is presenting Porsha with a jewelry box. It's not a ring, but it's a very beautiful Rolex watch. Porsha is hoping for a smaller box next time. Porsha and Dennis have a private chef for the night to present them with a romantic meal. The first course is coconut shrimp. If I have a PRIVATE CHEF making dinner in my hotel room and the best he can come up with is "coconut shrimp," I'm asking for everything I spent on my Groupon back. My private chef should be a step above "TGI Fridays Happy Hour."
The best portion of the dinner is Porsha pulling the sous chef in close and saying, "Ma'am, I'm gonna whisper something to you. Can you unzip this just a little bit?" Haven't we all been there? Trapped at a big dinner in a dress with zero give? I have never been audacious enough to ask the waitstaff to unzip my dress, though.
After dinner, Dennis decides to head the club — without Porsha? What the actual fuck? This is a strange development. Porsha takes matters into her own hands and flops down onto the bed in a very sexy manner to lure Dennis. But after banging Porsha, Dennis the Hot Dog King still goes to the club!
NeNe is in Miami not only for her comedy show but for the opening of her new boutique, Swagalicious. Again, most of NeNe's time on screen is comprised of her trying to hold it all together while she deals with all her businesses and Gregg's illness. But she does bless us with some bon mots, like when she says, "I'm trying to keep my wig above water." Put that on a tote bag, bitch.
It's the morning and Dennis has another gift for Porsha. This time it's a giant diamond cross. He also brought her a toothbrush from the front desk. Porsha says she's got a whole mouthful of teeth so she needs a better toothbrush. Then she demands to use Dennis's toothbrush. WHO. SHARES. A. TOOTH. BRUSH. Porsha, I've been singing your praises, but sweet Christ, you've gone too far.
No. Wait. When she decides to get into a fight with Dennis about his going to club at 1 a.m., that's when this all goes too far. Not because you shouldn't argue with your boyfriend when he leaves you in a hotel room on your birthday weekend, but because you start your fight by going, "We're gonna argue about something real." There's no need to announce the argument. What's even more unnerving is that this is their first fight—and Porsha is convinced they're about to get engaged. AND then she says that she normally doesn't ask a lot of questions because she doesn't want to mess it up. Oh, honey, noooooooo.
There are certain things in Housewives that follow a script, and among them are the bedroom fights. Is there anyone out there who follows the "bedroom at the hotel" fight with rapt attention? What every hotel bedroom fight needs, though, is Marlo. Marlo decides she doesn't like the room Porsha assigned her, so she takes the elevator in her room up to Porsha's penthouse (which is the name of the very bougie children's show I'm developing) and just moves in. This doesn't feel like a radical choice in the hotel bedroom space, but it feels like Marlo is an innovator in the field.
It's time to surprise NeNe at the comedy show. Porsha goes in first to say hi, and then Gregg discovers all the girls in the hallway and they all rush in. NeNe looks legitimately happy and surprised and Cynthia was right, she did get read for lying to NeNe on the phone. On stage, NeNe flutters her tongue and says that was for Kandi. The comedy show is a success.
Porsha arranges for them to hang out on the rooftop at the hotel and asks everyone if they share a toothbrush with their boyfriend or husband. Everyone is appropriately disgusted BECAUSE NO ONE DOES THAT, PORSHA. They all head to check out the rooms and Porsha discovers that her room is covered in Marlo's stuff, but instead of swapping, Porsha just sleeps in Marlo's clothes and with Marlo's monogrammed pillow.
In the morning, Marlo storms back into Porsha's room with her entire glam squad and trades getting ready in Porsha's room for some room service breakfast. The two seem to have buried the hatchet and their loud asses seem to get along. They also went out the night before and Marlo is the only one who has met Dennis.
It's time for the Swagalicious opening day party, and the girls decide to walk the two and a half blocks to the hotel down the street. The gang CANNOT HANDLE IT. Porsha's wig is about to fly off. Kandi's pinky toe is about to fall off. Readers, I went online to investigate how far these two resort properties are from each other. It's literally a four-minute walk. They were trying to call an Uber for a four-minute walk. I mean, once my boyfriend's grandma took an Uber six blocks, but it was in Chicago in February. And she's a grandma.
The Swagalicious party is going well until Gregg gets overheated and goes outside. The party must have really been something if his alternative was to walk outside in the Miami heat. Everyone comes outside to help Gregg fan himself off. Marlo tries to tell him a joke but it starts with, "Once upon a time … " I'm sorry, what? Then Gregg tries to get in on the fun and tells jokes that don't really have punchlines and are more quirky observations or aphorisms. Y'know what, Gregg, you've earned the right to tell a baffling joke outside in the heat. Savor it, buddy.