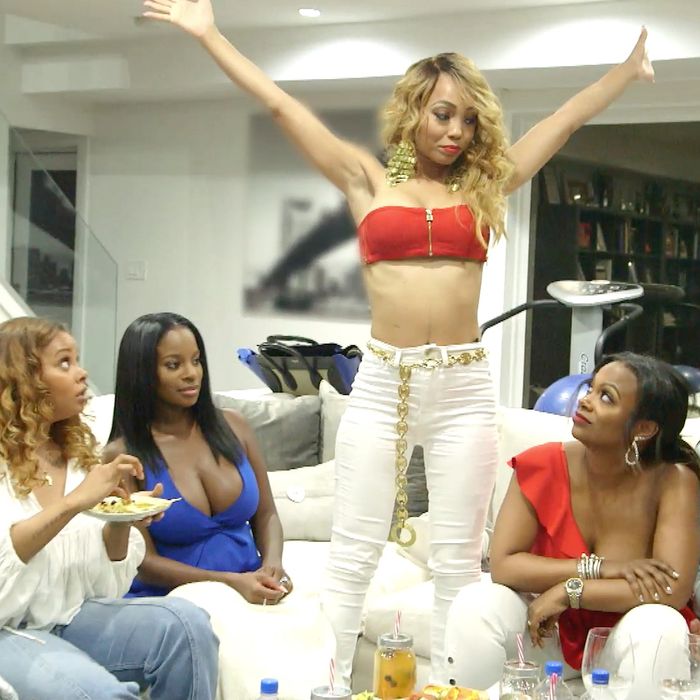 We're still peeling back all the layers of the dynamics for this season. Can we expect a more toned-down Porsha? Will there be another Baby Burress? What is Eva's goddamn problem? But there is still one Housewife who refuses to be a mystery.
For an episode that's light on Shamari screen-time, this one really digs deep into exactly who Shamari is and exactly what is up with her bonkers relationship. Shamari calls Ron "legendary" and "a legend" so much I think it might be part of their pre-nup. Shamari also spills all about her open relationship and her marriage problems with her mother-in-law and at the Bailey-Q — but we'll get to all that. Let's get into it.
Kandi is setting up her storyline for the season as she goes with Todd to their OB–GYN's office to explore their options. Kandi's pregnancy with Ace was difficult and she wants to avoid any more risks. Kandi and Todd have a couple of embryos just hanging out at their doctor's office, so they think it's time to explore a surrogate. Their doctor also suggests that they could save a whole lot of money if Todd did it the "Biblical way." (I am a stan for a feisty OB–GYN; I used to go to a feisty OB–GYN and my vagina was the happiest it'd been in years.)
Two key moments here really let me into the mind of Todd. First, Todd doesn't want to leave one of their embryos "behind." I understand wanting to take advantage of all the emotional and physical labor that goes into IVF but … the embryos aren't in a war zone. They don't feel abandoned or lonely. Then, Todd hears the price tag and jumps up to head to work. Kandi's allowance isn't going to pay for those twins you want, Todd. You better add some buffalo chicken dip to that OLG menu.
The other family drama is Porsha's finally meeting the Queen Mother of the Hot Dog Empire. Dennis's mother doesn't like anybody and she's going to be hard to please. Dennis's mom is worried that his relationship with Porsha is moving too fast. Be worried, Mama Gina. These two dummies are careening toward the altar and, quite frankly, Porsha had to ask for clarification about which altar. Mama Gina wants them to start talking about a pre-nup. How much money does this dude have? How much wealth can one accumulate as the Hot Dog King of Atlanta? Then Mama Gina glares at them while eating a side salad. Any woman who can muster that level of vitriol while shoving baby gem lettuce in her mouth is a master of shade and must be given her own spin-off with the other mothers of the Housewives franchises.
Then there's all the everything with Shamari and her mother-in-law. SHAMARI. I love you and you simultaneously exhaust me. All Ron's mother said was. "I wanted to make sure you were sincere." and five seconds later, Shamari is revealing that she was in an open relationship with her legendary son.
In Shamari's defense, apparently all Ron's mother wanted was for Shamari to come to her "as a woman to another woman" and explain their relationship. Also, his mother was sending out Christmas cards that she wasn't addressing to Shamari. That is not healthy mother behavior.
Shamari wanted to open up the relationship and explore relationships with women because she was bi-curious, and her legendary husband had some issues with infidelity. But hey, if you tell Shamari to come to you as a woman, this is the type of shit you're going to hear, Mama DeVoe.
Mama DeVoe's final word of advice when she hears the open relationship situation didn't work out: "You open the door, you let the devil in." Legendary advice.
But are all the girls getting together to hear the intricate details of Shamari's legendary marriage? Is someone setting up a party game designed to start shit? Does the Original Hot Dog Factory serve deep-fried Oreos? The answer to all these questions, dear readers, is yes.
All of the ladies and every woman they've ever met descend on beautiful Lake Bailey for a Bailey-Q. The "Q" is for nosy-ass questions that Cynthia and the creative directors of the Bailey Agency put into a bowl for a game of "Pass the Peach."
So what do we learn?
We learn that Porsha has always had an ass that fat because Shamari confirms it. That Eva keeps receipts of every activity because she knows that she's got to come around this group with facts. The best is when she produces a picture of the cake she made in the oven to prove to Cynthia that she baked. Eva also says that Shamari's style is dated and she still doesn't trust Shamea.
What is going on with Eva right now? She's got a new baby, she's getting married, but all she's concerned with is starting nonsensical drama with Cynthia and Shamea. Cynthia heard that Eva was spreading rumors that Cynthia was paying for Will to be her boyfriend. Eva, leave that woman ALONE. Why do you want to get into it with Cynthia so bad?
Marlo does her duty by doing too much and calling out the fact that no one seems to know the real Eva, and Eva is more concerned with spreading rumors and lying than doing literally anything else. Eva could use a hobby, because she's losing her ability to take herself out of these accusations and people aren't interested. She's spending more energy accusing other people of being shady — which is an act of shade in itself — than on doing cake tastings for her wedding, which would be a universally fun and delicious activity.
Also, we find out that NeNe either doesn't know what an open relationship is or just wanted to make Shamari explain hers in public. The most shocking fact of Shamari's open relationship for me was that she only hooked up with two women while her husband slept with ten. He was really making hay with that free pass.
The Bailey-Q, for all its gossip and shade, is really fun to watch. It made me want to host all my girlfriends in a cabin in our best patriotic outfits. The one thing these women have going for them is general mirth and merriment. These are just some fun and funny bitches. While all the drama is getting ready to ramp up for the rest of the season, it helps for everyone to make us laugh while we wait.