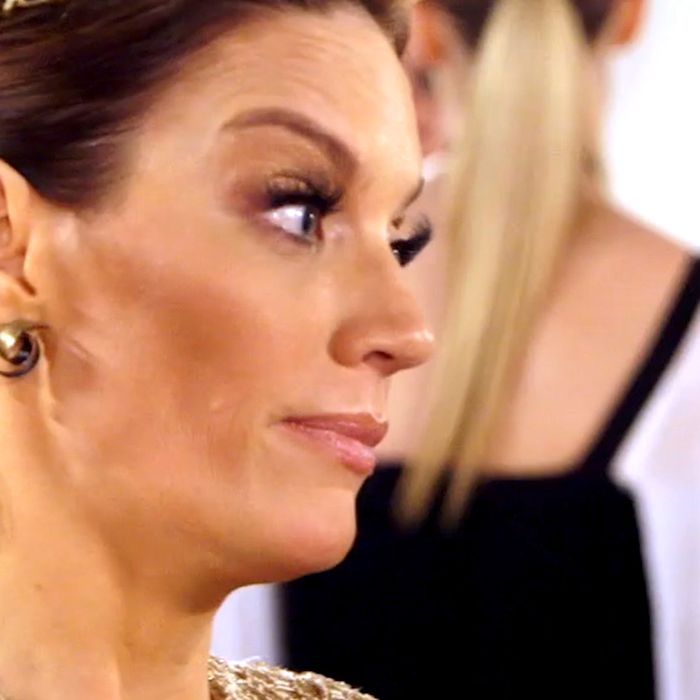 It's probably because we've devoted so much time to the D'Andra-LeeAnne feud, but Brandi's one-sided screaming confrontation with LeeAnne seems a little… abrupt? Not that she doesn't have her reasons, but it feels like Brandi just realized the season is about to end and is now rushing to finish her summer reading on the Sunday before her first day of school.
"I'm saying this to her in front of everyone because that's what she's done to me!" Brandi shouts. "Behind my back, to every—all of you! And now I'm saying it in front of all of you, to her!" This confusing word picture is either a bridge-troll riddle or an SAT geometry problem, or possibly a question from the discontinued SAT II: Bridge Trollery. (I got a 720!)
Brandi storms out of the restaurant, but not before telling L.A.L. she "fucking despises" her and accusing her other friends—who, for the most part, have been eager to welcome LeeAnne back to the fold—of being a "bunch of fake bitches."
Seeing Brandi in pain initiates a guilt meltdown launch sequence in Stephanie. "I would rather give my friendship away with you then to have you suffer," proclaims LeeAnne, who is about to cut the baby that is Stephanie in half, King Solomon style (then again: not knives, just hands). Ultimately, both Stephanie and D'Andra tail Brandi to a bar and apologize for not standing up for her, and she apologizes to them for putting them in this situation. There is a Möbius strip of sorries happening here.
Back in Dallas, Kam is still recovering from her patriotic hunger strike, unhappy to eat any food that isn't so American as to have a Fourth of July flag toothpick stuck in it. (Summon the Congressional Necromancer: JFK needs to write one more Profile in Courage!) In an extreme failure of branding, neither of the milkshakes she brings over to Cary's house is pink. In theory, these two women are "having lunch," but what they are actually doing is some heavy-lifting exposition. Kameron is here to update to Cary on a development the cameras apparently neglected to capture. (They already missed the "queen" of the friend group fight earlier this season!)
On that last night in Copenhagen, LeeAnne lost her phone for two hours, only for Brandi to bring it to her, reporting that it was found between cushions in the hotel bar. LeeAnne is convinced that Brandi stole the phone for snooping purposes (despite having no means of getting into it without LeeAnne's passcode, nor her face), but that is only the beginning of the Black Mirror bottle episode that we have found ourselves in.
LeeAnne, you see, has claimed that she "cloned" Brandi's phone and all of the data therein as retaliation. This is an egregiously kooky, perfect lie, and I want to bury myself in it and roll around like my dog does to warm laundry.
As Cary will say, this makes LeeAnne sound "clinically insane." She and Kameron both agree that 1) Brandi almost certainly didn't pickpocket a phone off LeeAnne's person, and 2) LeeAnne hasn't secretly been a frighteningly competent hacker this entire time, but here we are. The security aspect of cyber is very, very tough.
LeeAnne is debuting the L'Infinity dress (the La Trattoria?) at a fashion show, to which, Brandi, shockingly, is not invited. In case you forgot, LeeAnne's "ultimate little black dress" can be worn 175 different ways. Impressive! That said, most of those seem to be variations of attaching black sleeves, red sleeves, white sleeves, long red sleeves, short white sleeves, just the one black sleeve, and so on. I might have named this garment the L'Sleeves myself, but whatever, it's a hit!
There are many things I enjoy about this fashion show, including the green popcorn served in martini glasses and the extremely narrow runway that seems explicitly designed to cause models to trip over people's crossed legs, but my very favorite flourish is the strange video of LeeAnne Locken modeling the dress (not that she doesn't look great!) in front of a generic city backdrop, playing on a wall-mounted screen. This is the quality animation of a PC game circa 1995.
D'Andra is irritated with Kam for saying she was on "friend probation," a phrase that originated with D'Andra herself, when she joked to Kameron that she knew she was on it. Okay. "That's ridiculous. It's a jab," D'Andra says. "…Is it?" asks Cary, speaking for all of us.
LeeAnne, I should mention, was not thrilled to see D'Andra choose Brandi over her at their Danish last supper. Now, D'Andra recoils ever so slightly when LeeAnne's stylist introduces the lady of the hour (excuse me, l'lady du hors-d'œuvre) as the "queen bee," and again, when LeeAnne walks the aisle-runway in a white dress and veil for some reason. Jab! Jab! Jab jab!
To Cary, Kam, and D'Andar, LeeAnne admits she didn't clone Brandi's phone, though she remains convinced her ginger rival did steal hers. Despite having previously agreed with Cary that, no, that would crazy, Kameron is in LeeAnne's presence prepared to sentence Brandi to the maximum possible sentence for grand larceny.
This Thanksgiving, I am thankful for black-hat LeeAnne Locken.