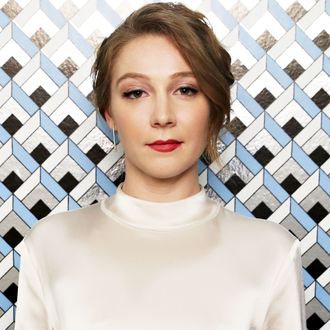 Kayli Carter.
Photo: Cindy Ord/Getty Images for SCAD
Before receiving an award at the SCAD Savannah Film Festival late last month, newcomer Kayli Carter told Vulture how she befriended her Private Life co-star Paul Giamatti over an unlikely subject: murder.
In the Tamara Jenkins movie, Carter plays Giamatti's step-niece, Sadie, who decides to try to help Giamatti's character and his wife (played by Kathryn Hahn) become parents. When they weren't filming, the two bonded over true crime. "Paul Giamatti and I were lunch buddies every day on the set," said Carter. "We both love true crime. He's a big fan of My Favorite Murder … and he was saying that I look like Squeaky [from the Charles Manson cult]."
Those murder-y lunch chats ended up leading the way for Carter to play that exact character in the upcoming film Charlie Says. "I bought a book about Squeaky Fromme, and I started writing a short film about her attempted assassination of Gerald Ford and the time period in which she stalked Led Zeppelin, and I was really intrigued by her," said Carter. "So when Mary Harron's script came about, I had already read this entire book and written this short film. I already had her in my brain, which is why I think I got the job — because I knew her in a way that you can only know someone by intimately writing them for months." Who says true crime doesn't pay?