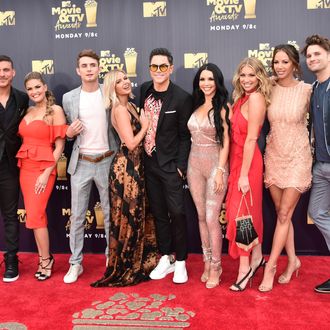 Photo: Alberto E. Rodriguez/Getty Images for MTV
Vogue spent 48 hours with the cast of Vanderpump Rules as they prepped for the season seven opening credits shoot. It was everything you've come to hope and fear from the cast of the perfect reality trash fire. Katie, Stassi, and Brittany got spray tans then did shots at brunch. Tom Sandoval got a laser facial. Peter "happened" to be at the same barber shop as the boys when Vogue "happened" to be profiling them. Friends was on in the background at all times.
As befits a fancy-schmancy publication like Vogue, there were plenty of digs at the cast and references to Guy Debord. We all think we're above Pump, but no one is immune to its charm. "I could very easily see [Tom] Schwartz becoming a Scientologist," writes Bridget Read, "but also convincing me to be a Scientologist." She also compares Kristen to a cult follower and lets it be known that Jax hasn't voted in 14 years. Season 7 of Vanderpump Rules premieres December 3rd.