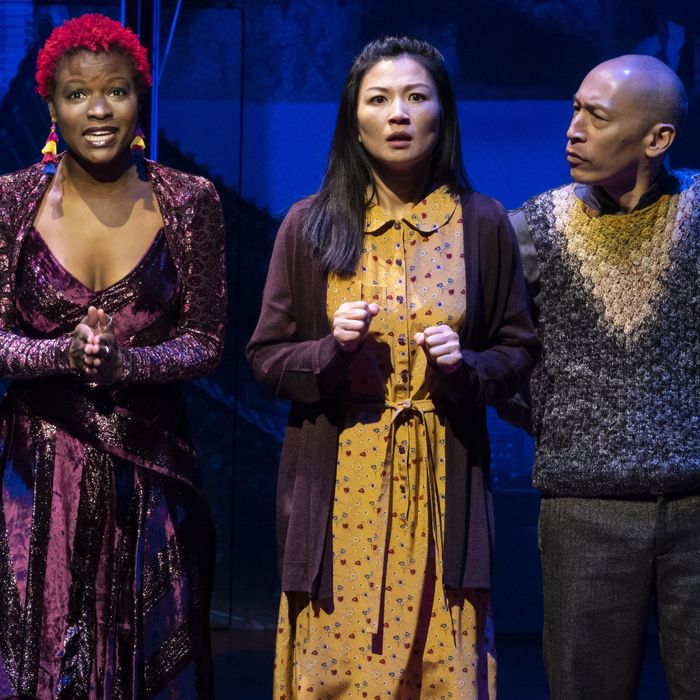 From
Wild Goose Dreams
, at the Public.
Photo: Joan Marcus
Before the whimsical, poignant Wild Goose Dreams by Hansol Jung begins, soaking in Clint Ramos's design of the Public's Martinson Hall is a senses-tingling treat. The whole room is dressed up, wrapped in a splashy floor-to-ceiling collage of Korean advertisements, old photos, cartoons, neon signs, and framed backlit images — everything from Seoul's Banpo Bridge to a grainy, beautiful still of a woman in a hanbok seated at a mirror to a garish painting of Kim Il-sung and Kim Jong-il smiling proudly in front of a mountain sunrise. A red catwalk cuts through the audience, leading to the stage, and the room's support pillars are vividly painted, like palace or temple columns. Wild Goose Dreams takes place in the high-speed, high-stimulation bustle of present-day Seoul, as well as in that invisible, infinitely expanding digisphere we've come to know as the Cloud. The jostle of images, lights, and sounds (Palmer Hefferan's got K-pop and ads pumping through the speakers) that greets us upon entry is a carefully calculated overload: Director Leigh Silverman and her designers are simultaneously initiating us into a culture and dropping us down the e–rabbit hole. The audience is still chatting away, but the ideas of Jung's play — a tale of loneliness in a globalized, mediated, relentlessly "connected" world — are already all around us.
Wild Goose Dreams is an almost-love story born out of two separate family stories, or two separated-family stories. Minsung (Peter Kim) is a "goose father," which the play defines, via Wikipedia, as "a Korean man who works in Korea while his wife and children stay in an English-speaking country for the sake of the children's education." A quick trip to that same Wiki page reveals that there may be as many as 200,000 goose fathers in South Korea, and that if the working dad is wealthy enough to visit his family frequently, he's called an "eagle father," while those with limited finances — the ones who can't fly — are called "penguin dads." Penguins are going to be important here.
Minsung works for Samsung and lives in a koshiwon, a closet-size apartment intended for students, with a showerhead that "hangs directly over the toilet bowl." He sends almost everything he earns to his wife (Jaygee Macapugay) and teenage daughter Heejin (Kendyl Ito) in Fairfield, Connecticut, where Heejin is happily playing volleyball, bingeing on Instagram, and confusing her father — on their very rare phone calls — with terms like "extra." "Heejin, could you slow down please. Daddy is not so good at English," Minsung stammers on one of these calls — then Kim switches to a heavy Korean accent to try to ask his daughter the question that's concerning him: "Boyfriend yes? Boyfriend no?"
Minsung's family has left him behind, physically and now culturally. As Minsung leans just slightly forward at the waist, straining to hear his daughter over the phone, or to understand why she has blocked him on Facebook, the desperation beneath his unassuming, diligent exterior threatens to surface. He rarely stops smiling, though his smile becomes fixed and joyless. Yielding to loneliness, he's recently met a woman named Nanhee (Michelle Krusiec) on an online match site called "Love Genie." When she tells him, "I perform happy very well," the joke is too close to home for both of them.
While Minsung is the flightless bird in his family, Nanhee is the one from her family to have flown the coop. She's a North Korean defector who hasn't seen her own father in the four years since she "crossed the river." Like Minsung, she sends money, but unlike him, she has no idea if the person she loves and misses receives it. Near the play's beginning, she pays a shady, expensive broker to help her contact her father by phone for the first time — but as the days go on, she begins to doubt whether the man on the other end of the phone was actually him.
Jung could have constructed a fairly straightforward budding romance between these two — the one who left and the one who was left — but there are two other words in the play's title along with Goose. Her play and the vibrant space that Ramos has designed for it are quickly shifting and densely layered, a reflection of multiple realities — chief among them, the internet. The set becomes its own browser window, full of pop-ups and surprises. Beds fold out of walls; screens roll down from balconies or up from the floor. There are trapdoors and treats everywhere. The constant unfolding is visually delightful, and it's also a powerful gesture on the part of the creative team never to use fancy digital technology in the telling of this story. If we need subtitles, they're written out on large banners, or they're presented on a clunky overhead projector, manipulated by the cast. Jung's play is in part about getting lost in technology, and it's exciting to see the production create that effect physically and theatrically, without succumbing to the same tractor beam it's examining.
A bulk of this human effort comes from the play's chorus, an ensemble of seven actors (including Macapugay and Ito), dressed in bright contemporary fashions by Linda Cho, who buzz and babble on all sides of Nanhee and Minsung, creating the constant hum of the digital world. Their meticulously scored overlapping dialogue is a barrage of familiar distractions: "Like!" "LOVE THIS!" "This kitten." "This puppy!" "POP UP! Win a free trip to the paradise of your dreams." "Look up: traffic in Seoul." "Look up: cheap flights to Connecticut." "What's on your mind?" And they often break into song, harmonizing in a chirpy, incessant fugue of binary code (the play's composer is Paul Castles).
It's an effective device, although, as the play went on, I craved more development or variation in these choral interludes — often I found myself wishing they overlapped even more chaotically, that my brain had to race harder to keep up with the nonstop content swarm. The constant presence of the chorus hints at how thin the veil has become between us and what's on the other side of our screens. Uncomfortable — bored, frustrated, lonely — in this reality? There's another one, always awake and always full of things to see and buy and believe, a mere click or swipe away. When Nanhee and Minsung end up in bed after their first drunken night of karaoke (intended just "as friends"), Minsung can't handle the awkward silence and pulls out his phone. "No new emails! No new messages! No new Facebook notifications!" chirps the chorus.
As Minsung seeks refuge in the virtual realm, Nanhee is facing her own weird rift in reality. "My father is here," she finally says — and there he is, sitting on a chair in the cheap motel room, watching his daughter in bed with a married man. Minsung, who hasn't seen his family in seven years, at least has their avatars. Nanhee has nothing, and so her mind creates its own father, a semblance of the person she misses and, increasingly, a surreal embodiment of her guilt.
The sadness at the center of Jung's play is that no matter how much Minsung and Nanhee's affection deepens in the real, physical world, the forces pulling at them both from their respective virtual worlds — be they internet or imagination — are simply too strong. Though Nanhee throws Minsung's phone in the toilet in a moment of frustration, and though he writes a song for her after an argument ("I am real … Real breathing, real feelings, really real," go the translated lyrics), they're too connected to connect. Minsung still dreams about his family — which every day seems to retreat further, especially when a handsome volleyball coach starts appearing in Instagram photos with Heejin and her mom — and Nanhee dreams, too. Or, more accurately, she has nightmares — weird, half-funny, half-terrible visions of her father (Francis Jue) as a penguin, of a bunch of penguins marching in a North Korean military parade, of her father being interrogated and tortured, of her father, unable to fly, screaming at her, "I want my wings back."
Jung's writing always has a light touch, even when things get heavy, and Silverman is doing sensitive work with the cast, especially Krusiec and Kim — who both have the challenge of suspending heartache beneath a keeping-it-together surface — and with Joél Peréz and Lulu Fall, who have the more fun job of playing their online avatars. (When Minsung and Nanhee have sex for the second time — much better sex — it's Peréz and Fall in the spotlight, clad in gold sequins and belting a hilarious wordless aria to each other across the space.) I couldn't help feeling that, as Nanhee's father, Jue seems a bit too elfin. He's got a spry, winking quality to him, almost a low-key Cabaret emcee vibe, and though the character we're seeing is Nanhee's mental projection rather that the real thing (I doubt her actual North Korean dad says things like "Oh snap"), I still found myself longing for a different energy — something to offer, at times, a contrast to the play's proclivity for whimsy rather than leaning all the way into it.
In the end, the tragedy belongs to Minsung and the play to Nanhee. While Minsung gets sucked further and further into addictive unreality — making a video of himself playing a suicidal love song and suddenly, and briefly, finding himself a viral sensation — Nanhee makes the decision to end her nightmares by seeking out the real human being concerned. If a wild goose chase is fruitless, then a wild goose dream is one from which we'll have to wake up, no matter how much it hurts, if we want to live. Connection, Jung is arguing, is life, but connectivity can be fatal.
Wild Goose Dreams is at the Public Theater through December 16.