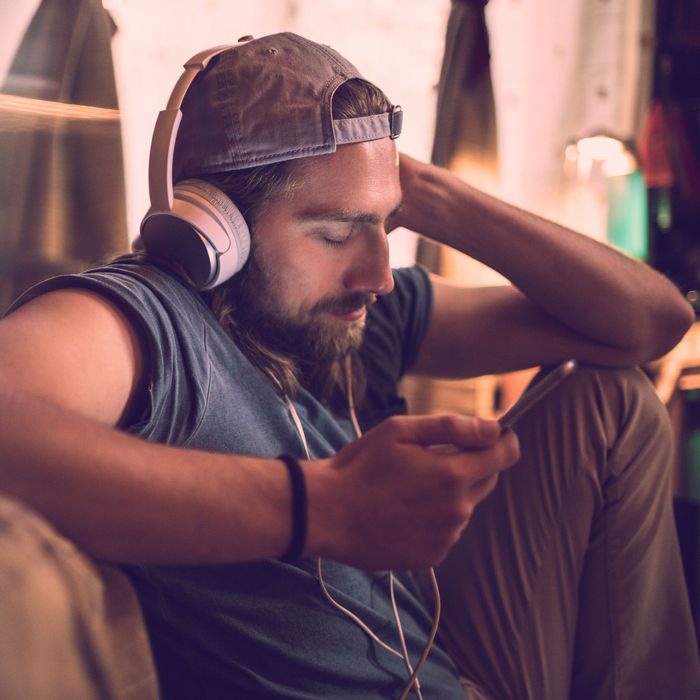 Photo: Geber86/Getty Images
One summer night years ago, I wandered, with no context, into the erstwhile Williamsburg avant-haven called Zebulon. A single man was on stage holding an instrument no larger than his hand. But the sound coming from the house PA was larger than life: swirls of electronics, disembodied and stacked voices, echoes and reverbs of shadows of percussion.
The performer was Patrick Noecker, the bassist known for dub-inflected steamrollers These Are Powers, as well as stints with shapeshifting art-punks Liars and the West African electro-bubu pioneer Janka Nabay and the Bubu Gang. But that night in 2012, Noecker's Raft project took on unexpected new life. Loafing around the city in a transient moment between subletting an apartment and leaving for tour with the Bubu Gang, he found himself in a truly modern musical pickle.
"Someone called me up and asked me to do a show at Zebulon that night," Noecker says over the phone. "I had pedals with me, but no instruments. So I plugged my cellphone into my pedals and started making an audio collage with voicemails, phone sounds, among other things. I went to Zebulon and did it and it totally worked. And I was like: This is the kind of art I'm into." In 2018, he's focused his practice into something more deliberate, with his new band Casc, he uses the phone to operate rhythms and play synthesizers while performing vocally as well. He uses apps Filtatron and Animoog, both by Moog, and the Native Instruments iMaschine.
The guitarist/producer Steve Lacy, known best for his work with The Internet, made headlines in 2016 when he revealed that "PRIDE," off of Kendrick Lamar's DAMN. was produced on his iPhone — as was every beat he's ever composed, including his solo release, Steve Lacy's Demo, as well as Ego Death, the Grammy-nominated third The Internet album. "I literally had no fucking idea what I was doing," Lacy told Wired. "And from that, I got a Grammy nomination. So I'm like, okay, this is my life." In what certainly is the most-charming-possible punch line of Lacy's journey to DAMN., the validation Kendrick offered when he heard Lacy's phone-made contribution to the record seemed like kismet: "As soon as I played it," Lacy told Wired, "[Lamar] goes, 'Yo, put your number in my phone.'"
What makes such a protean practice as using a smartphone for anything seem pedestrian or novel enough that the ever-present hardware seems an outlier to producing music? Incarcerated rappers notoriously record albums on albums on albums over the phone from prison. But there's something cognitively separate from the cell phone and the studio. Los Angeles–based producer, writer, and Godmode Records label head Nick Sylvester pondered the shift in an email he wrote to me.
"I wonder if 'making music on phones' is ultimately part of a larger movement music is making right now — this swing back to 'recorded performance' as opposed to 'sequenced rollercoaster ride,'" Sylvester said. "It's maybe part of why rap overtook pop and EDM as the most popular music: there's a strong element of improvisation that balances out the relentless looping of the instrumental."
Greg Fox, the internationally heralded drummer and multi-instrumentalist, has incorporated phones into the modular synthesizer setup he records and performs with, under the moniker GDFX.
"Basically, I started doing this thing where I plug my phone into my setup and open up an old voice memo or find a random YouTube video of an interview or something and throw that over whatever is happening with the music," Fox told me. "Then I capture it and manipulate it granularly — like, remixing the words or syllables from the recording. Usually makes for some pretty uncanny results." (Full disclosure: Fox and I have performed and toured together.)
Much like a four-track tape recorder resulting in what's often considered a raw, lo-fi aesthetic, so too do the microphones and audio-conversion rates of phones hold a certain characteristic. Sylvester has long embraced what would be considered "inferior" (in terms of qualitative/quantitative audio standards) in favor of character, flavor, or spirit.
"I love the iPhone microphone," Sylvester told me. "It has a specific frequency response that, because of social media, is now inextricably linked with the sound of the human voice. As a recording tool it's a tight cardioid pattern, so you get what's right in front of it with just enough bleed to have it sit naturally. I also like the way the converters handle hotter signals — it sounds incredible with drums, and the way the audio breaks up when you scream into it is magical."
(Full disclosure: I worked for Nick at Godmode for some years as a producer and project manager. Nick released an album of mine in 2016 that I sequenced and composed roughly 80 percent of on my iPhone, using the DM1 drum sequencer and Animoog softsynth. When I was commissioned for this article, the general ethical breach actually registered as more relevant to this conversation than it did as irrelevant. No one I spoke to for this piece used or even knew of DM1.)
More than the particular character of cell-phone recordings, the democratization and ever-presence of the technology make it an attractive option for laying down actual tracks, when inspiration beams in over the airwaves, light-years sharper than a dictaphone.
"When I started making music, I didn't have access to studio time, nice mics, conventional recording techniques," Los Angeles–based artist Avalon Lurks told me. "I started by making music in my room and sometimes the only mic I would have to record with was the mic attached to the Apple headphones. I recorded my last two singles on that, you would never know."
The artist Jeffrey Dalessandro ascribes more of a philosophy to the instrument than an aesthetic.
"Music is easy, music is everywhere," Dalessandro said. "The success of sound is timing. The challenges of music are worldly — personalities, equipment, and space become impossible obstacles. But when creativity shifts from 'what' to 'how,' success becomes an ability to show up with empty pockets, to live off light and air and to be ready where you are with what you have, when you want."
"For me it's less about apps and more about the hardware and our intimacy with the hardware," Sylvester paralleled. "We spend a lot of time holding our phones, and our phones experience us at our least self-conscious. So when it's time to sing or record something, even if it's just a voice memo, that comfort with the device creates a special sort of performance that's not fraught with the studio-ish anxiety of getting it perfect. Vocal booths are a crime against singers."
Philadelphia-based producer and DJ King Britt described to me in an email the sea change for his practice when he discovered apps like Animoog, Loopy, and NanoStudio a few years ago.
"With these tools, I was able to create high-quality ideas while on the plane, train, or car. It is so much fun," King Britt told me in an email from Berlin. "I love the immediacy and limitations that these apps have. It makes you think of being more creative with less.
"I've got so many beats from going to and from a job. It's something to sit in your studio and compose. However, composing in a public space, there's a whole other energy there. Things become cinematic when you disjoint what you see from what you're hearing. And so I'm hearing the beats I'm making while I'm watching everyone sort of suffer on the train trying to get to their job, and all that. A myriad of things can emerge."
But even success like this eludes an agreed-upon benchmark, especially at a time in the culture industry when art and commerce are so intertwined.
"I'm not completely interested in success," Dalessandro said. "So I keep at least my phone with me because it approximates a natural and immediate expression of musical ideas that can be shared and communicated as soon as they occur, when I want, to anybody. With phones, sound can travel faster than light."
On a more practical level, incorporating cell phones into the musical fleet addresses the biggest open secret in rock 'n' roll: it's 90 percent schlepping, just moving shit around.
"I had this catharsis when I turned 40," Noecker told me, "that, I don't want to be in a band, I don't want to be moving all this gear, I don't want to be carrying all this shit around with me. It was just the seed of a thought that I planted and then manifested with that, sure enough, I manifested through that accidental show at Zebulon, and the next night at Secret Project Robot."
"There's not a real consciousness of how many people are using apps and phones to make art and music and sound," he added. "I'm not self-conscious about it, because I've got an arsenal of experience to inform the new media that I'm working with."