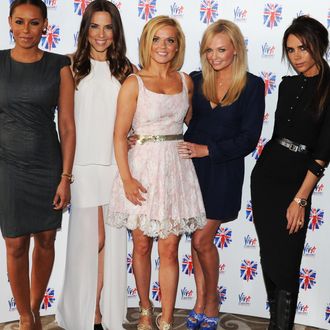 The Spice Girls
members.
Photo: Dave Hogan/Getty Images
While Mel B. recently announced she will be entering rehab, that apparently hasn't derailed plans announced this weekend in The Sun for a most-of-the-Spice-Girls reunion tour next year. Victoria Beckham will not be coming along this time, which is something she's seemed pretty resolute on for a while. But Mel B., Melanie Chisholm, Emma Bunton, and Geri Horner will perform 13 shows around the U.K., including three nights at Wembley Stadium, so start saving for plane tickets now. Considering Beckham previously revealed that her mike was not even turned on during Spice Girls performances, it's likely the quartet won't sound that different. But it will still be a major challenge for the group to operate at full girl-power without that classic Posh Spice point.
Update, November 5: Four out of five of the Spice Girls have officially announced their not-a-full-reunion 2019 U.K. tour, with tickets going on sale this Saturday. Mel B., Mel C., Emma Bunton, and Geri Horner (née Halliwell) all dropped the news in a video in which none of them can agree on a damn thing and Ginger's still the star of this show. In other words, all is right again in Spice World. Cheers!