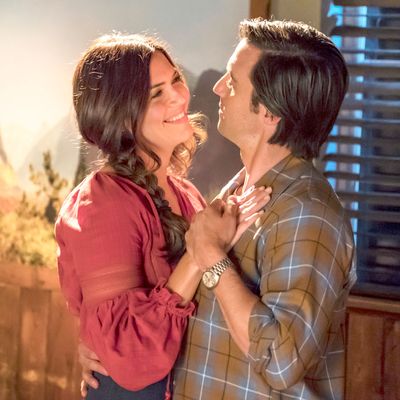 Put a pin in however you're feeling about Randall's campaign (almost at peace with it) and the Kate and Toby drama (indifferent), because This Is Us is going on some field trips this week. Pack your old-lady pajamas in honor of a 20-something Rebecca who likes to be toasty when she sleeps, because we're all headed to a war-ravaged Vietnam, a very disappointing 1970s Los Angeles, and present-day Vietnam, complete with food poisoning and startling revelations! Should be fun and not at all emotionally devastating, right?
LOL, that's cute. Have you ever seen this show?
Honestly, not much really happens plot-wise within "Sometimes," but there are some great character moments. You can tell This Is Us is working hard to set up the big reveal of how Nicky dies in Vietnam and why Jack never truly recovers from it, which will surely leave us all puddles on our floors. So that's something to look forward to.
We find Jack and Nicky right where we left them — reuniting at the latrines — the last time we were in Vietnam. The fraternal reunion doesn't go well: Nicky doesn't want to be responsible for Jack coming to Vietnam and laughs in his face when Jack tells him he is going to take care of him. ("Superman" is just a nickname, Nicky reminds his older brother.) Nicky is clearly on something, or has lost his mind, or both. Jack pleads with Nicky's commanding officer to let him take him back to his unit so he can help him get his head on straight — he even tells a very moving story about Nicky saving spiders when they were kids — but neither the CO nor the U.S. Army are swayed by an Emotionally Stirring Jack Pearson Speech.
The CO sends Jack back to his fishing village on foot, so Jack has to ask a man for a motorcycle ride back to his camp, not knowing anything about this guy. Is he a good guy or a bad guy? The fact that the man takes Jack on his motorcycle points to good, the bag full of cans the man hands over to be made into land mines says otherwise. Jack goes on this whole excursion with this man, which ultimately doesn't pay off the way This Is Us seems to want it to. Although maybe that guy will show up again? One never knows.
Jack makes it back to the fishing village, and the next day Nicky's CO arrives with Jack's brother in tow. He'll give Jack two weeks with Nicky. A-ha! I knew that man wasn't impervious to an Emotionally Stirring Jack Pearson Speech. Don't feel too bad, sir. No one is, really.
Once again we're left waiting to learn about whatever tragedy befalls the Pearson brothers in Vietnam. Whatever it is, Jack most definitely DOES NOT want to talk about it while on his road trip to Los Angeles with the gorgeous girl he met just a week ago. Seriously, Rebecca's mom is a heinous witch monster, but she's right to ask her daughter if she really thinks it's a good idea to travel across the country with a stranger. Yeah, she has to get to L.A. to play her demo for that record executive, but Jack doesn't even have his hot beard yet, so, like what gives, Rebecca?
Not even she can really explain it. She just wants to be where Jack is. After some awkward conversation about how they both love turkey sandwiches, things smooth out. They have an adorable date that includes slow dancing, talk of how Jack just doesn't cry anymore, and a very good kiss. Unsightly pajama-set be damned, Jack and Rebecca don't waste much time before sleeping together. Motel rooms with two beds quickly make way for motel rooms with one bed, you know what I mean?
Things get a little tense after Rebecca notices Jack having some pretty terrible nightmares and he refuses to talk about it. After a champagne cork popping makes Jack skittish at Rebecca's friend's house party, he tries to explain a little more: He just can't talk about what happened over there, or his brother — he doesn't want to bring that tragedy into this wonderful thing that's happening between the two of them. Rebecca accepts this.
The next day, Rebecca goes to her label meeting. After she's left unsatisfied by the executive's "keep in touch" response to her song, she demands clarification. That's our Rebecca! Unfortunately he clarifies by telling her that she's "Pittsburgh-good" so it's a sort of 'thanks but no thanks' situation. Still! It's always nice to get a reminder of how strong-willed Rebecca is.
Meanwhile, Jack has an excursion of his own. He goes to visit the parents of Squirrel, the soldier we saw die after stepping on a landmine while playing football. Oof, this scene is a gut punch. He tells them the story of how their son died and the entire thing is just drenched in the guilt he feels. Squirrel's dad holds Jack and tells him it's not his fault. This is all too much!
But guys, this is not the emotionally devastating moment that I was referring to before. THERE IS MORE. There is always more.
Jack picks up Rebecca from her meeting, and after calling her "Bec" for the first time — a This Is Us point of mythology I didn't know I needed to be looking out for — he asks her to sing. Screw those record-label douches, Bec! Sing for me! That's me paraphrasing, but you know that's what Jack was thinking.
And so Rebecca starts singing and Jack can't hold back the tears. He tries his hardest, but the tears cannot be stopped! Rebecca is startled at the sight and pauses because, hello JACK DOESN'T CRY, but she realizes how much he needs this, so she keeps singing and he keeps crying. Is this meta-commentary on This Is Us fans? Who knows?! This moment is brutal. If Milo Ventimiglia doesn't win awards for his work this season I'll … well, I won't do anything because there are more important things in life, but I will be very sad about it. He's never been better!
Before we go, there's one more trip to talk about: Kevin and Zoe land in Vietnam. They have a few days before traveling to the fishing village where Robinson's photo of Jack and the mystery woman is from, and already Kevin is feeling more connected to his father. But that feeling quickly goes away when Kevin discovers that his father's necklace is all over the place, sold in every souvenir stall in the entire country of Vietnam, apparently. But this first step in Kevin's Vietnam journey isn't really about Jack. It ends up being about him and Zoe.
After Zoe tells Kevin not to tag her in pictures on Instagram — not because he said "Vietna-cheese," as I initially suspected, but because her dad lives in China and she doesn't want him knowing she's so close — Kevin gets curious. He doesn't relent in asking for info about her family, her past, her deal with her father — even when Zoe gets food poisoning from some bad bat she ate. (I love this show?) He goes in for the patented Emotionally Stirring Jack Pearson speech: He tells Zoe that his dad kept the first 28 years of his life from his mom and she was okay with that, but he wouldn't be. Kevin wants to tell Zoe everything and wants to know everything about her, BUT if she doesn't want that, well, that's okay too. He'll make do with not knowing because he's falling in love with her.
Zoe takes that in and then finally reveals what she's been holding back from him: Her father sexually abused her when she was young. Unlike Jack, who always believed he had to keep his tragedy a secret in order to protect his relationship, Zoe believes that keeping that tragedy hidden would ruin what she has with Kevin. Because she's falling in love, too. Kevin's at a loss, and all he can do is reach out for her.
A friendly reminder, This Is Us fam: Never ask if this show could get any sadder because the answer is always yes, yes; 1,000 times yes.