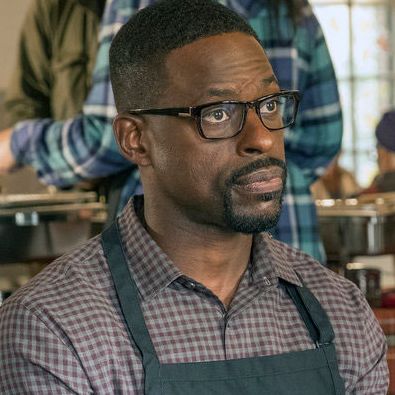 Thanksgiving is the perfect holiday to represent the Pearsons. It has that whole grateful thing going on, which takes care of the earnest side of This Is Us, but it is also a holiday in which you overindulge on both food and booze, sometimes causing you to let your guard down and release years of repressed emotions at the dinner table. It's what happens when turkey and pie takes up all the space where you've been stuffing your feelings for years. The upped emotional ante that sometimes comes with having to share a meal with your entire family works well for This Is Us.
This year, This Is Us is celebrating their holiday with a whole slew of Thanksgivings from several different time periods. Isn't that so the Pearsons, though? Why have one Thanksgiving when you can have six? But after all the turkey is gone, I must admit that this year I'm most grateful for Miguel. Lucky for us, we spend not one but two Thanksgivings with Jack's BFF.
The first takes place in the late '90s — the last Thanksgiving before Jack dies. It's nice to know that the last Thanksgiving Rebecca and the kids had with Jack was a good one. They're all playfully teasing each other and Randall is working on his college essay about the one person who affected his life the most (everyone thinks the easiest route to go is to write about the firefighter who brought him to the hospital, but in true Randall fashion, he has more meaningful plans — even at 17, the guy had a thing for emotional speeches). It's all very sweet and fun for everyone … except for Miguel. Poor Miguel! This is his first Thanksgiving since his divorce and Shelley has the kids, so he's been invited to spend the day with the Pearsons. The guy comes in hot, both physically and emotionally — he's arguing with his ex because she won't allow him to speak to their kids. That paired with getting a front row seat to the Pearsons in Bliss proves too much, and Miguel needs to take a self-imposed time out.
Leave it to his best friend and motivational coach on retainer Jack to help make things right. Miguel is worried that it's too late for him — he spent so much time working that he lost his chance to have a relationship with Andy and Amber. But Jack says no! It's never too late! He tells his buddy to fight like hell to keep his children in his life. He doesn't want to be 65 and have no relationship with his grandkids, either (super awkward for us since we know some of Miguel's grandkids will also be Jack's). The whole thing ends up with Miguel crying and promising to be better, which is really what you sign up for when you become friends with Jack Pearson.
It's a nice Miguel-Jack scene in and of itself, but really it's there to setup what's happening in the present: Miguel and Rebecca are spending some of Thanksgiving with Miguel's kids. Finally! We still have no idea how things ended between Rebecca and Shelley (I'm patiently awaiting that scene), but at least now we know what's up with Miguel and his adult kids.
In short: Things are not good. He barely sees them, but not for lack of trying on his part. He's been shut out of their lives. Amber (Jane the Virgin's Yara Martinez), who recently adopted a son with her husband Connor, mostly seems sad about the state of her father-daughter relationship. Andy (Will Rubio) is a spiteful bitch and I am living for it. Not because I wish ill for Miguel and Rebecca (you know it's the opposite, dear reader!), but because I relish the drama. When Connor has a minor allergic reaction to Rebecca's side dish (the guy is totally fine), and Andy plainly says, "First you steal my father from my mother, and now you're trying to kill my brother-in-law? Sorry, too soon?" — oh you guys, I laughed so hard. It's just nice to know that the Pearsons aren't the only ones exploding with emotional baggage at every turn.
The upside to this tense family meal is that BFF Miguel gets a moment to shine. Oh no, sir, he won't have his son disrespecting his wife. Furthermore, he won't apologize for being with Rebecca. They found each other after suffering unspeakable heartbreak and helped each other heal. They hold hands throughout this entire speech and suddenly all those dummies at that dinner table feel exactly like we did for so long: In shock that they had no idea they had been in the presence of this true American hero. We appreciate you, Miguel!
Amber reaches for her dad's hand, so it seems like she's into a reconciliation, but Andy's anger might need more time. Regardless, now that Amber and Andy are real people, let's hope we get a little Pearson-Rivas mingling going on in the past and present. You know that somewhere along the way there was some cross-pollination between all these kids, so the reunion is sure to be awkward and dramatic and wonderful (for us). All I want for Christmas is to see Rebecca and Miguel's wedding, you know?
Miguel's Thanksgiving might not have been the most fun, but it does seem productive! Fortunately, they get to hightail it out of that tension-filled dining room and head over to Randall's house for dessert. On what planet would you ever believe a Pearson Thanksgiving would be the least dramatic option, but here we are.
Though, I guess it's not drama-free for all participants.
Kate and Toby are left in charge of cooking while Randall and his family head to a homeless shelter in Philadelphia for a campaign event. That whole thing turns into a mess as Beth and Jae-won butt heads and Randall makes it clear that he will always take Beth's side because she's his wife. That doesn't sit well with either of his staffers — Jae-won for obvious reasons and Beth because Randall swore to her this wasn't a pity job. Everyone's mad at Randall and on his favorite holiday, too!
Things back at his house aren't any less stressful. Toby's left alone in the kitchen and completely fails. He ends up having to order takeout and "saving Thanksgiving." They don't show us how Randall reacts when he comes home to find his precious turkey decimated, but I imagine it involves some high-pitched screaming. The important part, though, is the reason why Toby's left to cook an entire complicated meal by himself: Aunt Kate is busy tending to Tess, who has gotten her period for the first time.
Honestly, I can't imagine anything more scarring than realizing you're having your first period and immediately running into Toby. But Kate takes care of it, and has a nice heart-to-heart with her niece. During this chat, Tess comes out to her aunt. The relief on her face when Kate responds so normally is the most precious thing to happen in the entire hour. Tess isn't ready to tell her parents yet, but you can bet once she does we will all be emotionally moved. Get your tears prepared now, people.
This Is the Rest
• The most charming of all the Thanksgivings is surely the Thanksgiving when William and Jesse met and began to fall for one another. Though I do have to wonder what the endgame of showing something like this is. Will Jesse be popping by in the present day? Perhaps in Randall's campaign storyline?
• We get a peek at Thanksgiving in Vietnam and learn that Jack received The Necklace after helping heal a wound on the woman's son's foot. We also learn that Nicky's struggling even under Jack's care. He refuses to help Jack with the little boy and reminds his older brother that the women and children here are the enemy, too. Things are real bleak with Nicky and it's only going to get worse. What a cool time for us.
• There's a nice thread woven throughout about Deja and her mother, who reaches out on Thanksgiving. Deja's healing!
• Rebecca claps back at Andy's snarky comments about Kevin's movie with its Rotten Tomatoes score (94 percent) and it is truly a blessed time to be alive.
• Hey, that whole "Rebecca's ACTUALLY crying over an onion and not because Jack's dead" thing was very uncool. I know this show likes to emotionally manipulate us, but too far, show!
• Question: Is getting your first period on Thanksgiving the worst because you have to deal with a full house of family members or the best because it's a holiday that encourages you to binge pie? Discuss!
• As is tradition, Randall once again reminds us that a Thanksgiving Dad is a Hot Dad by showing up wearing only his boxer briefs for an entire scene. I amend my earlier statement: This is what I'm most thankful for.