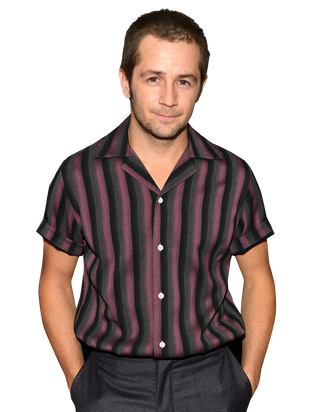 Photo: Matt Winkelmeyer/FilmMagic
Spoilers ahead for Tuesday's episode of This Is Us.
Nobody on This Is Us is more relieved that the cat's out of the bag than Michael Angarano. For months, the actor who plays Jack Pearson's younger brother, Nick, has been lying to everyone he knows and everyone who asks about his character's fate. This Is Us fans — and the Pearson family — had been led to believe Nicky died in the Vietnam War. But on Tuesday's fall finale, Kevin learned his uncle did not die during the war and the audience saw that Nicky is now living as an old man in a trailer in Bradford, Pennsylvania. (That version of Nicky is played by Griffin Dunne.)
"I haven't been able to be honest with anybody in my life for about five months now," Angarano told Vulture during a phone interview. "So this is nice. Finally, everyone knows the twist." Although he still has to be tight-lipped about many of the details surrounding his work on the show, Angarano shared what it was like to perform for the second time with Milo Ventimiglia, how he prepared for the role, and why fans will need lots of tissues when the entire Jack–Nicky story is revealed.
Did you know from the start that Nicky really wasn't dead, or did you find out as you were filming?
I knew the broad strokes of the story, which was that Nicky was alive. I didn't know the nuances and the details of the story so to speak, and was continually surprised by every script that I got and read. And I similarly don't know too much about the future of it. They're very close-lipped over there, as you would imagine.
And he's right there in Pennsylvania! So close.
Very close. You can take the boy out of Pennsylvania, but I guess he just ends up back there. [Laughs.]
You've said in recent interviews that Nicky's story has a dark and sad ending. Even though he didn't die in Vietnam, is that still the case?
Yeah, I'm not dishonest when I say that this story is very dark and sad. Even with Nicky being alive, the circumstances and what's happened to him and what happened to Jack is very sad.
You were on The Tonight Show and Jimmy Fallon asked you about different fan theories about Nicky's fate. The first one was that he was still alive, which sparked a big online debate about whether the look on your face gave the secret away. Did you feel like you gave it away?
[Laughs.] I would like to think not. I think I did pretty good.
You also worked with Milo on the 2015 movie Wild Card. Is that how you ended up on the show? Or did you audition?
I didn't audition. It all came in a really surprising way. I didn't know I was being considered and it was one of those great gifts that I was given.
Honestly, this character and working with these writers and Milo has been really rewarding for me creatively. This stuff was really challenging and demanding and difficult at times physically, but I felt really taken care of. It's been nice for a lot of reasons, but I will say working with Milo has been probably the greatest pleasure of the entire experience. This stuff is intense and there were moments where he was incredibly supportive. It's a lot playing a character that is suffering the way Nicky is suffering. And so Milo was supportive and helpful and generous in so many different ways. What we were able to bring to life on camera was really exciting for me.
Were you aware of the fandom surrounding Jack before you joined the show? Were you intimidated by the idea of playing superhero Jack's little brother?
I was aware directly and indirectly. My sister's a massive fan of the show. And my sister told me more about my character than the producers did upon my first conversation with them. She also told me that Nicky was dead. So I was very close-lipped from the start. But it's impossible not to be aware. It's in the cultural Zeitgeist.
How do you view Nicky and how did you connect to the character?
Well, he's a person who comes from a really complicated upbringing. His relationship with his brother is the most significant relationship in his life and I relate to that because I'm extremely close with my younger brother. I'm extremely close with my sisters and my parents. And because he was always protected by Jack, he doesn't really know himself as a man. I think that greatly influenced his decision to go to Vietnam in the first place — and ultimately, that's the experience that will shape his life forever. But as a person, I think he's incredibly sensitive. He's incredibly smart. He comes from a working-class family, he's a little bit of a poet. While Jack is present and earnest and a little bit of the savior, Nicky is very much the observer and more of an overthinker.
Most of your work has been on location at the Vietnam set, right? Where did you film? What was it like?
They filmed a lot of stuff in Vietnam. The production was actually in Ho Chi Minh City, and you could talk to Milo and Justin [Hartley] and Melanie [Liburd] about all that. I was not in Vietnam. Regarding how we see Nick in Vietnam, the makeup process alone is a long process. I don't show up to work that dirty.
The conditions were really physically demanding. We weren't on a cozy soundstage somewhere. The days were really hot and you felt like you were out in the elements. That much I can say. It really felt extremely authentic.
And to prepare for the role, you lost a considerable amount of weight.
In that first episode, when Jack sees Nicky, they describe him as looking very gaunt. Even though I'm not a big guy to begin with — I didn't have a lot of weight to lose — I ended up losing about 15 to 20 pounds. I didn't do one of those tuna fish and apple kind of diets, but I felt fine. It really did help because the physical transformation was necessary for the Vietnam stuff. When we find Nicky, he's been there for at least a year.
Do you predict the audience will be in tears when the show returns next year and we find out what happened between Jack and Nicky?
Oh, always. [Laughs.]