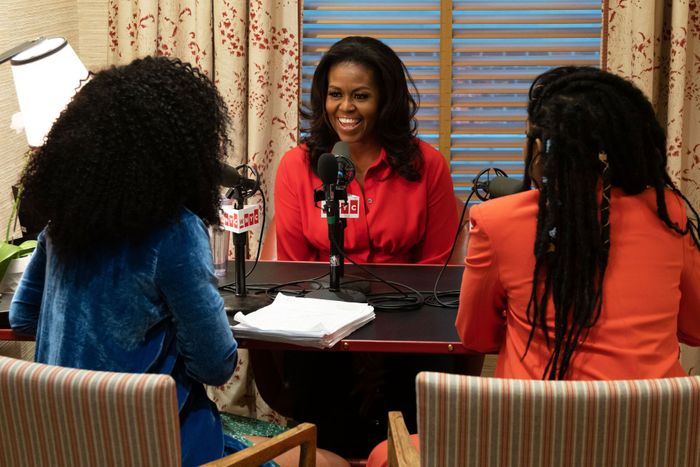 Michelle Obama on
2 Dope Queens
.
Photo: WNYC
The comedy podcast universe is ever expanding, not unlike the universe universe. We're here to make it a bit smaller, a bit more manageable. There are a lot of great shows and each has a lot of great episodes, so we want to highlight the exceptional, the noteworthy. Each week our crack team of podcast enthusiasts and specialists and especially enthusiastic people will pick their favorites. We hope to have your ears permanently plugged with the best in aural comedy.
2 Dope Queens — Karaoke With Michelle Obama
Anna: Phoebe Robinson and Jessica Williams have Ph.D.'s in "going out with a bang." The co-hosts of 2 Dope Queens, the podcast turned phenomenon with a series of HBO specials, dropped their final episode this week: a conversation with Michelle Obama. As per their farewell letter: "When the queen calls, the Queens answer!" Yes, it's SAD. But we can agree that wrapping with one of the most legendary, powerful, inspiring women on the planet is the classiest, most meaningful way to go. After discussing her new memoir, Becoming, they chat about the former First Lady's hair journey, the "Angry Black Female" stereotype, and encouraging boldness in girls. Of course, this isn't without revelations about Harry Potter, pizza, and (you knew it was coming) Bono. Robinson and Williams appreciate Obama for her honesty and frankness, while she commends them for being open about their bodies and relationships; how could this not turn into a lovefest? When Obama ends by reading a passage from her book, reminding us that the journey never ends, she unknowingly, properly sends off the iconic podcast that amplified diverse voices in comedy: "Becoming is never giving up on the idea that there is more growing to be done." Thanks, 2 Dope Queens.
Listen: Spotify | Apple | Website
Yo, Is This Racist? — We Solved Racism Special (with Edgar Momplaisir, Dani Fernandez, Joey Clift, Solomon Georgio, Gaby Dunn, Brodie Reed, Carl Tart, Kirby Howell- Baptiste, Naomi Ekperigin, and Kara Brown)
Mark: They did it! After all the listener questions, thoughtful guests, and ONE THOUSAND freakin' episodes, Andrew Ti and Tawny Newsome have finally solved racism. To celebrate the momentous feat, they've invited a rotating all-star cast of podcasters and comedians. Since this is now a post-racial podcast, each time someone mentions race, they have to throw some poker chips into a cup. It's the world's wokest game of poker (woker?). As newly straight white guys, the hosts enlist the guests for advice on what the future of their podcast should look like. It's two hours of very specific riffing while throwing thinly veiled shade at every podcast in the galaxy. Some of the exciting new formats tossed around include talking about bad movies, two buddies joking about murder, pro wrestling, improv but for some reason there's a drum kit in the corner, sitting around with impenetrable inside jokes, and being Marc Maron. One thousand of literally anything is overwhelming. A well-deserved congratulations to the Yo, Is This Racist? team for ending racism and for earning a future Nobel Prize.
Listen: Spotify | Apple | Website
John Levenstein's Retirement Party — Alt Comedy Snobbery
Pablo: As a veteran of writers rooms from The John Larroquette Show to Silicon Valley, John Levenstein has seen it all. Well, not so much as seen, since he was stuck in cramped conference rooms from Bundy to Las Palmas, but he's heard enough stories to fill a paywalled Stitcher Premium podcast. For the very patient or those unwilling to pay $5 a month, the entire ten-episode party full of Hollywood tales, feuds, and advice is now rolling out for free on Earwolf. On episode No. 2, Levenstein's longtime friends Karen Kilgariff and Paul F. Tompkins stop by to talk shit about snarky, self-obsessed comedians from L.A.'s '90s alt-comedy scene: themselves! Both comics look back with regret on the snobbery that went on, from refusing to watch the sets of frenemies to turning down auditions because the sitcoms weren't Mr. Show quality. It's a mid-to-late-20s confidence that has sunk many careers, but they both grew as humans and have made it out just fine. Later in the episode, Levenstein calls Portlandia and Baskets co-creator Jon Krisel — whom Kilgariff describes as the cool keyboard player in a band — to pry out a much-desired compliment from the quiet, reticent producer. It's hilarious and cringey … and that's before he's forced to give both his wife and Tim Heidecker compliments as well.
My Dad Wrote a Porno — A Factory Visit
Brianna: If it's even possible, the fourth book of the erotic series Belinda Blinked, which follows a woman named Belinda through her many sexual trysts in the pots and pans industry (of course), has been one of the most nonsensical yet. That's in part because author Rocky Flintstone attempted to add intrigue and introduced major plot points that may never be tied up, including an undercover enemy and a James Bond–level mission to find the mole, all with plenty of misused sexual terms along the way. And it's all for the best because in the world of My Dad Wrote a Porno, chaos leads to laughs. As the series continues, the lore of Rocky himself becomes more and more fascinating. In this episode, listeners learn that while the hosts took the show on the road, he showed up in the audience in disguise with dyed hair, wraparound sunglasses, a hat, and a button-up shirt with a wild print. In this season's penultimate episode, hosts Jamie Morton (son of the titular dad), James Cooper, and Alice Levine try their best to make sense of the book they've collectively read together, and it's clear that their overblown confusion over the smallest details becomes a far greater source of entertainment than Rocky's wild prose.
Listen: Spotify | Apple | Website
Hound Tall — Corporations with Guy Branum, Mary Houlihan, Yassir Lester, and Adam Winkler
Tom: If you consider yourself a political masochist who derives pleasure from the current state of public affairs, then you should check out the latest installment of Hound Tall to wet your whistle. This week, host Moshe Kasher welcomes UCLA law professor Adam Winkler and comedians Guy Branum, Mary Houlihan, and Yassir Lester to discuss whether or not they think corporations are evil. Spoiler alert: They are. We all know it! Winkler, who's considered an expert in the field of corporate history, takes our comedians on a frustrating yet fascinating journey through one of the lesser-known civil-rights movements of our time. That's right, corporations fought for equality under the Constitution and then labeled it a civil-rights movement. If that's not evil, I don't know what is. For those of you saying, "We don't treat businesses like people," I'll let a little quote from Mr. Business himself, Mitt Romney, back me up: "Corporations are people." Yikes! Can you believe that guy was almost president? Regardless of your political stance — which I hope is left-leaning at this point — Hound Tall makes for a fun, informative way to spend your time.
Listen: Spotify | Apple | Website
Other Podcasts We're Listening To:
Why Won't You Date Me? — with Kara Klenk
Listen: Spotify | Apple | Website
Horny 4 Horror — Talkin' With GARY MCMASTERS (Paul F. Tompkins) from the HEREDITARY CULT!!!
Listen: Apple | Website
Raised by TV — Yeardley Smith
Listen: Spotify | Apple | Website
Mall Talk — Bloomingdale's with Brendan Scannell
Listen: Spotify | Apple | Website
Feliz Navipod — the Sloppy Boys
Listen: Apple | Website
Got a comedy podcast recommendation? Drop us a line at comedypodcasts@vulture.com.
This week's reviewers: Pablo Goldstein, Mark Kramer, Tom Rainey, Anna Marr, and Brianna Wellen.