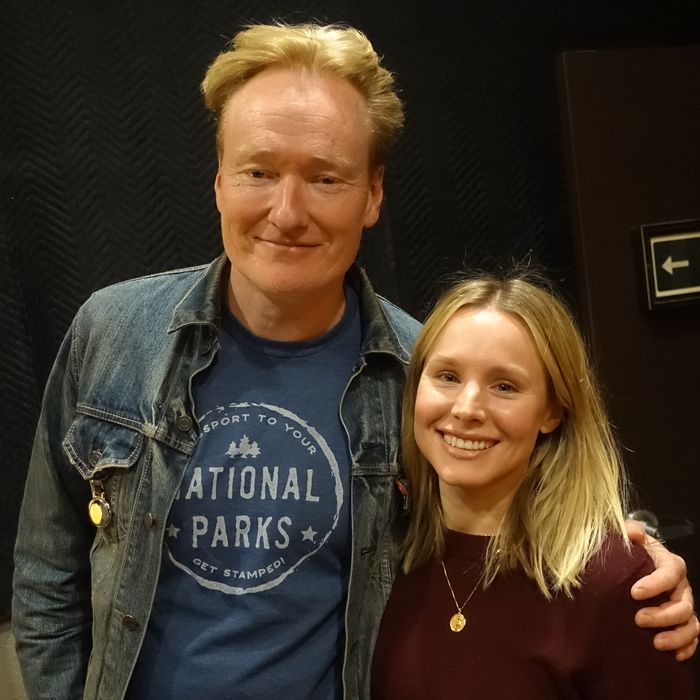 Conan O'Brien and Kristen Bell.
Photo: Earwolf
The comedy podcast universe is ever-expanding, not unlike the universe universe. We're here to make it a bit smaller, a bit more manageable. There are a lot of great shows and each one has a lot of great episodes, so we want to highlight the exceptional, the noteworthy. Each week, our crack team of podcast enthusiasts and specialists and especially enthusiastic people will pick their favorites. We hope to have your ears permanently plugged with the best in aural comedy.
Conan O'Brien Needs a Friend — Kristen Bell
It's hard to believe that a guy who's been on national television for a quarter-century is wanting for friends but, to hear him tell it, Conan O'Brien is turning to podcasting in order to find a true chum. In the second episode of Conan O'Brien Needs a Friend, the host chats up potential pal Kristen Bell (The Good Place), who seems very well-suited to the position. She dives right in, asking O'Brien why he needs a friend so badly when he's got so many people already in his life who share his goals — whether it's the folks who help make his TBS TV show run, or his wife and kids at home. It turns out that maybe what he really needs is more "me"-time than "we"-time, whether that means working out more or getting out on the open road on his motorcycle. We learn that Bell and O'Brien have been out on the town together, double-dating with their significant others (Dax Shepard and Liza O'Brien), and the door is left open for more "friendship-adjacent" action. The conversation is breezy and easy, with a little more edge than his TV segments generally allow. The show is tagged with a "True or False" segment, where O'Brien quizzes his plucky assistant Sona Movsesian to get to know her better. Also along for the ride is the show's producer, Matt Gourley of Superego, whom O'Brien doesn't seem to quite trust, yet. — Marc Hershon.
Listen: Spotify | Apple | Website
The Hilarious World of Depression — Aparna Nancherla
As we gear up for the holiday season, now is the perfect time to deck some halls, bake those cookies, and, yes, check in on your own mental health. Statistically speaking, holiday depression, anxiety, and stress can affect anyone at any age. For me, The Hilarious World of Depression acts as a wonderful bridge between a traditional comedy podcast and one that tackles the taboo subject of mental illness. This week, Aparna Nancherla joins host John Moe to discuss her history with depression and anxiety. With something much like the vulnerability and courage it takes to attempt stand-up in the first place, Nancherla, true to form, is unapologetically open and honest about her battles with depression. She brings us on a journey that starts with a breakdown she suffered in college, through the beginning stages of her comedy career, and to her current struggles with depression and anxiety today. Throughout, Moe asks insightful questions that touch on the difficulties of being vulnerable onstage, whether Twitter has been bad for Nancherla mental health, and what she wishes she knew about depression long ago. Aparna and John, through honest conservation, help shed some light on whether or not depression can actually be funny. — Tom Rainey.
Listen: Spotify | Apple | Website
Anna Faris Is Unqualified — Bill Hader
At 150 episodes and hundreds of more questions into her podcast, is Anna Faris finally qualified to give relationship advice? Faris would say no, but this week's excellent episode proves she's nearing expert status. Freshly minted Emmy Award winner Bill Hader first opens up about hiding his anxiety at SNL and the loudest laugh he's ever heard inside Studio 8H, which happened to be during one of Faris's hosting appearances. The two Cloudy With a Chance of Meatballs co-stars go on to trade war stories from their collective press tours that sound truly nightmarish. We even get a classic Bill Hader laugh-break while Faris role-plays Beige Schumacher-Smith, her red-carpet reporter character. Blank-slate questions like "Tell us about your new show Larry," and, "Now, Kanye?" cause Hader to completely lose it. It's a delight to listen to. After the interview, Faris plays the voice of reason to a previous caller, rescuing him from Hader and co-host Sim Sarna's unhelpful college dating advice. The second caller shares the sobering details of workplace harassment by a male co-worker. The three try to help but ultimately admit they are unqualified to give real advice on the situation, thus keeping the podcast's title and the balance of the podcast universe in order. — Mark Kramer.
Listen: Spotify | Apple | Website
Off Book: The Improvised Musical — Jeff Hiller in "A Sea Star Is Born Live" from Murmrr
Let's consider this an audition for guest Jeff Hiller to replace Lady Gaga as Ursula in the live-action Little Mermaid. Live in Brooklyn, Jess, Zach, and New York's own Hiller take the stage to weave a masterful new underwater musical. "Swim On In" to hear Hiller inhabit both Ursula (yes, that one) and Ally, the starfish who's been told she'll never work in this industry. That's right — this a potential origin story for a Disney villain and the underwater tale of how "A Sea Star Is Born." As someone who's yet to see Gaga's new film, I have to believe it's about a stingray and a sea cucumber seeking out a sea-witch/cabaret singer and undeveloped future star to sing at their underwater lounge. It must involve Ally's being scared to perform, someone repeatedly trying to convince her to do so, and sexually charged dolphins. As for the hosts' claim that Hiller is one of the greatest musical improvisers of all time, it's hard to disagree. With guest New York musicians and Hiller's fearless vocal stylings, this episode's songs are more than good enough for Bradley Cooper. Find out how far from the sha-ha-shallow we end up! — Anna Marr.
Listen: Spotify | Apple | Website
Other Podcasts We're Listening To:
Why Won't You Date Me? — Erin Whitehead
Listen: Spotify | Apple | Website
The Soft Spot — Cereal Killer Nick Wiger
Listen: Spotify | Apple | Website
Armchair Expert — Conan O'Brien
Listen: Spotify | Apple | Website
The Misfits Podcast — Misfits House
Listen: Spotify | Apple | Website
Cool Playlist — Solo Karaoke with Eliot Glazer
Listen: Spotify | Apple | Website
Got a comedy podcast recommendation? Drop us a line at comedypodcasts@vulture.com.