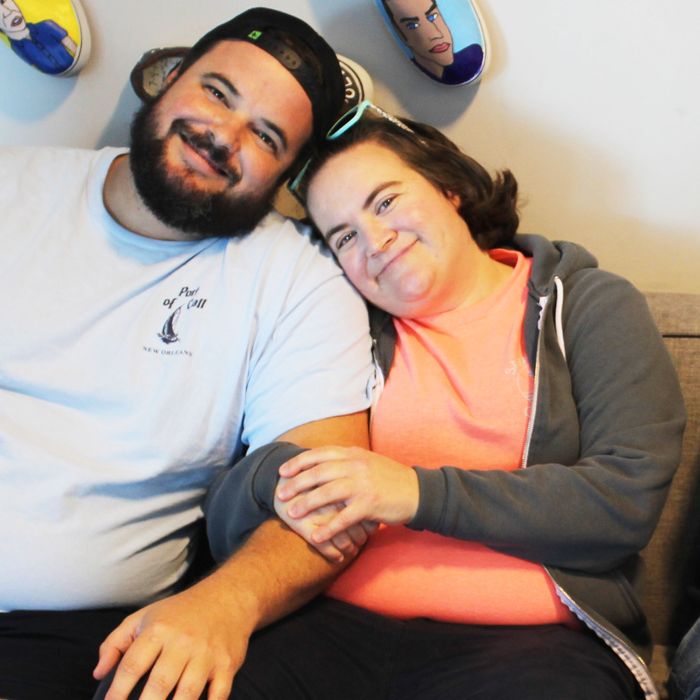 Comedy Bang Bang.
Photo: Earwolf
The comedy podcast universe is ever expanding, not unlike the universe universe. We're here to make it a bit smaller, a bit more manageable. There are a lot of great shows and each has a lot of great episodes, so we want to highlight the exceptional, the noteworthy. Each week our crack team of podcast enthusiasts and specialists and especially enthusiastic people will pick their favorites. We hope to have your ears permanently plugged with the best in aural comedy.
Comedy Bang Bang — Rope Beats Rock with Jon Gabrus, Betsy Sodaro, & Will Hines
Tom: To ease the pain of not visiting Suicide House this Halloween, Scott Aukerman stuffed an Italian meatball, in the form of intern Gino Lambardo (Jon Gabrus), into our trick-or-treat bags instead. Although we may have to wait a full year to catch up on our creepies, the unfiltered stream-of-consciousness from Gino at the top of the show more than makes up for CBB's lack of a new Leo Karpatze "Monster Mash" parody this time around. Joining Aukerman and intern Gino, the former ruler of ancient Egypt, Cleopatra (Betsy Sodaro), hops on by to talk about the events that led to her DNA being crossed with that of a frog's: Ribbit! After dispelling some historical rumors, Cleopatra sets the record straight on her death and a steamy affair she once had with Caesar. In standard Bang Bang fashion, the three hit riff-city pretty hard before being joined by rope-trick expert gone criminal, Idaho (Will Hines). Whether you're looking for a good laugh at the expense of Emilio Estevez or want to hear our panel discuss what non–Billy Joel songs count as music, Comedy Bing Bong is here for you.
Listen: Spotify | Apple | Website
Horny 4 Horror — Talkin' With … PAUL RUST!!!
Mark: On Halloween, the holiest and horniest time for horror fans, who better to celebrate with than Mano, Betsy, and Adam? This week Horny 4 Horror's brave hosts summon fellow slasher-enthusiast and In Voorhees We Trust With Gourley and Rust co-host Paul Rust. In the first few minutes, Rust turns a real-life ghost story into a riff on farting ghosts, setting the tone for a silly celebration of all things horror. The only true horrors described here come from Christianity, where Rust's Catholic sex guilt caused him to contort his pubescent thoughts into Linda Blair–level knots. Poor Mano was also hilariously terrorized at Christian sleepaway camp by Jesus Himself, a.k.a., "The Thief in the Night," a completely made-up slasher flick that needs to get made. After some mildly spooky Would You Rathers, Rust closes with a story about getting mugged on the way to coaching improv that truly leaves listeners breathless. Thank Beelzebub this episode has no post-interview epilogue, since the H4H hosts and guest conclude that words after the end of stuff are the scariest fright imaginable.
Bodega Boys — 23 Jump Street
Pablo: Like the cover of an Animorphs novel, Jonah Hill is undergoing his latest career metamorphosis, from Oscar-nominated actor to prestige-movie–directing auteur. To promote that film, Mid90s, he's stopped by the Bodega Boys for a rare guest appearance on Desus and Mero's longtime podcast. They haven't had many guests since the bygone days of their first podcast, Desus vs. Mero, but it's a nice change of pace for the inside-joke–heavy show. Hill spends much of the time talking about his comedic influences, but also gets personal when discussing his accountant father, whom he describes as a man whose love language is money. It's not a Jewish joke — his dad is the kind of guy who truly means "I'm proud of you" when he recommends moving to Florida for the tax breaks. The trio also get into self-censorship in today's media landscape and why Hill decided not to cut the realistic anti-gay slurs that the teenage skate-punks of Mid90s call each other. While there're few shows that can replicate Desus and Mero's Two Friends Talkin' Shit on the Stoop back-and-forth, having more episodes with a featured guest would be a nice change of pace. With 300 episodes of their old Vice show under the belt, they're already better interviewers than many of their late-night competitors.
The Good Place: The Podcast — Chapter 32: Manny Jacinto, Actor; Matt Murray, Writer; Mitch Narito, Actor
Anna: The weekly podcast for NBC's The Good Place has a good habit of teaching you fascinating things about not only the show but writing, the industry, philosophy, and even Jacksonville, from some of the funniest people working in TV. Joining host Marc Evan Jackson to shoot the shirt are actors Manny Jacinto (Jason Mendoza) and Mitch Narito (Donkey Doug) and writer Matt Murray. Donkey Doug is undoubtedly a new favorite character, so Narito takes us through his audition process for the world's most secretive show — and how even he didn't know he was Jason's dad. More juicy anecdotes await, from Narito's process of finding Donkey Doug's voice (hint: Rocky and hype men) to the creation of the longest handshake of all time, to how the Blake Bortles community actually managed to get a "Duval" into the script. (I don't get it either.) Chapter 32 would be nothing without Pillboi, so all four sing actor Eugene Cordero's praises. After a chat on the gendered reality of fixating on actors' physical appearances, our guests end with "What's Good?" Finish your Halloween romps with this positive pod's regular parting message that feels particularly relevant heading into election week: "Go do something good."
Listen: Spotify | Apple | Website
The Oval Office Tapes — Make America's Greatest Hits Again
Marc: If you like your political satire biting and scathing, and perhaps feel that whatever of that Saturday Night Live once had is long gone, let your ears take a gander at The Oval Office Tapes. From the mind of television and documentary producer R.J. Cutler (Nashville, The World According to Dick Cheney) comes this brazen comedic audio-portrait of the goings-on inside the Trump White House. Hanging with the current trend in podcasting, this is a "limited series," and it's about to come to an end just about the time the midterm elections hit. If you've missed the first six episodes, you can binge them all, or listen to the latest episode, which serves up a handful of their most popular sketches to date. Stitched together with "guest host" and Trump sycophant Judge Jeanine Pirro, the "overheard" audio includes POTUS showing Elizabeth Warren how his kind of logic works, to the extent that she finally gives up trying to best him with real logic; a call from Kim Kardashian with tips on how the president can maximize his social-media muscle; Trump explaining to Newt Gingrich how sheer spite keeps him healthy and fit; Ivanka's plan to be VP in 2020; and Rudy Giuliani trying to convince First Lady Melania to "re-up" her marriage contract with her husband for two more years. The voice cast is all-pro excellent, including Chris Cox (Family Guy), Mary Birdsong (The Descendants), and Ian James Corlett (Dragon Ball Z), as is the production value and the show's ability to drop a well-timed F-bomb out of the mouths of scumbags.
Listen: Spotify | Apple | Website
Who Shot Ya? — Trick AND Treat: The New "Halloween" and Betsy Sodaro
Kathryn: It's Halloween week on Who Shot Ya, as it is in the world generally. If you can't get enough of horror podcast expert Betsy Sodaro (Disjointed, Another Period) on Horny 4 Horror, check her out as a guest on Who Shot Ya, where she stops by to quiz all four hosts (Ricky Carmona, April Wolfe, Alonso Duralde, Drea Clark) on horror-movie taglines. It's an extremely, extremely difficult game. And of course the gang takes apart the new David Gordon Green/Blumhouse installment of Halloween, along with the entire Halloween franchise. No spoilers for the new one, but the biggest point of contention is: Would a punch bowl full of pudding actually ruin your phone? Think about it. Speaking of scary existential thoughts, our childhoods are dying as we speak — the weird-ass movies that only ever existed on VHS are deteriorating in an orphaned format on the way to becoming totally defunct. That's a fun convo to have on Halloween. And as always, we get staff recommendations, new Spotify playlists for Movie Soundtracks and Movie Scores, and a hot tip on some nacho tater tots in Culver City.
Other Podcasts We're Listening To:
Hollywood Handbook — Brett Gelman, Our Close Friend
Listen: Spotify | Apple | Website
Armchair Expert — Lena Dunham
Listen: Spotify | Apple | Website
Dumb People Town: Kevin Nealon — A Goat Named Voldemort
Listen: Spotify | Apple | Website
Beyond With Mike Kelton — The Haunting at Cure Thrift Shop (Part 2)
Listen: Spotify | Apple | Website
Off Book: The Improvised Musical — Monster Kids (with Lou Wilson)
Listen: Spotify | Apple | Website
The Jeselnik & Rosenthal Vanity Project — Anthony Forgets the Theme song to His Own TV Show
Listen: Apple | Website
Got a comedy podcast recommendation? Drop us a line at comedypodcasts@vulture.com.
This week's reviewers: Pablo Goldstein, Kathryn Doyle, Marc Hershon, Mark Kramer, Tom Rainey, and Anna Marr.