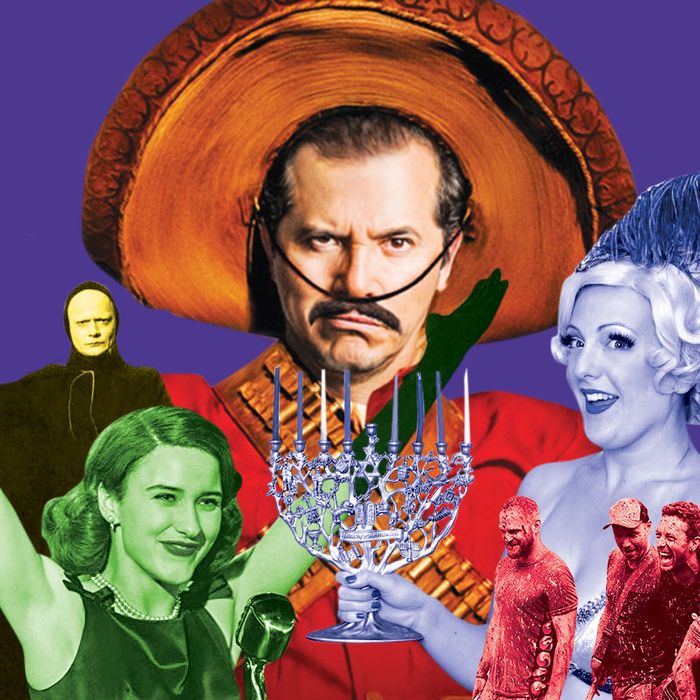 Photo: Courtesy of Janus Films/Courtesy of Amazon Studios/Mark Abrahams/Ted D'Ottavio/Courtesy of Coldplay
Pop Music
1. Listen to Warm
Autumnal vibes.
Wilco singer-songwriter Jeff Tweedy steps out with his first batch of original songs under his own name, following outings with Tweedy and Loose Fur and last year's acoustic-hits album Together at Last. Warm was recorded at Wilco's Chicago studio, the Loft, with help from Tweedy's Spencer Tweedy (Jeff's son) and Wilco and Loose Fur drummer Glenn Kotche. — Craig Jenkins
dBpm Records, November 30.
TV
2. Watch The Marvelous Mrs. Maisel
It's a gas.
The first Amazon series to win an Emmy for Outstanding Comedy Series returns for its second season with as much fizz as the first. Also back: Rachel Brosnahan (Emmy winner) as Midge Maisel, whose stand-up career is on the rise and whose fashion sense remains on point.
Amazon, December 5.
Art
3. See Lisa Yuskavage: New Paintings
Big steps taken ferociously.
The wild art star of the 1990s, known for her candy-colored voluptuaries with distorted faces and poses, ups her game in a new series of large works.
The subject matter is the same, but the impact is more serious, aggressive, and furious. These less-than-fucking-perfect figures may have made wrong turns along the way, but they're weaponized with complexity here. — Jerry Saltz
David Zwirner Gallery, 34 East 69th Street, through December 15.
Theater
4. See The Resistible Rise of Arturo Ui
Gangster's paradise.
Raúl Esparza tears up the stage as the villainous center of John Doyle's sharp, smart take on Brecht's 1941 satiric parable of Hitler's rise to power. Doyle keeps the staging simple and storytelling taut; the play's sly vaudeville humor and terrifying trajectory both hit home. — Sara Holdren
Lynn F. Angelson Theater, through December 22.
Classical Music
5. See Israel in Egypt
Topical, and eternal.
The Book of Exodus is, among other things, the tale of a migrant caravan walking across tough terrain to a land where it may not be welcomed.
MasterVoices performs Handel's dramatic setting, along with magical animations by Syria-born Kevork Mourad, which make the story seem at once timely and antique. — Justin Davidson
Carnegie Hall, November 28.
Comedy
6. Go to The Third Annual Chanukahstravaganza: 'Twas the Night Before Chanukah
'Tis the season.
You could say this lineup of Jewish comedic talent is lit: It includes Ophira Eisenberg of NPR's "Ask Me Another" and The Daily Show's Matt Koff. Proceeds go in part to benefit Pittsburgh's Squirrel Hill JCC and Holocaust-survivor care.
Union Hall, December 1.
Books
7. Read How to Be Alone
Lessons in becoming.
Although it's not a self-help book per se, writer and comedian Lane Moore's essay collection has plenty of prescriptive elements. Moore never shies away from revealing the rawest, most painful moments of her life, but she doesn't play her tragedies for laughs — the laughs just come anyway. Her essays illustrate how a young woman can be successful and opinionated but still not have personal relationships quite figured out. Best to find comfort and meaning in pop culture, whether it's singing Fleetwood Mac songs in the bathroom or making a strong case for why The Office's Jim Halpert is the perfect boyfriend (seasons one to four only).
Atria Books.
Theater
8. See Fabulation, or the Re-Education of Undine
Starting over.
Lynn Nottage's 2004 play about a successful African-American publicist who has to return to the home in Brooklyn she thought she'd left behind — pregnant and broke after her husband steals all she's earned — gets a revival directed by Obie winner Lileana Blain-Cruz and starring Cherise Boothe as Undine. — S.H.
Signature Theatre, through January 6.
Movies
9. See Divide and Conquer
Made for what Ailes us.
In the early '70s, a socially backward boy named Roger Ailes fantasized under Richard Nixon about a right-wing propaganda network masquerading as a legitimate news source. Alexis Bloom's film charts the way he made just that in the '90s with help from Australian mogul Rupert Murdoch. Bloom focuses on what she calls Ailes's "serial cruelty" and gives a vital platform to the women he allegedly sexually harassed for so many decades. — David Edelstein
In theaters and on demand December 7.
Classical Music
10. See Anthracite Fields
Tender and furious.
Well before the Pennsylvania coal miner became a stock character in MAGA political theater, composer Julia Wolfe fashioned a moving multimedia tribute to the men and women who pried energy from the Earth. The cantata is a meditation on the lives that coal made possible, and also on its costs — personal, social, and environmental. — J.D.
Zankel Hall, December 1.
TV
11. Watch 1983
A different darkness descends.
Netflix's first-ever original series from Poland imagines an alternate history in which that country stays a police state and the Iron Curtain never falls. Ideal for anyone who seeks an East European The Man in the High Castle vibe.
Netflix, November 30.
Pop Music
12. See Raleigh Ritchie
Fierce.
You might know actor Jacob Anderson as the no-nonsense trooper Grey Worm from Game of Thrones, but you should know him as Raleigh Ritchie, the Bristol-born singer and writer of smart, charming R&B-pop tunes including "Stronger Than Ever," "Bloodsport," and "Time in a Tree." Catch him live for an inspiring night. — C.J.
Music Hall of Williamsburg, December 11.
TV
13. Watch The Prisoner
Welcome to the Village.
If you loved Homecoming, try the granddaddy of mystery-box shows, which debuted in 1967. A story about a secret agent who quits his job only to be abducted and imprisoned in the Orwellian "Village" where no one says who's really in charge, The Prisoner is a landmark of paranoia.
Amazon Prime.
Pop Music
14. Watch and Listen to Coldplay
Are they finally retiring?
The British rock vets have been threatening to retire for years now.
Chances are, if you haven't been out to hear Chris Martin belt out "Fix You" in person already, you may not see another opportunity for a while. Fret not! This fall sees the release the career-spanning Coldplay doc A Head Full of Dreams, directed by the band's longtime videographer Mat Whitecross, the Live in Buenos Aires album, which captures the final date of what could be the band's final stadium tour, and the concert film Live in São Paulo. If the boxed set seems like overkill, you can watch A Head Full of Dreams on Amazon Prime. — C.J.
Amazon Prime; Atlantic/Parlophone.
Art
15. See Cynthia Talmadge: 1076 Madison
Homegoing.
Super new talent Cynthia Talmadge raises her psychic-conceptual sails in this bracing exploration of the Upper East Side's famous Frank E. Campbell funeral home. Talmadge renders the exterior of the building in obsessive pointillist detail. A spell falls over the gallery, a conjuring of love, splendor, class, figures of power, and one amazing artist. — J.S.
56 Henry, 56 Henry Street, through December 23.
Books
16. Read Insomnia
Keeping you up.
Marina Benjamin's latest memoir in fragments mirrors the workings of a sleepless mind. The fractured narrative braids together anecdotes involving her soundly sleeping husband, reflections on insomnia in classic tales since the Odyssey, and representations of sleeping women in art and culture.
Catapult.
Movies
17. See The Seventh Seal
Transcendent.
You know you have to see Ingmar Bergman's 1957 masterpiece at the Film Forum, for several good reasons. The first is for its black-and-white cinematography, which makes the story of a 14th-century knight (Max von Sydow) who challenges Death to a game of chess even starker. The second is for the thrill of pretending it's the mid-'50s and you're seeing a work that mixes modern eroticism and psychology with medieval imagery. You'll understand why Bergman — and European cinema — seemed so heaven-sent. — D.E.
Film Forum, December 7 through 13.
Theater
18. See Slave Play
American nightmares.
Jeremy O. Harris's "antebellum fever-dream" of a play is receiving its Off Broadway premiere but has already won playwriting awards. Robert O'Hara directs this surreal, scathing examination of the sexual traumas of slavery. — S.H.
New York Theatre Workshop, through December 30.
Burlesque
19. Go to Menorah Horah!
Get cozy.
Forget eight nights — clothes barely last the length of a song in this Miracle of Lights burlesque and variety show featuring Hebrew hotties and all-inclusive kosher camp. BYOD (bring your own dreidel).     
Highline Ballroom, December 9.
TV
20. Watch Latin History for Morons
Informative and raw.
John Leguizamo's latest one-man show is one for the books — a funny, heartfelt, angry special where the actor-comedian takes audiences on a whirlwind tour of Latin American (mostly) history and his frustration over barely knowing any of it.
Netflix.
Classical Music
21. Hear A Dream Deferred: Langston Hughes in Song
Poetic license.
The fine soprano Julia Bullock continues her year at the Met Museum with a program of newly arranged music set to texts by Langston Hughes, a poet as urgent today as he was during the Harlem Renaissance. — J.D.
Rogers Auditorium, Metropolitan Museum, December 2.
Movies
22. See Roma
Beauty emerges.
See this family saga, shot in black and white and set in Mexico City 1971, in theaters before Netflix slaps it onto its site. The events are seen largely through the eyes of the family's maid and nanny (Yalitza Aparicio) — a native Mexican among the whiter, European descendants of Spanish colonialists. The level of physical accuracy and sensual lived-in-ness is breathtaking. — D.E.
In theaters now; Netflix December 14.
Opera
23. Go to The Head & the Load
Crossing boundaries.
The artist, director, and highbrow impresario William Kentridge fills the Drill Hall with an exploration of Africa during World War I. It's a work that mixes so many forms — dance, art, theater, music — and is so extravagantly beyond genre that we might as well call it an opera. — J.D.
Park Avenue Armory, December 4 through 15.
Classical Music
24. Hear Jaap Does Shostakovich
Thunder ahead.
In his first months as music director of the New York Philharmonic, Jaap van Zweden has displayed a fondness for big noise and high drama. He should be in his element in Shostakovich's wartime Symphony No. 7, which evokes Leningrad during the German siege and has come to be seen as an epic of resistance against fascism of all kinds. — J.D.
David Geffen Hall, November 29, 30, and December 4.
TV
25. Watch Nailed It! Holiday
Totally baked.
Sure, you could stay in your kitchen and stare in disgusted awe at your own holiday baking mega-fails. But why do that when you can delight in the Yuletide pastry disasters in this holiday-themed seven-episode season of the Netflix series hosted by Nicole Byer and Jacques Torres?
Netflix, December 7.
*This article appears in the November 26, 2018, issue of New York Magazine. Subscribe Now!