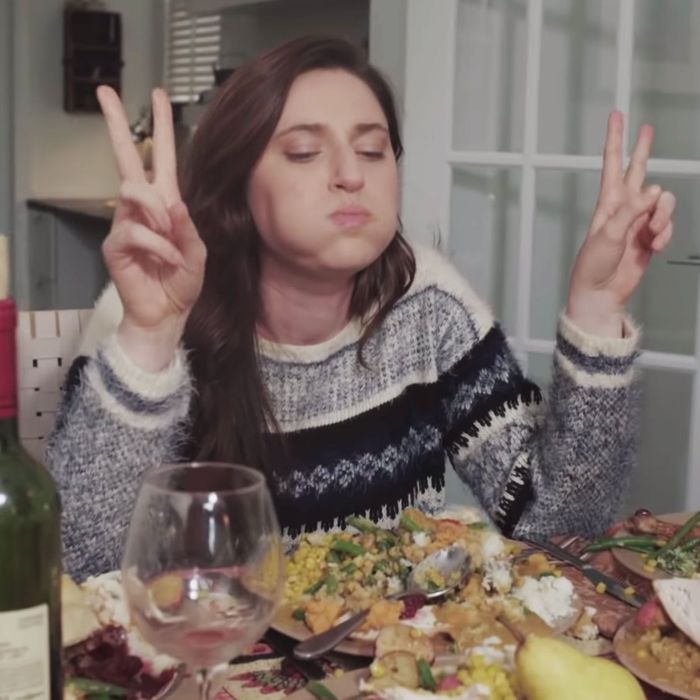 Jackie Jennings.
Photo: Comedy Central
In many ways, this week's column is a typed-up microcosm of the Thanksgiving meals so many of us will enjoy this week — a good-hearted mix of excitement, reflection, and graphic retellings of award-winning pornographic films. Oh, now you're going to act like that's not how your family "does" the holidays? Fine. Here are some videos you should really watch and be thankful for.
Selfsgiving Is the Thanksgiving You Really Want, by Above Average
'Tis the season for full bellies, short tempers, and blatant bigotry unless, of course, you ditch the family bread-break in favor of some sweet, sweet you time. That's what Jackie Jennings has going in this Thanksgiving-week sketch written by Matt Moskovciak and directed by Tim Bierbaum as part of Above Average's three-episode mini-series, Doc-Docs. Yes, it's true, this short is from 2016's holiday, but it's being featured today both because it's timeless and because it seemed to be wiped from the internet altogether, until it popped up a couple days ago under what we assume to be a content-licensing deal with Comedy Central. Why, it's a Thanksgiving miracle, racist uncle!
As Jennings fills a glass of wine to the brim, she turns to an empty eight-seater table set for one and gushes, "I'm just so thankful that none of you could be here today." If only.
A Porn Star at Thanksgiving, by Matt Evans
As Selfsgiving remounts its mantle as a classic piece of internet, we thought it worthwhile to offer a short that will likely be shared by very few this Thursday, and probably for good reason. You see, it's part of the New York Television and Film Fest's Characters Welcome showcase, and it features a porn star's five-minute rant about how his Boston-area family doesn't give him his due. Lines like "Did I really want to get up this morning and finish that piss-and-shit sequel, Poo Screw and Poo 2, Electric Boogaloo?" stand out. With 255 views and counting, we think way more people need to hear this guy out.
Luke is executive producer at Big Breakfast and a watcher of many web videos. Send him yours @LKellyClyne.