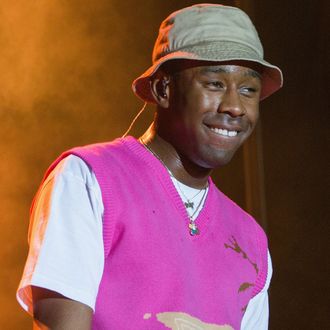 Don't be naughty, be nice!
Photo: Rick Kern/WireImage
The Grinch might be as cuddly as a cactus, as charming as an eel — but Tyler, the Creator is not! Even though the rapper contributed two songs to the new Grinch movie's soundtrack (an original song called "I Am the Grinch," and a remake of "You're a Mean One, Mr. Grinch"), he's releasing a six-song EP inspired by the movie. According to Pitchfork, Tyler's Music Inspired by Illumination & Dr. Seuss' The Grinch will be released tonight.
The Grinch-themed EP will feature collaborations with Santigold, Ryan Beatty, and Jerry Paper. "Lights On," with Santigold and Ryan Beatty, is a charming little holiday ditty released today:
Wrap the gifts, deck the halls, and tell Tim Chalamet to come get at me under this mistletoe!