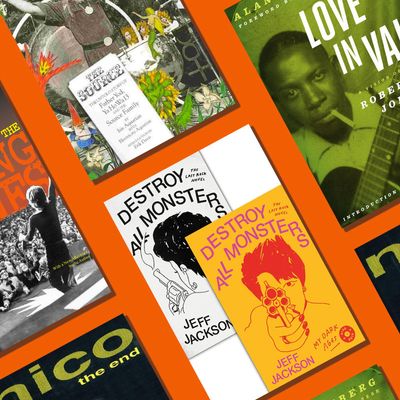 The author, playwright, and songwriter Jeff Jackson's new book, Destroy All Monsters: The Last Rock Novel (FSG Originals), flouts convention in many ways. Following a group of kids on the trail of a series of rock-star murders, it has an A- and a B-side, starting from opposite ends of the book and telling alternate versions of the same story. Jackson's prolific rock reading informed not just his subject but his boundary-breaking style. Below are four strange and exciting rock chronicles he thinks deserve far more recognition.
Some of my primary inspirations for the novel came from my bookshelves, which are overstuffed with sensational and sordid stories of musicians throughout the decades. Many of these books still have plenty of cultural currency — Mark Yarm's illuminating oral history of grunge, Everybody Loves Our Town, Don DeLillo's novel of pop stardom, Great Jones Street, Viv Albertine's searing punk memoir, Clothes, Clothes, Clothes. Music, Music, Music. Boys, Boys, Boys. But I was surprised to find that a number of my favorites have fallen out of circulation. These titles provided insights into key aspects of rock and roll that play out in my novel, but they drew blank stares from most of my music-loving friends. I'd like to change that.
Rock as Myth
This book has the dubious honor of having been into one of the most famous unproduced screenplays. It's been acclaimed by Bob Dylan, Keith Richards, Stanley Crouch, and Greil Marcus; Martin Scorsese once planned to direct it; and David Lynch is currently raising funds to make it. This remarkable literary work pierces the foundational myth of rock and roll — bluesman Robert Johnson selling his soul to the devil in exchange for musical genius.
Greenberg visited the Mississippi Delta in the 1970s to interview Johnson's surviving friends, one of whom later said he "put an end to all the lies and crap about Robert Johnson's life." He evokes the circuit of small juke joints, the bustle of musical competition, and the sharp intelligence of Johnson himself. But there's also a dream logic infusing the scenes, honoring the deep mystery at the heart of the music.
Greenberg himself is an interesting character. His documentary, Land of Look Behind, captured the pathos and chaos of Bob Marley's funeral, and his only other published work, Every Night the Trees Disappear, chronicles the making of his sometime collaborator Werner Herzog's Heart of Glass. But Love in Vain remains his great testament, a seamless combination of fact and fable in which each bolsters the other.
Rock as Cult
Jim Baker was a charismatic ex-marine who founded the Source, a wildly popular vegetarian restaurant in L.A. in the late 1960s. Renaming himself Father Yod, he set up a mansion in the Hollywood Hills and advocated intense forms of meditation alongside sacred sex and herb rituals. His many followers became known as the Source Family. Where this story diverges from other cult narratives is that Baker's devotees included world-class musicians like Sky Saxon of the Seeds, prompting Yod to form his own cosmic rock band.
Ya Ho Wa 13 showcased white-tunic-clad family members who would arrive at their gigs in a Rolls-Royce. They recorded nine albums, ranging from head-spinning improvisations to blistering rock, featuring Father Yod on vocals and a 60-inch gong. Records like Penetration: An Aquarian Symphony have become literal cult classics, esteemed by musicians like Sonic Youth's Thurston Moore.
Compiled by former Source Family members, this lavishly illustrated oral history doesn't seek to justify or demonize the larger-than-life Father Yod, who had 14 "spiritual wives" and died in a hang-gliding accident. Instead, it details the internal clashes, mind games, and intricate emotional dynamics of being a member of an insular community — the kind of drama not unfamiliar to most bands.
Rock as Life
Booth traveled and partied with the Stones during their legendary 1969 tour, which culminated in the deadly violence of the Altamont Speedway Free Festival. 15 years later, he transformed his notes into a visceral account that reads like a novel. Channeling the swagger of Raymond Chandler, Booth puts you onstage with the musicians, backstage with the groupies, and down in the milling crowd, reveling in the deafening sound.
Literary icons Robert Stone and Harold Brodkey praised it as the best book about the '60s, but True Adventures is hardly talked about these days, probably because the band itself doesn't feel as timeless as it once did. But Booth's propulsive narrative, which is shot through with keen insights, works even if you care nothing about Mick and Keith. "In the sixties we believed in a myth — that music had the power to change people's lives," Booth writes. "Today we believe in a myth — that music is just entertainment." He doesn't just throw off good lines; he shows you the stakes, and he makes you feel them.
Rock as Death
Nico is now enshrined as an icon — member of the Velvet Underground, Warhol superstar, actress in films like Chelsea Girls and La Dolce Vita, and a singer-songwriter whose remarkable solo albums continue to generate new converts. James Young's brilliant book doesn't traffic in any of this glamour, but instead recounts her final years playing small dives in Europe and desperately scoring heroin.
Young had a front-row seat to this slow-motion disaster. He played keyboards in her band, having abandoned a promising academic career at Oxford to heed the siren song of fame. His riveting testimony strips the romance from rock while evoking deep empathy for Nico and her ragtag band of fellow travelers. In this tragedy, it's often difficult to distinguish the ridiculous from the sublime, even with hindsight.
There's been an unlikely surge of interest in this late period of Nico's career thanks to the recent film Nico, 1988. Young's unblinking account, described by his publisher as a "tour de force in the literature of failure," is a welcome counterpoint to the movie's Hollywood treatment — a tough account of self-delusion and self-destruction, containing more hard truths about the nature of rock than any other book I know.