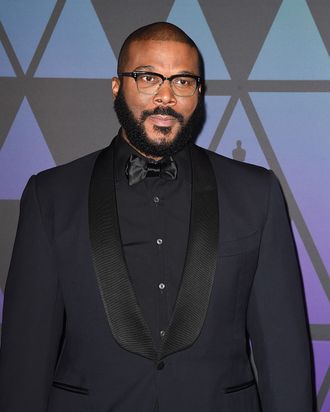 Photo: Kevin Winter/Getty Images
It's no secret that Adam McKay's Vice (due Christmas Day) doesn't exactly paint the Bush administration — and specifically its titular subject, Vice-President Dick Cheney — in the best light. An auteurist spin on the traditional politico biopic, the film charts Cheney's professional and personal life pre-, post- and, of course, during his time in Washington. Its years-spanning timeline allows for 200 speaking roles to make their way into frame, including a countless bevy of familiar D.C. heavy-hitters. Everyone from central figures like Donald Rumsfeld (Steve Carrell) to brief swing-bys by Gerald Ford (Bill Camp) and a young Antonin Scalia get their time onscreen.
For these portrayals in particular, however, McKay wasn't quite keen on his actors trading notes with their real-life counterparts. "We were trying to avoid those kind of interactions because they can get tricky, they can get dicey," he said at a November 25 SAG-AFTRA screening in New York City.
Even star Christian Bale, who physically transformed himself for the role of Cheney, was denied access to the man he's portraying. "I would greatly have liked to have met with him, if only to have him insult me and kick me out of his house. To me, that's honorable," the actor recently told The Hollywood Reporter. "I spoke with some [of Cheney's] friends who would say, 'Let's get Dick on the phone,' and they would call. And the phone would be ringing and I would be thinking, 'I'm about to speak with Dick Cheney,' and then it would go to voicemail. And then, unfortunately as is the case with everything, lawyers ruined it."
Such legal firewalls and McKay's reluctance didn't stop one actor, though: Tyler Perry, who plays Colin Powell, wanted the former secretary of State's blessing. While Powell is portrayed in the film as one of the Bush administration's most trustworthy figure, he still doesn't come off looking all that great in Vice. His climactic scene of the now-infamous 2003 U.N. speech where he pushed for an invasion of Iraq is painful to watch. Powell himself has said the speech is a lasting "blot" on his record, so to see it given the Hollywood treatment isn't exactly a career highlight, either.
When asked last night by moderator Dave Karger what he thought of Perry's request to speak with Powell before filming, McKay let out a sigh before recalling how Perry was the only man for the job.
"Only Tyler Perry could just be like, 'I'm calling Colin Powell.' I mean, that just cracked me up right away," McKay said. "The whole idea of Tyler Perry, I was told the idea, and then he came by my office, and I have never met anyone with more presence in my entire life. Like, the guy has gravitas, and instantly I was like, 'Oh yeah, he's Colin Powell.' So yeah, he talked to Powell."
More details on the Perry-Powell interaction came to light in this January 2018 write-up in the Washington Post. Apparently, Powell reached out to Quincy Jones to connect with Perry after he heard about the casting. Clarifying that Powell wasn't "annoyed" at Perry's portrayal, the Post wrote that Powell merely heard about the casting and reached out to Jones to connect him to Perry. "He and Mr. Perry had a nice conversation and even exchanged copies of their recent books and General Powell offered his services to Mr. Perry, if he needed any or had any questions," Powell's rep tells us in an email.
"Tyler's really, really smart. He gets it. He sees the big picture," McKay said. "I told him, 'You know, this isn't one of Powell's best stories from his life,' and Tyler was like, 'I told him that.' And to Powell's credit, he acknowledged that, as well … But ultimately — to Powell's credit, I guess — that was it. It was a quick exchange."