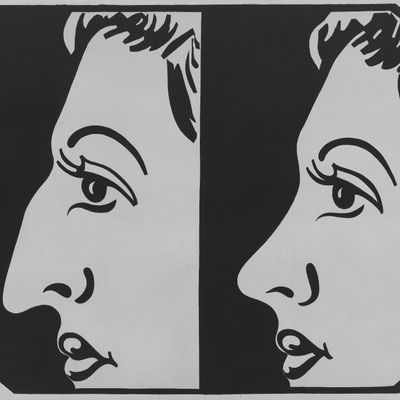 Andy Warhol (1928–1987), Before and After [4], 1962.
Photo: © The Andy Warhol Foundation for the Visual Arts, Inc. / Artists Rights Society (ARS) New York
Welcome to SEEN— click here to read the feed —a limited-run expansion of Vulture's coverage of the art world, all around the world. Contemporary art, which was, not so long ago, defined by its you-don't-get-it critical aloofness, has become more popular than ever, or at least more pop, if not quite (yet) downright populist. Certainly well-publicized. The fact that the Whitney Museum is putting on a massive Andy Warhol retrospective starting this month is appropriate: his version of art as hustle, art as business and business as art, art as celebrity, art as method for self-transformation, has without a doubt won out over more cloistered visions.
And so these days, visiting MoMA almost always feels like shopping on Black Friday; the Tate Modern is the most popular tourist attraction in London; Yayoi Kusama is a kind of secular saint and tickets to her year-old Tokyo museum/selfie-temple are still sold out a month in advance; the rigorous showman Klaus Biesenbach now runs  MoCA in L.A. And when you're stuck in traffic trying to get across one of the bridges in Miami Beach for Art Basel, listening to the local top-40 station hype club nights all over town inspired by something called Art BAY-zellll!, you know that any members-only notions of the avant-garde have been vanquished with the unavoidable mechanisms of global FOMO and municipal economic development (every city wants some of that Art Basel marketing mojo) brought to you, no matter where you are, right there on your phone, by Instagram.
This isn't a bad thing. Art is one of the only belief systems which brings the world together, a common language of cosmopolitanism and aspirational citizen-of-the-worldism. It's been co-opted by fashion, Hollywood, and — most of all — one-percenters who want to show that they are doing something meaningful with their money (and the tax break helps, too), but all that also makes the world a more visually and intellectually interesting place in which to live. It's a vibrant, idealistic and multivalenced global exchange of ideas, and increasingly a part of the osmotic literacy of the world's young people, many of whom look to art to provide, at the very least, symbolic leadership in helping advance the cause of social justice.
Yes, there are contradictions here, but they are exciting ones. As Jerry Saltz asked recently: How Does the Art World Live With Itself? We're here to talk about that.