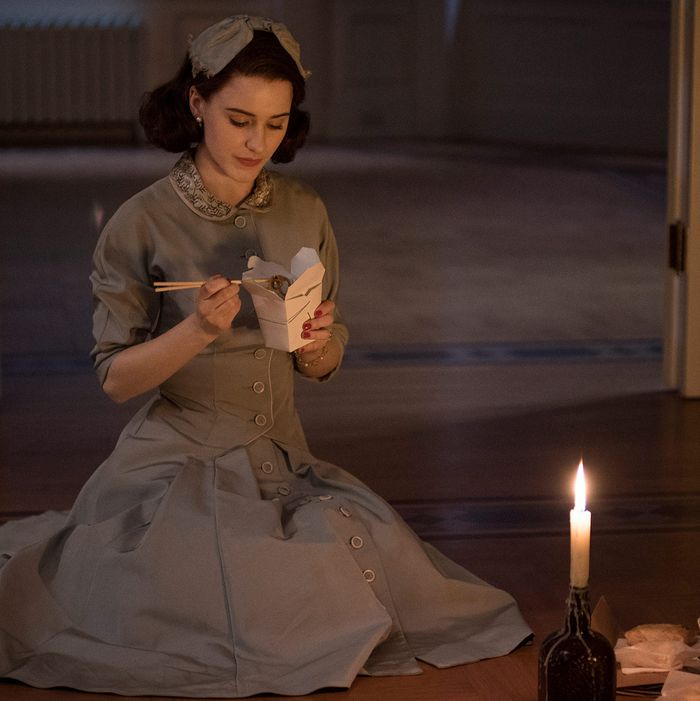 Even if you're dining alone, streaming the first season of
The Marvelous Mrs. Maisel
could keep you company on Thanksgiving.
Photo: Nicole Rivelli
The Thanksgiving Day holiday is about three things: food, family, and watching TV while eating food and not speaking to your family.
If you're seeking shows to check out on Thanksgiving Day itself or throughout the weekend, this list will help you find the best TV marathons, new series, shows to catch up on, and seasons worth bingeing that you might have missed.
What to Watch on Thanksgiving Day
Pee-wee's Playhouse Marathon on IFC (Begins at 6 a.m.)
Spend your entire Thanksgiving Day with Pee-wee Herman, as the founders of this country intended. Once you've got enough tryptophan in your system, "Mecca lecca hi, mecca hiney ho" will sound extremely profound.
Greenleaf marathon on OWN (Begins at noon)
If you've been meaning to catch up on season three of the Oprah-produced drama about the Greenleaf family, today's the day to make it happen: OWN's running a Greenleaf marathon. As of Thanksgiving Day, all three seasons will also be available to stream on Netflix, too.
Party of Five mini-marathon on Pop TV (Begins at noon)
If you're trying to fill your time while the bird is roasting, indulge your '90s nostalgia with this brief run of Party of Five episodes. Pop TV is showing just three: the pilot, the season-one episode "Thanksgiving" (that's the one where the Salingers meet the drunk driver who killed their parents), and the season-two premiere. It would be nice if this were an all-day marathon, but as the Pilgrims said just before they dug into the first Thanksgiving meal: Three Party of Five episodes is better than none.
Friendsgiving on TBS (Starts at 1 p.m.)
In keeping with tradition, TBS will show every Thanksgiving episode of Friends, starting with the season-one episode where the Underdog float in the Macy's Day Parade goes missing right through to the season-ten one where Monica and Chandler lock everyone out of their apartment when they show up late for dinner.
Mystery Science Theater 3000: The Gauntlet on Netflix (Begins Streaming Thanksgiving Day)
You know what pairs really well with roast poultry and stuffing, besides a good Pinot Noir? Snarky commentary about bad movies! The second season of Netflix's MST3K revival serves up six real turkeys, including Paul Rudd/Conan O'Brien fave Mac and Me and Pacific Rim knockoff Atlantic Rim, with the usual snide observational riffs provided by host Jonah Heston (comedian Jonah Ray) and his robot friends Tom Servo and Crow T. Robot (voiced by Hampton Yount and Baron Vaughn). As they did in the first season of the Netflix version, Patton Oswalt and Felicia Day frequently pop in as the mad scientists responsible for this experiment in B-movie torture. Do be careful if you plan to watch while eating; the possibility of sweet-potato spit takes is very high.
What to Stream Anytime Over Thanksgiving Weekend
Dogs (Netflix)
If you haven't watched Dogs, the new, utterly charming docuseries about the best species on planet Earth, Thanksgiving weekend is the perfect time to do it. It's sweet, uplifting, and will appeal to all ages. It also may restore a sense of peace in the wake of that heated Thanksgiving dinner argument with Uncle Jim about whether Brett Kavanaugh deserved to be confirmed.
The Marvelous Mrs. Maisel (Amazon)
The second season of Amy Sherman-Palladino's Emmy Award–winning comedy starts streaming on Amazon December 5, which means you only have a few days to catch up with season one. Devote some of your Thanksgiving weekend to doing just that so you can understand the origin story of stand-up comedian Midge Maisel, played by Rachel Brosnahan, before that story continues.
Lemony Snicket: A Series of Unfortunate Events (Netflix)
Looking for a way to keep the kids occupied over the long weekend? Since the third and final season of Netflix's adaptation of this sardonic children's series was recently announced — it starts streaming New Year's Day — perhaps you can suggest that those "soooo boooored" children watch seasons one and two. While they're watching the Baudelaires suffer, you also should feel free to say, "See? You could have it so much worse."
Homecoming (Amazon)
You could spend Black Friday bargain-shopping, or you could take the hours you would have devoted to standing in very long lines at Target and spend them watching the exceptional first season of this absorbing adaptation of the Homecoming podcast. It's totally your call. (No, but seriously: You should watch Homecoming instead.)
Brooklyn Nine-Nine (Hulu)
The sixth season of Brooklyn Nine-Nine will debut January 10, with the cop comedy switching from Fox, which canceled the very funny series, to NBC, which almost immediately saved it. See why the series has won so many fans, or just revisit your favorite suggested names of Amy Santiago's sex tape, by streaming previous seasons on Hulu.
Counterpart (Starz)
Perhaps, like me, you heard that J.K. Simmons is phenomenal on Starz's Counterpoint. Perhaps, also like me, you still haven't carved out the time to watch season one. Since the second season is set to begin December 9, perhaps you, like I plan to, should spend some time watching season one this weekend.
Game of Thrones (HBO Go)
So there's this show. It's called Game of Thrones. Maybe you've heard it? Anyway, its final episodes will air in April of next year, and if you're unfamiliar with this epic — or need a refresher — you should probably start watching it now to make sure you're all caught up. I could be wrong, but I have a suspicion that people will be talking about this show when it comes back. Just a guess.
Casual (Hulu)
I've beaten the drum for Casual before, but sure, I'll beat it again. Its final season dropped earlier this year, and it was simply terrific. And since the whole series explores dysfunctional family relationships and how difficult it is for humans in modern society to connect with each other, the holidays is the perfect time to stream it!