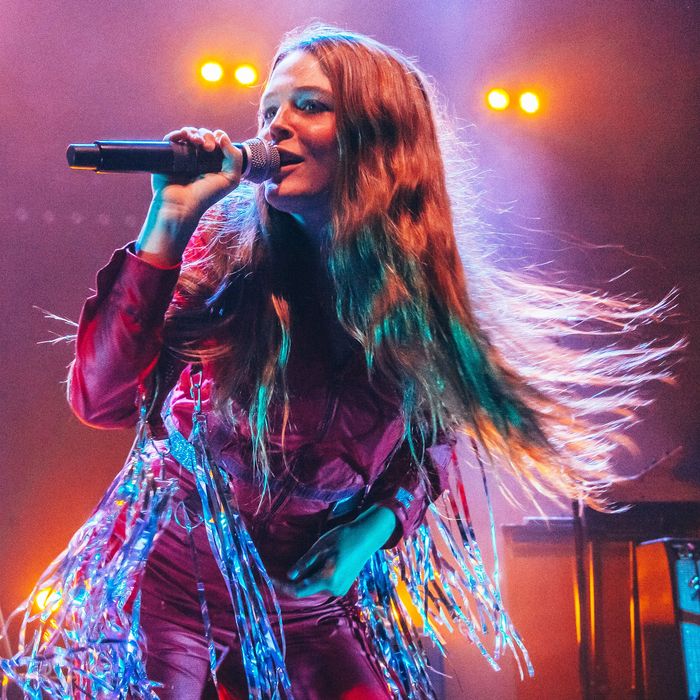 Photo: Joseph Okpako/WireImage
Saturday Night Live kicked off its 44th season with a stacked lineup of musical guests. Veritable legends Paul Simon and Kanye West performed, as did current chart-topper Travis Scott. This week, however, the show hosts its first non-A-lister of the fall: rising pop phenom Maggie Rogers.
Only 24 years old, Rogers has an exceptional backstory. Growing up in Maryland, she loved classical music — Rogers cites Vivaldi and Holst as early favorites — and learned to play harp, guitar, and piano as a grade-schooler. She shipped off to St. Andrew's School in Delaware for high school, where she learned to play a peer's banjo, fell in love with folk, and became known for serenading classmates with songs by Phish and the Grateful Dead.
Rogers's musical interests led her to a high-school summer program at the prestigious Berklee School of Music and subsequent enrollment at New York University's Clive Davis Institute of Recorded Music. She recorded and released a couple of folk albums via Bandcamp and, although her music sounds nothing like the Strokes, was a key assistant to journalist Lizzy Goodman on her rock history Meet Me in the Bathroom. And a 2015 stint studying abroad in Berlin and visiting the city's dance clubs opened her ears to yet another genre. "It changed everything," she told Rolling Stone last year. "I wanted to play a show that kids my age would want to come to and get high for."
Rogers's big break came in early 2016, when she played her song "Alaska" during an NYU class for guest speaker Pharrell Williams. The awestruck pop god compared her songwriting style to Stevie Wonder's, the clip went viral, and Rogers's career was born. Two years later, she's booked for SNL, preparing to open for Mumford & Sons on their fall tour, and readying her proper debut album for its January release.
Below, Rogers's essential songs so far.
"Alaska" (2016)
Rogers says she wrote her breakthrough song in 15 minutes, just days before her fated Pharrell encounter — and the track sounds effortless. Over electronic textures that'd fit at a Miami festival, she glides with a vocal sensibility that echoes the R&B artists she cites as influences. No wonder Pharrell compared her stylistic fusion to Reese's marriage of chocolate and peanut butter.
"On + Off" (2017)
Rogers delivered on the promise of "Alaska" with the February 2017 release of her Now That the Light is Fading EP. On the solid set's other highlight, "On + Off," Rogers again creates an electropop confection by infusing trendy production — clattering keys, droning bass — with romantic lyrics and nuanced vocals. Plenty of songs sound like "On + Off," but few are this good.
Covers of Sheryl Crow's "If It Makes You Happy," Spice Girls' "Wannabe," and the XX's "Say Something Loving" (2017)
Lauded for her songwriting, Rogers has also proven a deft interpreter of other artists' material. While touring in summer 2017, she trotted out covers that spanned a wide stylistic range, playing Sheryl Crow's "If It Makes You Happy" with folk-rocker Sharon Van Etten, Spice Girls' "Wannabe" with Fletcher, and the XX's "Say Something Loving" on Australian radio station Triple J's popular "Like a Version" series. The last one stands out thanks to Rogers's bold interpretation of Oliver Sim's original vocal and a heady synthesizer climax.
"Fallingwater" (2018)
Rogers has a fair amount of indie cachet: Beyond her XX cover, she performed "I Need My Girl" with dour rockers the National at Boston Calling earlier this year. Around then, she released "Fallingwater," her collaboration with indie production stalwart Rostam Batmanglij, formerly of Vampire Weekend. Taut drums and forceful piano chords underscore Rogers's soulful vocal part, which calls to mind Florence Welch's piercing howl. The tune was the first taste she offered from Heard It in a Past Life, slated to arrive January 18.
"Give a Little" (2018)
In 2018, is a star really a star until she's worked with Greg Kurstin? The super producer has teamed with everyone from Adele and Sia to Beck and Foo Fighters, and he collaborated with Rogers on her second Heard It single, July's "Give a Little." Naturally, it's her poppiest work to date, decked out with groovy bass licks, colorful sound effects, and a prime-time guitar solo. But it also has a political edge. Upon the track's release, Rogers called "Give a Little" a "song about empathy" and explained that she wrote it after getting inspired by the spring's school walkouts protesting gun violence.
"Light On" (2018)
For her most recent single, Rogers again worked with Kurstin, but added Kid Harpoon (Florence + the Machine, Haim) to the mix. The production pedigree makes the plucky track an earworm and Rogers's lyrics — her most revealing yet — cement its quality. "Everything kept moving, and the noise got too loud," she sings of her rapid rise to fame. "With everyone around me saying, 'You should be so happy now.'" Like many pop gems, the lyrics deal in specificity but could apply to listeners from all sorts of backgrounds — basically anyone who has encountered too much of a good thing too fast.