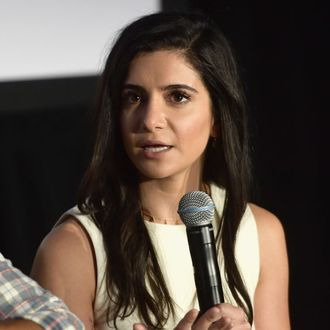 Nina Pedrad.
Photo: Matt Winkelmeyer/Getty Images for New York Magazi
Comedies and comedians often influence one other and cross-references are rampant in the pop landscape. So when No Activity star Tim Meadows and co-executive producer Nina Pedrad came to Vulture Festival, they talked about one of the most intriguing moments from the show's season-two premiere, in which Jake Johnson's character, mired in a police corruption scandal, recites Louie C.K.'s apology word for word. You know the one: It's the "apology" C.K. issued in November 2017 after the New York Times released a report detailing his history of sexual harassment, perhaps most notable for containing very little actual apologizing.
How did the speech make it into the season-two opener? Pedrad broke it down. "We knew we wanted Jake to give an apology and we said, 'Are we gonna write this thing or what?'," she recalled. "Trent [O'Donnell, creator of both the American No Activity and the Australian original] was like, "What if we just copied an actual apology?' And I was happy we got Louis C.K.'s because he's a prolific comedy mind, and obviously, as a human and a woman, it bothered me that he didn't say the words 'I'm sorry' in it." Pedrad was also happy that her own reaction to the C.K. news was included, through Sunita Mani's Fatima, who greets the apology by remarking, "That was my favorite cop, now I can't like him anymore."
Keep an eye out for it when all eight episodes of No Activity season two debut November 22 on CBS All Access.