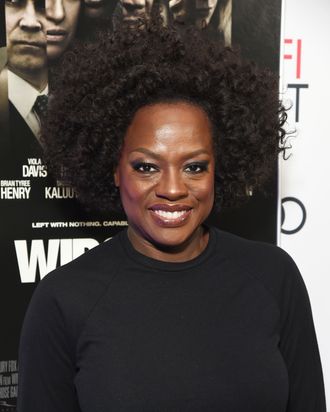 Photo: Michael Kovac/Getty Images for AFI
As a heist thriller, Widows fires on many cylinders, but one of its greatest strengths is its ability to put audiences on the edge of their seats praying for one thing and one thing only: They better not hurt that dog.
That's at least what director and co-writer Steve McQueen hoped when casting Olivia, the West Highland white terrier that Viola Davis's titular widow, Veronica, is shown hardly parting with over the film's two-hour run time. We mean it: She brings this dog everywhere after her husband's death, even coddling her like a baby while setting plans in motion for the central heist with Michelle Rodriguez, Elizabeth Debicki, and Cynthia Erivo. (That's not to mention a pair of major dog-related plot points that we won't spoil here!)
"I love dogs, and obviously, it was a comfort, it was a joy, and she loved her dog," McQueen said of his canine co-star at a special Widows screening in Brooklyn on November 11. "People live with dogs, so let's be true to the reality that we live in." Co-writer Gillian Flynn added that it makes all too much sense that Veronica would turn to her four-legged child in such a turbulent time. "We liked that idea that [Veronica is] not able to lavish emotion on humans at that point in her life — she's been so damaged and so hurt, so it all goes toward this animal," Flynn explained. "It shows that she is still human, she is still able to care, but she's not quite able to reach out to other people yet."
Davis understood Olivia's narrative significance, saying that "the only thing [Veronica] really has left to fill up her life, to love her, and someone that she can give love to is Olivia. That's why I held the dog like a baby." But still, Widows' Oscar-winning star admitted an initial resistance to the puppy love.
"I don't own a dog in life, so I was [complaining] like, 'I've gotta work with a dog. What if the dog licks me? Dogs are nasty and disgusting,'" Davis recalled on Sunday night. One look at Olivia, though, and the rest was history. "Within the first five minutes, I'm kissing the dog, I'm holding the dog, the dog was on my chest. I love that dog, and she came to me so easily." Davis even wanted to bring Olivia home with her, but "my husband would have been very upset."
So while you have Netflix's Dogs to watch this weekend, don't pass up Widows — it's a dog lovers' prestige drama in disguise.