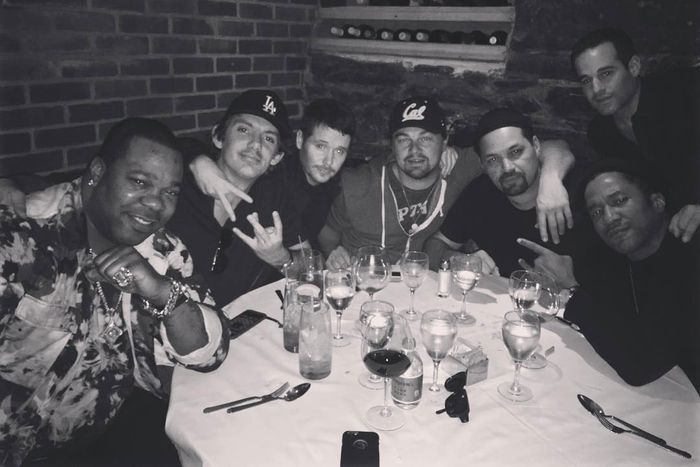 The Last Supper
found dead in a ditch!
Photo: Kevin Connolly via Instagram
The Pussy Posse, as christened by New York writer Nancy Jo Sales in 1998, takes up an inordinate amount of space in my brain. There were, more or less, a half-dozen of them: DiCaprio, Tobey Maguire, Q-Tip, David Blaine, Kevin Connolly, and Lukas Haas. (As of late, they've started going by "Wolf Pack," a rebrand that doesn't earn the same amount of fascination — any group of white boys wearing Sperry Top-Siders and who've seen half of Wolf of Wall Street can call themselves a wolf pack! — but the Pussy Posse is forever.) I'm always thinking about them: Connolly dancing at his John Travolta movie's premiere (which none of the Posse attended — an important detail that went largely unreported!), and also Connolly not being able to afford anything at the Leonardo DiCaprio Foundation's annual gala. Orlando Bloom's sixth man status. Justin Theroux's dueling West Coast group of bros! Leo has the Oscar and the unanswered texts to Rihanna and the mania, but it has been my private (and correct) opinion that he's the group's social secretary. The reigning member isn't the one with an Oscar, or the one from Entourage, or even the one who was played by Michael Cera in Molly's Game. It's Widows' own Lukas Haas.
Widows fulfills every one of my fantasies, including but not limited to a supergroup of actresses who wanna rob, Viola Davis and Cynthia Erivo having a staring contest, Elizabeth Debicki wearing gold, a crime-fighting dog, and Daniel Kaluuya simply staring. In Widows, Haas plays David, a fancy architect with a lot of money and a last name he doesn't want you to know. (He's also the only man to be completely ogled by Steve McQueen's camera: "Who knew Lukas Haas would be the Fassbender of Widows," ex-Vulture Kyle Buchanan texted me after I told him the movie had snatched my wig clean off.) David is powerful and lonely, and goes on a date with recently widowed Alice (Debicki). It's unsettling how Haas's performance as David walks the fine line between calm — he's had arrangements like this before, he tells a nervous Alice, and seems genuinely patient — and icy indifference. The escort/sugar baby relationship is well-trodden, but in Widows, it's another keenly observed transactional relationship. "It's an extraordinary performance, that one, because it's not an actor providing judgment on that character," Iain Canning told me at a reception for the movie in November. "You might have a judgment on that character, but he's definitely the product of an environment that has allowed him to believe that every relationship can be transactional."
Which brings me back to my favorite random pop-culture theory, which I will die defending: It is Lukas Haas, not Leo DiCaprio or Tobey Maguire, who is the reigning member of the Pussy Posse. It is Lukas Haas. I, enlightened, am ready to share my thinking about this truth, which is supported by facts. Lukas Haas is not a supporting player in Hollywood's most notorious clique; he is its star! With whom else in Hollywood can you draw a straight line from the UGK-Outkast collab "Int'l Players Anthem" to literal international player Harrison Ford? Only with Lukas Haas, who was the child star of Witness and a white groomsman in the "money on the dresser, drive a Kompressor" magnum opus. In the music video, André 3000 is preparing to walk down the aisle despite protests from his friends and old flames. There, in the background, is the wedding's only white guest: Haas, playing a white groomsman at the nuptials. (André and Haas have reportedly been friendly for some time, and the "Int'l Players Anthem" video — like "Roses," in which Haas also pops up — is populated with "just friends we would call up," André told XXL in 2012.)
Haas has made cameos in videos for other songs and bands just dissimilar enough to delight. He's popped up as a backup dancer in Outkast's West Side Story revival in the "Roses" video; the defining music video of my youthful angst, "Welcome to the Black Parade"; and Death Cab for Cutie's "Cath …" — which was featured prominently in an episode of The Hills. Other random pop-culture ephemera also graced with a Lukas Haas cameo: Lindsay Lohan's list of men she's slept with. There's Haas, right between Joaquin Phoenix and Nico Tortorella.
Because I am also secretly the coolest member of my friend group, Lukas Haas makes me feel seen: I love that he keeps popping up in the most unexpected places, and fall 2018 — with supporting roles in Widows and First Man — is the zenith of this talent. It's his time!