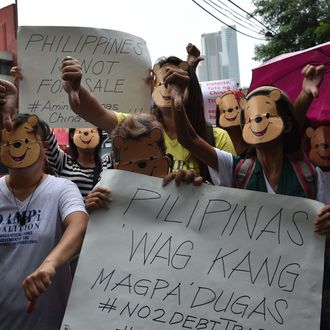 Photo: TED ALJIBE/AFP/Getty Images
Earlier this year, we reported that Christopher Robin would not screen in China, possibly due to censorship. Pooh has been persona non grata in China ever since comparisons were made between Chinese president Xi Jinping and the silly willy nilly old bear in 2015. It appears Chinese censors are still doing battle with Pooh. Everyone's favorite hunny enthusiast was blurred out of Chinese reviews for Kingdom Hearts III, and there's even rumors that Winnie the Pooh rides will be purged from Shanghai Disneyland.
Winnie the Pooh became a symbol of Chinese resistance when people on the internet noted the how similar a photo of presidents Xi and Obama looked to a drawing of Pooh and Tigger.
A photo of Xi meeting Japanese prime minster got compared to one of Pooh and Eeyore, and before you knew it protesters were donning Pooh masks like Americans do V for Vendetta-style Guy Fawkes masks. The Chinese government was not feeling this, and images of Winnie the Pooh began disappearing from Chinese webspace faster than you can say "heffalumps and woozles." Chinese gaming review site A9VG self-censored its images of Pooh, even though the character remains in the game. No official movement has been made toward removing the two Winnie the Pooh rides at Shanghai Disneyland, but honestly two Pooh rides seem like a lot before you even consider the political controversy.