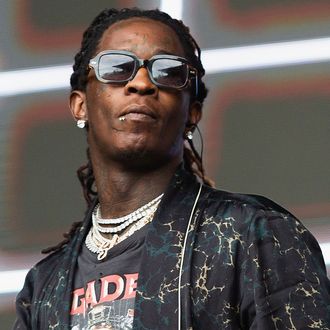 Young Thug.
Photo: Suzi Pratt/WireImage
Young Thug has been jailed in Georgia after failing a drug test, the Blast and Pitchfork report. According to the Blast, the Atlanta rapper (née Jeffery Lamar Williams) was scheduled for arraignment in DeKalb County on Thursday morning on eight felony drug and weapons charges stemming from a September 2017 arrest. However, he reportedly failed his last drug test, prompting the judge in the case to revoke his bond; Thug was reportedly taken into custody on Wednesday morning. Thug was arrested last year after he was pulled over by police in Georgia for driving with tinted widows. Police then charged him with possession of marijuana, methamphetamine, and hydrocodone with intent to distribute. During the traffic stop, he was also allegedly found with codeine (two counts), a firearm, Xanax, and an amphetamine.
Thug was arrested again in August at a Dave and Busters in Los Angeles where he was hosting both his birthday and album-release party for Slime Language; he was charged with possession of a firearm found in his car. According to the Blast, prosecutors in the separate Georgia case argued in September that the second arrest was grounds to revoke his bond, but the judge allowed Thug to remain out on bail until his trial. (Thug had turned himself in on September 11 and was released on bond on September 13.) It appears he will now remain jailed.
Update, November 14: Young Thug has been released from jail after six days, according to local NBC affiliate WXIA-TV. Under the conditions of his release, Thug must undergo substance-abuse counseling, meet with a probation officer, and submit to random drug-testing at least twice a week while he awaits trail. Thug reportedly refused to eat or drink during his first 48 hours in custody "as a way of punishing himself." On Wednesday, Thug appeared in court and gave the following statement to the judge:
"I'm sorry for disobeying the court. I'm sorry for disobeying my PO and being here again. I just wanna be home with my family and do right. I know I got so many millions of people that pay attention to me. I live so different — not blaming it on that. These last six days in jail, I understood that this is real life. I got sons that's 10, 11 years old. They look up to me. I don't want them to think that going to jail, even if you're able to get right back out, is cool. I want to grow, and I have grown. I've made mistakes and I've been penalized for them. I'm sorry and I won't disobey you again. You have my word."