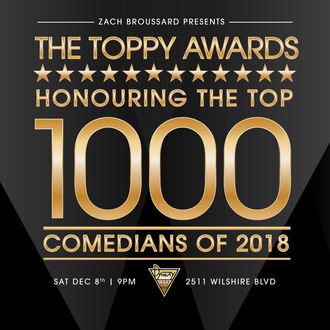 The Toppy Awards.
Photo: courtesy of Zach Broussard
At the end of every year since 2014, comedian Zach Broussard has been honoring comedians with the best and biggest list of "top comedians" the internet has to offer. In 2014, Broussard kicked off his annual tradition by simply posting a list of the "Top 1,000 Comedians of 2014 (So Far!)" to Tumblr, and in 2015 he took it to a new level by creating a website for the list in which comedians were forced to click through a slideshow to find out whether or not they were featured. In 2016, Broussard added another twist by revealing the year's top 1,000 comedians on a series of ten billboards around Los Angeles, and for last year's list, he announced all the names during a live video — and, notably, all 1,000 of the 2017 top comedians also happened to be women.
Broussard's 2018 list has now arrived — kind of. Broussard revealed on his website today that instead of just announcing the 1,000 top comedians, he's chosen to announce 2,000 "nominees" today, half of which will receive the official "Top 1,000 Comedians" honor at a free live show in Los Angeles he's calling "The Toppy Awards" on Saturday, December 8, at Dynasty Typewriter.
"This year I was really struck by how many comics completely crushed it. Everyone did such a great job. I asked fellow comedy nuts online to recommend comedians who might have enough buzz, and I was blown away with the responses," Broussard told Vulture on introducing nominees this year. "Despite going to several shows a year, I didn't know most of these names. Simply naming the top 1,000 wasn't gonna cut it. Too many great comics would miss the cut, just because they didn't have enough buzz. That didn't seem fair." Broussard added that when it comes to next month's live Toppy Awards, "This will be the Academy Awards for #buzz. And since I'm the academy, nominees should send me their stuff, for my consideration."
Check out the full list of 2018 nominees below, and if you're a comedian who has been nominated this year, we wish you the best of luck making it into the industry's most exclusive annual list of top comedians!
SHAWN WICKENS

LAUREN COOK

JEFF MAY

ALEX PRICE

LOGAN GUNTZELMAN

LESLEY OSUALA

MAURA SATERIALE

JASMINE PIERCE

TRICIA BROWN

MITCH KURKA

DANTE POWELL

ZACH DUNN

TERESA LEE

BEN KISSEL

KWASI MENSAH

YAMANEIKA SAUNDERS

BRENDAN EYRE

CYNTHIA BANGERT

KIMBERLY MICHELLE VAUGHN

ASHLEY SEAMAN

ESTER STEINBERG

JASMIN BROWN

MARY THERESA ARCHBOLD

CRISTELA ALONZO

BOBCAT GOLDTHWAIT

CARISA BARRECA

LAUREL COPPOCK

CORTNIE JONES

COURTNEY REYNOLDS

JULIA HLADKOWICZ

FRANCISCO RAMOS

KAITLIN MARONE

LAURA CRAWFORD

CHRISSIE MAYR

JOSEPH SCRIMSHAW

JOHN MCKAY

JOE SAUNDERS

CHARLOTTE NEWHOUSE

JOSH RABINOWITZ

DANE COOK

KEVIN SHEA

CLARA BIJL

ALEX KUMIN

ANDREW JOHNSTON

COLLEEN WATSON

DAVE BUSHNELL

MAGGIE SHIPLEY

EMAN EL-HUSSEINI

GAYE BADGWELL

ERIN INGLE

MIA ISEMAN

SAI LANG

MELISSA STEPHENS

CLARA MORRIS

JEFF WESSELSCHMIDT

ROBIN HIGGINS

JON GABRUS

ERIC BLAKE

KATHY TAO

RYAN NEMETH

CLAYTON ENGLISH

MARY MACK

WHITNEY STREED

JENNA ZINE

PATRICK HASTIE

JESS HILARIOUS

ERIC NEUMANN

HILLIARY BEGLEY

DOMINIC DIERKES

ERICA GOOSTREY CARRINGTON

RAMON RIVAS

KEVIN BRIDGES

CAROLYN RILEY

ANDREA HENRY

JO ROUEIHEB

CHRIS LAKER

ALEX SONG

ROJO PEREZ

BRENT GILL

JESSICA POHLY

JASMINE ELLIS

LAURIE REAVES BARNETT

MONIQUE MADRID

JEFF ARCURI

JEN BASHIAN

JASON FLOWERS

VINCENT ZAMBON

ANN PORNEL

NICOLE AIMÉE SCHREIBER

DAVID SMITHYMAN

LEONARD ROBINSON

CASSANDRA MARTIN

ELLIE KOVARA

KAT TOLEDO

GABE LIEDMAN

SHALYAH EVANS

NICOLE PASQUALE

WE ARE THOMASSE

DAN PERLMAN

MARIA RANDAZZO

ALEX STONE

LAUREN BRICKMAN

BETH STELLING

JAMES ACASTER

LORELAI LYONS

KATHY GRIFFIN

PETER HONAN

GUY BRANUM

THE SKLAR BROTHERS

ABBI CRUTCHFIELD

BEN KRONBERG

KAYTLIN BAILEY

JENNY JAFFE

SUSAN RICE

SARAH MILLICAN

JESS LANE

BRYAN COOK

KATHLEEN MADIGAN

SEAN LOCK

JOHN MULANEY

RICKY GONZALEZ

MICHELLE CICCOTELLI

DAVID DRAKE

DAVE EBERTÂ

HELEN HONG

DAN SHEEHAN

WHITNEY MEERS

DIONE KURAOKA

KEISHA ZOLLAR

JEFF MCENERY

CHRISTOPHER TITUS

LISA TIMMONS

DANIEL J PERAFAN

GREG FITZSIMMONS

BEN LERMAN

CHELSEA HOOD

DWIGHT SIMMONS

HANNAH FAUST

BILLY ANDERSON

GARY VIDER

ALY DIXON

CARMEN MORALES

NATALIE PALAMIDES

ERIC BAUER

JAMES III

NATE SEEK

JOCELYN DEBOER

GENA GEPHART

PEDRO SALINAS

ALYSSA ONOFREO

JOLENE KENNEDY

KRISTEE ONO

ELIZA SKINNER

AMAYA PEREA

JOSH ADAM MEYERS

KATE COHEN

BILLY ABRAHAM

RAMY YOUSSEF

CHRIS CASTLES

MATT MCCUSKER

SEAN FLANNERY

KEVIN YUEN

NICK VATTEROTT

ANA MARIJA STOJIC

JENNIFER COOLIDGE

SHEBA MASON

LANCE PATRICK

ALEXIA DOX

CRISTINA SANZA

ZAINAB JOHNSON

WALT DELANEY

NAOMI EKPERIGIN

KEITH CAREY

LAUREN PATTISON

STAVROS HALKIAS

SUDI GREEN

SHAWN PEARLMAN

LISA SCHURGA

LEAH SPRECHER

JEN SEAMAN

ANNA CECILIA

MEGAN BAKER

CARRIE MOULDER

DAVID DINEEN-PORTER

EMILY GALATI

KATHRYN RYAN

NICOLE ERB

ARIEL ELIAS

TALIA TABIN

KELSEY MCLAUGHLIN

MELISSA DIAZ

HOLLY MANDEL

BETSY SODARO

RACHEL MCCARTNEY

AMANDA STAFFORD

LIZZY COOPERMAN

JENNA BARRON-EWERT

JULIA EDELMAN

ASHLEY SKIDMORE

NICK FLANAGAN

LAUREN ELLE CHRISTIE

JUSTIN WILLIAMS

ROSA ESCANDON

DAVE STONE

CASSI JERKINS

LANI HARMS

SARA JUNE

CATE SCOTT CAMPBELL

JESSICA MICHELLE SINGLETON

DANIELLE KUSHNER

HALLIE HAAS

KORY SMITH

SIMONE SHEPHERD

TERUKO NAKAJIMA

MARC MARON

JONATHAN MARBALLI

ROSEANNE BARR

SIDNEY GANTT

RACHEL PARRIS

CHRIS DISTEFANO

KATIE BOYLE

ERIC GRUNDHAUSER

JASON BURKE

RICHELLE MEISS

CAMERON ESPOSITO

JAY WELCH

BRENDAN FITZGIBBONS

EILEEN SOONG

APARNA NANCHERLA

JAMIE LEE

MIKE RECINE

LAURA SEVERSE

JASON SHEBIRO

STACY PAWLOWSKI

SAYJAL JOSHI

KRISTAL OATES

SCOTT LUHRS

MIA JACKSON

JOHNNY MEEKS

ROBERT POWELL

ANTHONY DEVITO

CARLOS MENCIA

MIRANDA HART

VICTOR AGREDA JR

THE KATYDIDS

COURTNEY MAGINNIS

PATRICK HASTIE

JEANNIE CAHILL GRIGGS

TIFFANI SWALLEY

JERRY MINOR

MIKE ROE

CARMEN LYNCH

FEDERICO CANOVAS

CARL TART

FAHIM ANWAR

AMANDA ARNOLD

BETH ALEMAYOH

DEBRA DIGIOVANNI

VANCE SANDERS

TYLER JACKSON

DANIEL SIMONSEN

THOMAS DALE

JULIA COTTON

KATE WILLETT

DANIELE GAITHER

LINAS PHILLIPS

MICHAEL KELLY

KIMBERLY CLARK

AARON EVES

JENNY COLLIER

JAMES HARTNETT

MIKEY MANKER

JACK BAKER

LUCY RANDALL

MARK LITTLE

MIKE VECCHIONE

JEFF KAZANJIAN

RANDY LIEDKE

RACHEL MADORSKY

LYDIA POPOVICH

MARK STEVENS

GIBRAN SALEEM

MOLLY TODD MADISON

SINBAD

EMILY GOLDWYN

DOMINIC HARRIS

LUZ PAZOS

MARCELLA ARGUELLO

ALESSANDRA VITE

SHAPPI KHORSANDI

TRACEY CARNAZZO

ALANA JOHNSTON

JASON GREEN

KATE BERLANT

JAKE HEAD

REBECCA FASS

ALLYSON PHILLIPS

NICOLE CONLAN

JACK ALLISON

LIZ ZINER

GEOFF ROSS

BRENT WEINBACH

CARRIE ROSS

ANNIE SAVAGE

ZACH SIMS

BELINDA CARROLL

JOE SCHIAPPA

HANNIBAL BURESS

SEAN CRESPO

STEVE WHALEN

CHLOE FINEMAN

TOMMY MCNAMARA

MATT PETERS

JARED LOGAN

DOMINIQUE GELIN

ILIZA SHLESINGER

KIMBERLY DINARO

AZIZ ANSARI

MELANIE CAMACHO

ZAK TOSCANI

JUSTIN GOLAK

LAUREN MALARA

BEN TRAPPEY

PAULINE MILIOTIS

JERRY SEINFELD

ADAM CAYTON-HOLLAND

AYINDE HOWELL

TAMALE SEPP

ANDY KINDLER

HEATHER HIGGINBOTHAM

DOUG STANHOPE

HANNAH GARCES

BAILEY EDWARDS

SANDY DANTO

SAMANTHA BEE

NADIA OSMAN

ARIANE PRICE

MARY BECQUET

JILLIAN BELL

CALISE HAWKINS

CHARITY L. MILLER

TIEN TRAN

JF HARRIS

RACHAEL MASON

EMILY WINTER

KRISTINE LEVINE

JOSH LATHE

AMINAH IMANI

MIKE HANFORD

RAMI ESSA

ARIEL KASHANCHI

COLIN QUINN

JOHN TOLE

TREVOR MOORE

ALYSSA LIMPERIS

TREY BROWN

ROBIN JOHNSTONE

JIM TOZZI

RORY SCOVEL

ANNA ROISMAN

HARRISON GREENBAUM

WHITMER THOMAS

KATIE BEHRENS

VAL KAPPA

NATE BARGATZE

GEORGE CHEN

YANNIS PAPPAS

JON RICHARDSON

MIKE MERRYFIELD

ANDREW RIVERS

CAITLIN PELUFFO

ANTON SHUFORD

MARY LORDES

CAITLIN DURANTE

TRENTON DAVIS

HEATHER PASTERNAK

TAYLOR TOMLINSON

ILIANA INOCENCIO

MIKE MITCHELL

JAMY COMEAUX

BOBBY HILL

HOLLY LYNNEA

MIKE LAWRENCE

CHELSEA HANDLER

DAN NAINAN

MATT O'BRIEN

JOSELYN HUGHES

SARAH BURROWS

HEATHER BARNES

ESTHER POVITSKY

BRAD AUSTIN

JESSICA JARDINE

SASHEER ZAMATA

KRISTIN CLIFFORD

MARTY DEROSA

AYANNA DOOKIE

AHMED BHAROOCHA

ASHLEY HOLSTON

MIKE STANLEY

DANIELLE PEREZ

RAMIN NAZER

ANDREA GUZZETTA

JASMINE LUV

JEANIE DOOGAN

LILY DU

PETE LEE

ROSEBUD BAKER

NEGIN FARSAD

ARDEN MYRIN

COURTNEY GILMOUR

JON DURNELL

MILES GRAY

AMBER NELSON

JEFF LOVENESS

MAGI CALCAGNE

HASAN MINHAJ

ALISON WONG

JOCELYN CHIA

JASON LEONARD

CHRIS CALOGERO

GABE ZUCKER

SONIA DENIS

TOM SIBLEY

KEVIN BRENNAN

KRISTIE GUNTER

STEPHANIE STREISAND

JUSTINE MARINO

EILEEN MARY O'CONNELL

EDGAR MOMPLAISIR

LISA HERRING

TRISH NELSON

ALEX GRUBARD

AMY SHANKER

TAMRA BROWN

JIM HEGARTY

MEGAN MACKAY

KEVIN BOZEMAN

TOM ALLEN

KATIE MICHELS

KATIE BOWMAN

SEAN MCCARTHY

REKHA SHANKAR

NADINE DJOURY

ALIE WARD

NANCY NORTON

PAUL F. TOMPKINS

BROOKE VAN POPPELEN

REBECCA VIGIL

LONI LOVE

RON KRASNOW

TAYLOR PALAS STEWART

ZOE ROGERS

PUTERBAUGH SISTERS

JAKE WEISMAN

JOEY VILLAGOMEZ

KATIE DILL

MEAGHAN STRICKLAND

ROSIE WHALEN

EGO NWODIM

JEFF MACKINNON

LISA KLEINMAN

CASEY BALSHAM

JULIA PRESCOTT

CHRISTY MARINO

STEVEN RISK

CHERYL HINES

MICK BETANCOURT

TED HALL

ELAINE CARROLL

CAMILLA CLEESE

JENNY HUFTALEN

BONNIE MCFARLANE

ASHLEY BLOM

ROSE ABDOO

ADAM CONOVER

MAGGIE ROSS

JC CURRAIS

VICTORIA MICHAELIS

MARSHALL GIVENS

JORDAN GUIDRY

KATIE MOORE

MARY PATTERSON BROOME

ELI OLSBERG

CAROLYN BUSA

ANDY JUETT

CARLOS SANTOS

JENNA BUSH HAGER

FINN STRALEY

AUSTIN WOLF-SOTHERN

DAVID ANGELO

JONATHAN MORVAY

KATIE MCCARTHY

ALAN FITZGERALD

KENDALL FARRELL

ERIK KOCONIS

SHAYNA FERM

KYLE DUNNIGAN

ROB GLEESON

JILL MATSON-SACHOFF

KASSEM G

MARLENA RODRIGUEZ

NATHAN SIMMONS

ALISON STEVENSON

JC COCCOLI

JASON SAENZ

LYDIA HENSLER

GLENNIS MCCARTHY

LUKAS SEELY

MARISSA STRICKLAND

REID FAYLOR

JACKIE FABULOUS

CY AMUNDSON

EVAN WILLIAMS

MARIAN YESUFU

EMMA WILLMANN

ERIN BARTLEY

MEGAN GAILEY

ERIN LYNN O'CONNOR

COURTNEY KARWAL

COLT CABANA

MARIYA ALEXANDER

KELLYE HOWARD

KAITLIN THOMPSON

PARK AND BABB

BEN KLING

STEPHANIE RITTER

KRISTEN SCHAAL

RONN VIGH

CASSIE BARRADAS

ANJELAH JOHNSON

CHRIS BRYANT

DAN LAMORTE

HANNAH LEVINSON

JOSEPH MOORE

LAUREN FABER

AARON WEAVER

MOLLY BOWES

STREETER SEIDELL

VANESSA GONZALEZ

ALICE WETTERLUND

NEAL STASTNY

RYAN DILLON

AYANA ATIBA SAHAR

CASEY JAMES SALENGO

DOUG MELLARD

DOUG SMITH

SANDI MARX

DANIEL SPENSER LEVINE

LOU PEREZ

NIKKI GLASER

SAMANTHA AUMAN

ALEX KUMIN

SCOTT BOXENBAUM

ROB LITTLE

WIL ANDERSON

MOSHE KASHER

DINAH FOLEY

CAITLIN GILL

NICK GRIFFITH

ADAM FRIEDLAND

LIANNE MAULADIN

KATE AGUILAR

KAITLYN TANIMOTO

CAROL BURNETT

MONA SHAIKH

LILY TOMLIN

JACOB WILLIAMS

VICTORIA LONGWELL

SONYA VAI

ANNA LEPELEY

SILLY SPIDER MONKEY FIASCO

HEATHER WOODWARD

EMILY BALL

NATASHA FERRIER

JESSIMAE PELUSO

DEVIN FIELD

CHRISTINE NANGLE

KATE ALLEMAN

VICKI FERGUSON

ERICA RHODES

RAJIV SATYAL

ANDREW DISMUKES

DANNY JOLLES

CHANTEL MAROSTICA

ERIK GRIFFIN

MARY HOLLAND

YOLA LU

REBECCA ADDELMAN

MIRIAM MINTZ

REBEKAH BENTLEY

GORDON BAKER-BONE

ANDY BLITZ

ALLANA REOCH

KIRK LARSEN

MILANA VAYNTRUB

JOHN F. O'DONNELL

BETH LEPLEY

STACY ANTOVILLE

ERIKKA INNES

SAM TAGGART

OLIVIA HAREWOOD

SHAK STANDLEY

JACKIE PIRICO

MICHELLE BILOON

ELICIA SANCHEZ

BRETT MALINE

KENNY DEFOREST

ZACK BORNSTEIN

TYLER MENZ

CRAIG ANTON

MAEVE HIGGINS

CHRISSIE GRUEBEL

JOSEF ANOLIN

RYAN HAMILTON

TOOK EDALOW

JESSICA KIRSON

AISHA TYLER

ROY WOOD, JR.

GABRIEL IGLESIAS

BRI PRUETT

COREY REPPOND

ASHLEY WHITEHURST

MT COZZOLA

WANDA SYKES

CASEY LEY

DAVE HORWITZ

ERIN LENNOX

RIVERS LANGLEY

ALISON RICH

JOSH SIMPSON

SIERRA KATOW

AMBER PRESTON

JOYELLE JOHNSON

TORY WARD

JOHN CONROY

GABE DINGER

PRIYANKA WALI

GERALD GRISSETTE

ROB CANTRELL

BOB HANSEN

JARON MYERS

ALY DIXON

HILLARY ANNE MATTHEWS

YASSIR LESTER

TAYLOR MOORE

GEORGE COFFEY

ORNY ADAMS

MARGARET CHO

DAVID BLUVBAND

NICOLE SUN

JANE CONDON

JAMIE LOFTUS

EDDIE DELLA SIEPE

TREVOR SMITH

KERRY MCGUIRE

CHRIS FAIRBANKS

ASIF ALI

CHRISTOPHER RENFRO

WALSH BROTHERS

HADIYAH ROBINSON

ALEX BELLISLE

DAPHNIQUE SPRINGS

JERMAINE FOWLER

BRIAN BACHNER

JOHN DALE

MADDIE COOPER

SUSANNA LEE

SARAH ADAMS

LIZ MIELE

CIROCCO DUNLAP

ANNE MCMASTER

JORDAN TEMPLE

JOE BELL

PETE DAVIDSON

TIM DUFFY

ANTHONY DESAMITO

FAITH CHOYCE

RACHEL CHAPMAN

SUSAN SONG

MARIE WATSCHKE

KAT HIGGINS

DAN CRONIN

PATRICK SCHROEDER

MATT NEDOSTUP

BINA MARTIN

CHRIS TREW

NATHAN FIELDER

HEATHER LAWLESS

CHRISTIAN TALBOT

ANNE MCMASTER

NATALIE JOSE

JESSSICA MAKINSON

AMY HECKERLING

NICOLE C. HASTINGS

LARA BEITZ

REY REYES

BRIAN FRANGE

GRAHAM WAGNER

GINA YASHERE

JOE KARG

NORA PANAHI

BRANDON PHILLIPS

CHRIS GRACE

EMILY ALEXANDER

MATT INGEBRETSON

KRISTEN CIGNAVITCH

ZACH BROUSSARD

HANNAH SHAPIRO

KELLYE JUE

MELISSA VILLASENOR

ALLIE JENNINGS

CAMILLE ROANE

IAN STROUDÂ

KEVIN LOBKOVICH

JAY WEINGARTEN

LYNN BIXENSPAN

STEPHANIE THORESON

BRIDGET FITZGERALD

MICHELLE WOLF

SCOTT BLACKS

GIULIA ROZZI

ADAM LUSTICK

JOSH GONDELMAN

ANDY MILLER

ZAC BROOKS

BILLY WAYNE DAVIS

LESLIE JONES

KATIE-ELLEN HUMPHRIES

SHEP KELLY

SARAH BURTON

DAVE SMITH

ANNE LANE

ANDRÉS DU BOUCHET

JORJA HUDSON

TYLER SITAR

SONYA EDDY

MONIQUEÂ

LELE MASON

ANNA DREZEN

WILL COOPER

BOB MURRELL

PHOEBE NEIDHARDT

KEVIN YEE

ERIN MCGOWN

FRANK TOWNSEND

JOE KILGALLON

MIKE GLAZER

KRISTEN LUNDBERG

AMY SCHUMER

JESSE SIERRA

CHRIS LOCKE

JOE MANDE

LISA LEVY

ANDY SANDFORD

JAKE LAMBERT

BEN HOFFMAN

ADAM BRODIE

SANDY HONIG

WHOOPI GOLDBERG

KERRY O'NEILL

AUSTIN RYE

RYAN ASHER

JOE MESSINA

CHRIS GARCIA

PEYTON WILSON

JESSICA JEAN JARDINE

MEREDITH CASEY

KATIE CAUSSIN

MARIE FAUSTIN

BRANDIE POSEY

DAN MINTZ

LINNEA CURRIE-ROBERTS

CHAD WESTBROOK

JEREMY GUSKIN

ANDY ERIKSON

ADDIE BLANCHARD

EVER MAINARD

TAYLOR KETCHUM

ANDREW DONNELLY

DAVE MERHEJE

MATTHEW BROUSSARD

ROBERT BUSCEMI

JC RATLIFF

CARRIE AIZLEY

ALONZO BODDEN

CHANTY MAROSTICA

ASHLEY BARNHILL

GARY GULMAN

KIRAN DEOL

CATHERINE ZINI

JUSTIN CLARK

FRANK LIOTTI

LIZ NOTH

DAVID TVEITE

TRACEY KENNEDY

BRIAN BAEK

DON BARRIS

LAURA SAMS

JORDAN MATHER-LICHT

KATE GHILONI

GAVIN SPEILLER

LAURIE MAGERS

JAMEELEH SHELO

ELIZABETH-ANN MOSS

LANCE ADAMS

JENNIE PROFETA

CHRISSY SHACKELFORD

ED SALAZAR

CAROLYN CASTIGLIA

BRENDAN LYNCH

NONYE BROWN WEST

DIONA REASONOVER

RACHAEL DRUMMOND

JIM JEFFERIES

KIRSTEN RASMUSSEN

MICHAEL PALASCAK

STEVEN WILBER

JAMES FRITZ

OLIVIA SNOW NORMAN

MARIA HEINEGG

BRENDON SMALL

JUDY GOLD

CHARLIE BURY

TESS BARKER

DANIELLE WEISBERG

PAIGE BOWMAN

BRENT SULLIVAN

DAVID KOECHNER

INESSA FRANTOWSKI

TOM SHARPE

BLAIRE POSTMAN

SOLOMON GEORGIO

TIG NOTARO

MALIN VON EULER-HOGAN

BENJI AFLALO

SHALEWA SHARPE

LANE PIESCHEL

MIKE PUTERBAUGH

JULIA SHIPLETT

MARK FORWARD

MICHAEL GLAZER

STEVE FORREST

MARIA WOJCIECHOWSKI

ANA FABREGA

DANNY KALLAS

ALICIA HAWKES

JEFF ELLIOTT

GOODRICH GEVAART

CAITIE HANNAN

ALEX STOKES

COLIN ELZIE

AMANDA SEALES

HEATHER MARULLI

H. ALAN SCOTT

TRAE CROWDER

MONA CONCEPCION

JOHN EARLY

ZACHARY PINCUS-ROTH

GABRIELA TIJERINA

JESSICA ROSS

JOE RUMRILL

PATTI HARRISON

JEFF SCHEEN

QUINTA BRUNSON

BRIAN BABYLON

JOANNA TILLMAN

JOHNNA SCRABIS

MARISA BRAMWELL

JENN HUNTER

CAITLIN WEIERHAUSER

MATTHEW HARRIS

DARREN MILLER

EVANY ROSEN

GRANT LYON

ALFRED AQUINO II

LACI MOSLEY

DAVID LOUIS

BETH SHERMAN

AARON BERG

HALEY DRISCOLL

ERIC DADOURIAN

CAROLINE COTTER

SAM TALLENT

BOB KERR

CLARK JONES

BILL LAKE

BONNIE CRISS

AMANDA WALGROVE

LAURA CANTY-SAMUEL

MIKEY HELLER

PHIL WANG

SHARON SPELL

AISHA BROWN

ANDREW COLLIN

ZACH REINERT

GENEVIEVE RICE

ADELE GIVENS

JAMES ADOMIAN

RADU BONDAR

TRACY MARQUEZ

DAVID HUNTSBERGER

DENNIS MILLER

MO ARORA

MATT MONROE

HANNAH FRIEDMAN

CHRIS ROBINSON

MONROE MARTIN

DEANNE SMITH

KAT PALARDY

NISH KUMAR

NATALIE HOLT

CHRIS GETHARD

DEMETRI MARTIN

SETH HERZOG

NICK KROLL

EMILY DAVILA

NIKITA BURDEIN

MIKE BRIDENSTINE

MEGH WRIGHT

JOSH COMERS

TAYLOR ORTEGA

LARISSA RADTKE

JAK KNIGHT

DEREK SMITH

TOM HENRY

LIVIA SCOTT

KELSEY KINNEY

MICHELLE BUTEAU

TABETHA WELLS

GEOFF GAUCHET

MEGHAN ROSS

JESSICA MORGAN

DAMIEN LEMON

JACKI MERCHANT

EMILY HELLER

ORLI MATLOW

GONZALO CORDOVA

BEVERLEE JEAN

DAVE THOMASON

TRAVINA SPRINGER

JAMES HESKY

BECKY GARCIA

CAMERON GILLETTE

KAREN IVANY

JOE DEROSA

ANDI OSHO

MIKE BOBRINSKOY

CHRISTINA PARRISH

ANNIE MCKNIGHT

ADAM CLAYTON-HOLLAND

DULCE SLOAN

CHRIS LAMBERTH

SETH FINKELSTEIN

BROCK WILBUR

JOE FERNANDEZ

SPENCER LITZINGER

TIM MESSENGER

CHRISTINA PAZSITZKY

SAMANTHA RUDDY

ADIRA AMRAM

CARINA HSIEH

DAN LICATA

ZAC OYAMA

JOSIE LONG

KALE HILLS

RODNEY HESS

CHRIS LAY

DEFNE GENCLER

NICK WIGER

KATIE TALAY

DANIELLE KRAMER

CHELSEA PERETTI

BECKY LUCAS

CENE HALE

CALDWELL TANNER

MATT FULCHIRON

IAN KARMEL

CHRIS CUBAS

LIZ JOYNT SANDBERG

MAGGIE WHITE

PHILLIP MEDINA

ALLISON ROSE

LAUREN HOLT

ALEXIS RHIANNON

GEORGE GORDON

ANN GORA

KATHERINE JESSUP

DUSTIN MEADOWS

LANE LONION

BARON VAUGHN

CHRIS THAYER

CLARE O'KANE

KHADI DA DON

OLIVIA NORMAN

RON JOSOL

AL MADRIGAL

MADISON ALLEN

BRAD WILLIAMS

RANA MAY

JEN KWOK

JESSI KLEIN

JOE LEEPER

STEPHANIE SIMBARI

ALYSSA STONOHA

STEVEN BRIGGS

REBECCA ALLEN

JESSICA MITOLO

ASHLEIGH HAIRSTON

KATHLEEN PHILLIPS

LEILA BEN-ABDALLAH

JON FRIEDMAN

BRIAN MURPHY

BARBARA HOLM

AMY MILLER

ROGER HAILES

ROB RIGGLE

WILL REESE

STEVEN ROGERS

ADAM WEINRIB

TIMOTHY DUNN

MÉLIA MILLS

RAJ DESAI

SARAH OXMAN

MIKE EPPS

SUNAH BILSTED

CHARLA LAURISTON

ANDY HAYNES

ELIZABETH GUEST

JOHN MILLER

MAGGIE MAYE

DOLPH ZIGGLER

KATIE BYRNES

CHRIS ROCK

DIANA FRANCES

BRIDGET EVERETT

HAMPTON YOUNT

RYAN DONAHUE

YEDOYE TRAVIS

ROBBY SLOWIK

MEGGIE SPELLMAN

LIZZ ADAMS

DANNY POLISHCHUK

JASON HILLMAN

KARL HESS

LISA LAMPANELLI

REBEL WILSON

LISA BANY

HILLARY MATTHEWS

CLAUDIA COGAN

ALLISON SPENCE BROWN

HALLE KIEFER

KURT BRAUNOHLER

IAN ABER

CHRIS TELLEZ

CALEB SYNAN

KAT RADLEY

CASSANDRA DEE

JACI ENTWISLE

JIM NORTON

JULIE BRISTER

PETE MUTURKEY

MATT CHAMPAGNE

ABBY ROSENQUIST

BRENNAN LEE MULLIGAN

KATHRYN BURNS

HANNAH KANENGIETER

HARI KONDABOLU

ANNA RAJO

JACK O'BRIEN

CARINA MAGYAR

MONIQUE MOSES

KELLI DUNHAM

HEATHER MARULLLI

MATT KIRSHEN

RENEE GAUTHIER

GLENN BOOZAN

MARY MAHONEY

DHRUV SINGH

BRIAN KILEY

YUSEF ROACH

JO FIRESTONE

LANCE PAULLIN

JOANNA HAUSMANN

LUKE KELLY-CLYNE

TREVOR WILLIAMS

ANDIE MAIN

KELLY MACFARLAND

ALLISON GOERTZ

CORIN WELLS

ELI SAIRS

MARIA POND

DAN RONAN

MARTHA KELLY

CORY PALMER

CHRISTIAN FINNEGAN

CHELSEA SHORTE

ADAM MAMAWALA

GABE DELAHAYE

SCOTT SCHENDLINGER

CHARLES GOULD

SHANTI CHARAN

KARA MOORE

GENETRA TULL

JILL WEINER

ALI GHANDOUR

KAREN BAUGHN

SALLY BROOKS

MINDY TUCKER

ANNA CALLEGARI

ALISA ROSENTHAL

BRIDEY ELLIOTT

JOE PERA

KEVIN HART

GREG DORRIS

LAUREN LAPKUS

MICHELLE HART

SAMANTHA ADAMS

MAGGIE RIETH AUSTIN

SHAKIRA PAYE

LAURA SILVERMAN

RACHEL TAENZLER

NICOLE SHABTAI

EMILY EHLERT

CHAD DANIELS

MICHELLE KINNE

ASHLEY BOTTING

KIMMIE COMPANIK-WARNER

ZOE COOMBS MARR

DAVE ROSS

HAL RUDNICK

RUMAN KAZI

SARAH BURNS

CODY ZIGLAR

JONAH RAY RODRIGUES

RACHEL BLOOM

BUNNIE R. STEFFNER

KASSIA MILLER

JON HUCK

JOHN BRUTON

WENDY WEISS

CHUCK WATKINS

ERNIE VICENTE

TIM HUNTER

SAM MORRIL

APRIL RICHARDSON

MATT CORDOVA

KATH BARBADORO

PRESCOTT TOLK

CHARLIE MIHELICH

MARCIA BELSKY

JEN KIRKMAN

REBECCA O'NEAL

NICK RUTHERFORD

CAITLIN BARRETT

RILEY SILVERMAN

WHITNEY CUMMINGS

GEORGEA BROOKS

FRANCESCA MARTINEZ

ANICA CIHLA

MIKE DRUCKER

CLAIRE EPSTEIN

MAYA RUDOLPH

MELISSA LUNA

JOE MACHI

AMANDA SITKO

CAIT RAFT

JUSTY DODGE

HEATHER TURMAN

MIRANDA RAE HART

KATIE HANNIGAN

LESLIE BATTLE

JESSE JOYCE

FOAD HP

ALLYN PINTAL

KRISTEN SAMUELSEN

JESSICA KANE

JANNA SOBEL

CHRIS CROFTON

WILL CHOY

BRENDA COLONNA

MIKE CARROZZA

SARAH WILLIAMS

MOLLY RUBEN-LONG

PETER KIM

CHRISTY HALL

COLIN BURGESS

MYKA FOX

JOE KWACZALA

ANNA SEREGINA

ELIOT GLAZER

JEN SAUNDERSON

COURTNEY HYDE

CHRISTINA GALSTON

LARRY THE CABLE GUY

STEVE BREESE

JENNIFER VANILLA

DAN ST. GERMAIN

NICKI WRIGHT

MIKE BROWN

ALI WALLER

KRISTIN HENN

JON MILLSTEIN

PHOEBE ROBINSON

GREG JOHNSON

CASSIDY HENEHAN

STEVE O'BRIEN

BARRY ROTHBART

CRAIG FERGUSON

DONNY DIVANIAN

JOSH SHARP

FELIPE ESPARZA

GREG BARRIS

BRIANA AUGUSTUS

DEREK HUMPHREY

MARISSA GALLANT

CARLY HEFFERNAN

TOMMY DAVIDSON

MONISOLA OYEDEPO

ERIK CHARLES NIELSEN

DREW FREES

IVAN DECKER

JON DALY

DANIELLE ANDRUSKIWEC

HOWARD KREMER

LEVI MACDOUGALL

BILL SQUIRE

SAM JAY

DREW CULLINAN

KRISTEN WIIG

STEVE BENAQUIST

SARAH SILVERMAN

MAGGIE RITCHIE

DEBORAH TARICA

ALI CLAYTON

JENNY SLATE

MILES K.

MOOKIE THOMPSON

BIL DWYER

EMILY PENDERGAST

SANDRA BERNHARD

SUBHAH AGARWAL

ALEX HOOPER

HANNAH SOLOW

KATIE CROWN

NICK MULLEN

ALEX BOHL

JULIA SOLOMON

KATHY YAMAMOTO

GRAYSON MORRIS

STEPH TOLEV

LAURA HOUSE

JEFF HORSTE

JONNY SVARZBEIN

CHRIS MILLHOUSE

RON LYNCH

NICHOLE YANNETTY

BOBBIE OLIVER

REFORMED WHORES

SHANE RHYNE

NATE CRAIG

JAKE BENDER

CAROLINE MARTIN

CATHERINE COHEN

DAN GLASER

TIM GILBERT

JESSICA ROGERS

SYDNEY STEINBERG

SETH COCKFIELD

DANNY LOBELL

RHEA BUTCHER

MELISSA AQUILES

KRISTIN RAND

CARIAD LLOYD

JON RUDNITSKY

MATT MCCARTHY

JULES POSNER

PEGGY GRACE

REGGIE WATTS

CHELSEA BEARCE

DAVID BRANDYN

JESSICA DELFINO

THEO VON

DEBORAH TARICA

RACHEL FEINSTEIN

NANIE MENDEZ

JOANNA BRILEY

DAWN LUEBBE

RACHEL VAN NES

STEVEN DYER

ANNIE LEDERMAN

DANA JAY BEIN

JONAH JURKENS

FELICIA MICHAELS

BRITTANY CARNEY

JACQUELINE NOVAK

SHANNON COFFEY

KATEY SELIX

DUNCAN PACE

CASH HARTZELL

MELISSA MCCARTHY

JOE MCADAM

AISLING BEA

KATIE QUE

ANDREW SHORT

EDI PATTERSON

JEFF WATTENHOFER

CHRISTOPHER SCHMIDT

KIMIA BEHPOORNIA

DAMARCUS WOOTEN

SAM WILES

ANNIE MUMOLO

MARINA FRANKLIN

DANIELLE THRALOW

AMANDA MURPHY

JOE MURPHY

ANGEL YAU

JASON SHERIDAN

AMANDA DIELI

DAVE ANTHONY

KRYSTYNA HUTCHINSON

BLAIR SOCCI

AL JACKSON

TIFFANY HADDISH

MARY HOULIHAN

PUNAM PATEL

MARJORIE MALPASS

MELISSA KINGSTON

MATT WERNER

KRISTIN HENSLEY

RON BABCOCK

PAT MCAFEE

PAIGE WELDON

SCOTT CHAPLAIN

OPHIRA EISENBERG

CHRIS JUREK

RYLEE NEWTON

CAIT RAFT

BARBARA GRAY

DAN HODAPP

JAKE KROEGER

LANCE WEISS

ERIK NIEWIAROWSKI

DAYNA LOBOSCO

KATY EVANS

CHRISTINA SCHNEIDER

STEPHANIE COURTNEY

JEWEL GALBRAITH

ARI SHAFFIR

NIKKI PALUMBO

BRENDON WALSH

GEOFF TATE

SANDRA BATTAGLINI

MOSES STORM

MIA SCHAUFFLER

MERRILL DAVIS

ANDREW HANSEN

JAMES AUSTIN JOHNSON

BILL ENGVALL

NATE BURROWS

CANDICE THOMPSON

SHERIDAN PIERCE

MAGGIE SMITH

KRISTEN TOOMEY

JESSICA SELE

THE TRUMPET BOYS

ERIN LAMPART

SCOTT MORAN

ERICA LIES

DANA BELL

DOOGIE HORNER

ADAM CHRISTIE

CURTIS WENIS

TIMMY BROCHU

PAUL LAIER

MATT DRUFKE

CJ SULLIVAN

ADAM BURKE

GREG KASHMANIAN

ANDĚL SUDIK

KYLE MIZONO

TIM BARNES

ERIC ANDRE

NICOLE BYER

JOHN EGAN

REBEKKA PESQUEIRA

ANDREW POLK

NATASHA MUSE

KAREEM GREEN

KIM LOWERY

KATIE SIMON

ANDY HENDRICKSON

ALLISON BILLS

JASON MELTON

RUSS WILLIAMSON

VIVIAN YOON

ADAM COZENS

GLEN TICKLE

LINDSAY ADAMS

KATHLEEN PULS ANDRADE

CHRISTIAN DUGUAY

MAX BARTH

KIRSTEN KUPPENBENDER

JEFFREY JOSEPH

ELI BRADEN

REGINA CASTAÑEDA

BART BENEKEY

LINDSEY MORINGY

NAOMI KARAVANI

MIKAH WYMAN

JEANNETTE RIZZI

HARRY MOROZ

JULIE MARCHIANO

JESSICA ETTMAN

PATRICK TOMLINSON

GRAHAM KAY

MARLA SCHULTZ

MOUJAN ZOLFAGHARI

JOSH FRUHLINGER

DAVID GBORIE

ANDREW BUCKET

LOUIS KATZ

SARAH KHASROVI

CORINNE FISHER

EMILY DURRETT

BEN RODGERS

MARTY TOPPS

CLARE O'KANE

ALYSIA HUSH

SHAYELLE DOMINGUEZ

CHELSEA FRANK

TOM SHILLUE

PAULA POUNDSTONE

JOE ZIMMERMAN

JOHN BISHOP

DREUX FERRANO JR.

DAVE ROSINSKY

COURTNEY SEVENER

SABRINA JALEES

ALYSSA SABO

WILL MARTIN

SHAWN HALPIN

TIFFANY BARBEE

NATALIE SHURE

LANE MOORE

FRANK GARCIA HEJL

LAUREN GREENBERG

RACHEL WEEKS

K TREVOR WILSON

JEFF KREISLER

ANNIE WASSERMAN

GIULIO GALLAROTTI

BYRON BOWERS

SARAH COKER

JOE CARDOSI

ALIA GHOSHEH

AMBER KENNY

LANGSTON KERMAN

JEN SMEDLEY

MARY SANTORA

AMY ALKON

LEIGH CAMERON

DAN SODER

LISA MERCHANT

ANYA VOLZ

PATTY GUGGENHEIM

JUDAH FRIEDLANDER

NATALIE NORMAN

CHRIS O'CONNOR

RYAN DALTON

JEFF STEINBRUNNER

BABYFIN

JANEANE GAROFALO

SIMON GIBSON

SHANTIRA JACKSON

STACEY KULOW

BRYSON TURNER

SAURIN CHOKSI

JOHN ROY

HEATHER MCDONALD

MARIEL CABRAL

MARK NORMAND

ERICA HERNANDEZ

JON HESS

LAURA BINGHAM

LAUREN REEVES

NATE FERNALD

RYAN BOWERS

DANNY WHITSON

WYATT CENAC

BRIDGET HOLMES

WILL HINES

TAMI NELSON

SAGAR BHATT

JANET VARNEY

ANNA RAJO

DAN TELFER

NANCY BECKETT

LORRAINE DEGRAFFENREIDT

ISAAC LEICHT

KATE TEDDIMAN

CJ HUNT

MARY JACOBS

AIDY BRYANT

JONO ZALAY

DOMEKA PARKER

DARRYL CHARLES

DEL HARRISON

SYDNEE WASHINGTON

CHESLEY CALLOWAY

JOEL KIM BOOSTER

JOSH CHUDNOVSKY

TOM EMMONS

ROSS HYZER

JENNIFER ROSSINI

RICKY GERVAIS

ILANA GLAZER

BIANCA CRISTOVAO

ELSA WAITHE

ALLISON O'CONOR

CAROLINE O'RIORDAN

TREY ELLIOT

CAROLYN BERGIER

JULIA MELTZER

ANA GASTEYER

ANDREW SLEIGHTER

LUCIA FASANO

PAMELA ROSS

KEVIN KELLAM

SAMUEL PALMER

JONATHAN DANIEL BROWN

ALEX GARLAND

MORGAN MURPHY

JOE WAGNER

NIKKI BLACK

ADAM NEWMAN

TIM ROSS

JANELLE JAMES

SEAN KEENE

SHEREEN KASSAM

TYLER SONNICHSEN

REENA CALM

HANNIA OMER

PAT THORNTON

LIZZY PILCHER

JACOB WYSOCKI

CHRISTY BRUCE

ANDY WOOD

KATE MURPHY

EMILEA WILSON

ANNIE DONLEY

NATALIE HOKE

JEFF TOPOLSKI

JAY JURDEN

MALLORY WALLACE

KYLE KINANE

MATT BRAUNGER

MEGAN MCGHEE

SHANE TORRES

JOHN FLYNN

HELEN LEE

PAT MCGANN

SEAN WHITE

NICK TURNER

KEITH ALBERSTADT

STEVEN HERNANDEZ

LYDIA MANNING

TIM LANDRY

ALEX FERNIE

AMANDA HUNT

RAMIE MAKHLOUF

TONY SAM

DAVID HILL

ALISE MORALES

BECKY DONOHUE

CHARLES MCBEE

ASHLEY ENGLAND

KIMBERLY STEWART

FORTUNE FEIMSTER

JENNIFER ASHLEIGH LLOYD

EMILY MCDONALD

LAURA SANDERS

KATIE ROSE LEON

MATT WHITE

MEGAN KELLY DUNN

ASHLEY BRIGHT

ERIN JUDGE

MIKE POLK JR.

DESI DOMO

RYAN BECK

ALEX WATT

MATT RUBY

HUNTER ROBERTS

CHLOE MARSH

KATE CONNER

DAVID FOSTER

SAMUEL J. COMROE

ALLEN STRICKLAND WILLIAMS

POYKPAC

LIZA MARIEÂ

LINDSAY AMES

KARA KLENK

KIM STACY

CANNIBAL MILKSHAKE COMEDY

MARY LYNN RAJSKUB

JACK COMSTOCK

BRIE WATSON

ARIEL GITLIN

EMILY SLAZER

JADE CATTA-PRETA

ALI PRIER

RYAN MCKEE

IAN ABRAMSON

ELLA CAMPBELL

HALLIE CANTOR

LAURA DE LA FUENTE

SARA AISENBERG

GREG SANTOS

MELANIE RENO

SEAN SIMONEAU

LIZ BARRETT

PATRICK MCDONALD

MEGAN NEURINGER

WES CORWIN

MELISSA DOUTY

MARY JO SMITH

CARRIE MCCROSSEN

DAVE WAITE

EMILY MAYA MILLS

MATT O'BRIEN

NOAH GARDENSWARTZ

JUSTIN TIMBERLAKE

SCOUT DURWOOD

CHASE MITCHELL

NADIA KAMIL

JANINE BRITO

LISA BEST

TYLER MORRISON

FELICITY PENMAN

TOBY MURESIANU

DINA HASHEM

JEFF BLANK

ISABELLA ROLAND

JEREMY PIVEN

MARK BORBOGLIA

CORY WILLIS

GWYNNA FORGHAM-THRIFT

BRIAN REGAN

TOM SEGURA

MICKEY HENEHAN

IAN HUNT

AARON WESTLY

NEEL NANDA

DARA KATZ

JACKIE KASHIAN

NATHAN CAYWOOD

JENNIFER SNYDER

NICK MARITATO

KATIE FOSTER

SUZIE AFRIDI

CARTER BRYANT

WILL MILES

NAT BAIMEL

LUKE MORGAN

TESSA SHIPPY

JAY STEIGMANN

SEAN DONNELLY

EMMA HOLDER

GRANT O'BRIEN

ABI HARRISON

MONICA VASANDANI

SARA ARMOUR

HAYLEY MARIAN

MATTEO LANE

NICHOLAS ROULEY

ERIKA MAY MCNICHOL

ANNA SALINAS

BEN GLEIB

MIKE O'KEEFE

HEATHER THOMSON

DANIELLE CROMARTIE

LAWRENCE RUELL

NORE DAVIS

VINCE AVERILL

STEVE RANNAZZISI

MATT DONAHER

FIELDING EDLOW

ALI BREEN

MAYA DESHMUKH

KYLE AYERS

BRITTANY HUNT

SARA HENNESSEY

ASHLEY COMEAU

CRISTIAN DURAN

SARA FEINSTEIN

BRETT HAMIL

BEN WARHEIT

MARA WILESÂ

DANNY SOLOMON

PAIGE SMITH-HOGAN

HANNAH BOONE

SARAH STOECKER

SELENA COPPOCK

JENNY ZIGRINO

MARSHALL STRATTON

CHRISTIE BUCHELE

DAN WILBUR

CLAIRE DOWNS

HAILEY CHAVEZ

RYAN SIMMONS

MIGUEL DALMAU

CHRISTINE BULLEN

ZIWE FUMUDOH

DAVID COPE

JOHNNY PEMBERTON

HOLLY WORTELL

JAMES DAVIS

SUSAN PREKEL

EGO NWODIM

LAURIE KILMARTIN

REECE COTTON

LIZ STEWART

JEREMIAH WATKINS

SOPHIE BUDDLE

RICH VOS

MATTHEW BRIAN COHEN

CATHY LADMAN

MARIE MCINTOSH

SIOBHAN THOMPSON

JANE BORDEN

ADAM SOKOL

TOM THAKKAR

MITRA JOUHARI

HARRY WOOD

ALI WONG

ROB O'REILLY

GREG STONE

DAVID VENHUIZEN

JOHN CORWIN

RAQUEL D'APICE

JAY OAKERSON

SIMON AMSTELL

ALYSSA WOLFF

JAKE YOUNG

PHIL MAZO

AMBER RUFFIN

LAUREN GREENHALL

MADI GOFF

SOFIYA ALEXANDRA

BILL GERVITZ

FIONA LANDERS

ALLISON DUNBAR

KELSEY BAILEY

ERICA ELAM

HALLIE SHECK

NATASHA MUSE

CLAIRE TITELMAN

LUCY COTTRELL

ROB HAZE

STACEY HALLAL

BECKY BRAUNSTEIN

JOANN SCHINDERLE

ERICA NICOLE CLARK

IRENE TU

ZED CUTSINGER

RAE SANNI

KEVIN MCCAFFREY

DEVON SAWA

JOHN MOSES

SHUKRI ABDI

SAM BROWN

COOR COHEN

BILLY PRINSELL

MATT APODACA

BRETT HIKER

RASHAWN NADINE SCOTT

JENNIFER GABLE

EMILY RUSKOWSKI

BRODIE REED

GRANT PARDEE

RG DANIELS

MATT MELLON

JENNY ST. ANGELO

PAUL SCHISSLER

CAITLIN PUCKETT

ROB TANCHUM

BILLY PROCIDA

SHARON HOUSTON

LAUREN ASHLEY BISHOP

ERIN MAGUIRE

TOOKY KAVANAGH

CHELSEA DAVISON

LEIGHANN LORD

PETE HOLMES

LANGAN KINGSLEY

BRIAN FAAS

MELODY KAMALI

BETSY KENNEY

TYSON KARRASCH

KATE MASON

STEPHEN AGYEI

AMANDA OLSZEWSKI

MARTHA FEARNLEY

CARROT TOP

GRACE LEESON

SARAH CLASPELL

ELI YUDIN

MATTY RYAN

SCOTT ROGOWSKY

JANAE BURRIS

DYLAN HAY-CHAPMAN

MIKE DOBBINS

RYAN SINGER

GEORGIA BARNES

CHELSEA BUNN

LAUREN BURNS

BRYCE DAMUTH

NATASHA LEGGERO

CHRISTINE "STINE" AN

MARITZA MONTANEZ

JAY KENDRICK

STEPHANIE MCCULLOUGH

BRIAN PARISE

COURTNEY ALGEO

ALEX FRENCH

DAN ENFIELD

JULIO TORRES

JESSE POPP

TIM WARNER

SUZI RUFFELL

MARILOU CANON

AMANDA MCQUEEN

JERROD CARMICHAEL

SOPHIE YALKEZIAN

LORI MAE HERNANDEZ

MIKE LEBOVITZ

MARTIN JAMES KELLY

FAIZON LOVE

RYAN CONNER

PEGGY O'LEARY

GREG EDWARDS

MARIA BAMFORD

NICK LUCIANO

VALERIE TOSI

KATIE NGUYEN

ALLISON WEBSTER

JESSIE WEINBERG

LEAH MANSFIELD

HALEN SPOONWOOD

SUSANNA WOLFF

JULIA JOHNS

JARRET BERENSTEIN

ANTHONY LOPEZ

MORGAN MILLER

ROSE O'SHEA

CARLY MALISON

AARON NEVINS

JIMMY DORE

CLAIRE MULANEY

CAITLIN KUNKEL

GRADY RAY

JULIA RAMOS

MIKE WILEY

KATIE EAST

GREG STEES

ASHLEY AUSTIN MORRIS

KEN MCGRAW

ALISON LEIBY

ALINGON MITRA

JULIA DIFERDINANDO

OSCAR MONTOYA

STEPHANIE HASZ

KATIA KVINGE

KRISTINE KINSEY

MARY ANTHONY

SHAWN MORGAN

HALEY HEPWORTH

ZAELI KANE

AMANDA AUSTIN

AVERY MONSEN

TIM DILLON

ALI GORDON

ANNIE SERTICH

MAGGIE MAYEÂ

JONATHAN TILLSON

MIKE BERG

JEREMY ESSIG

GEORGE BASIL

PAT REGAN

MICHAEL KOSTA

JOE LIST

ANA-MARIA STOJIC

PATRICK MCLELLAN

DAVE HILL

MIKE BIRBIGLIA

JOE WENGERT

KAREN MARUYAMA

MICHAEL BUSCH

TAVARIS SMITH

CANDICE YANG

VICTORIA LONGWELL

MARIE BUCK

BOSTON MCCOWN

CONNIE SHIN

ANDREW MICHAAN

PAT BURTSCHER

KAREN KILGARIFF

COREY FORRESTER

MAE MARTIN

KATIE KLEIN

JOHN TROWBRIDGE

CANDY LAWRENCE

ADAM DELOUCHE

SEAN JORDAN

MIKE SZAR

CHRISTIAN SPICER

MARIO CANTONE

CARLY AQUILINO

LINDSEY CALLERAN

AHAMED WEINBERG

ED MUNDY

ALAN STARZINSKI

HAILEY BOYLE

WENDI MCLENDON-COVEY

ERIN FENTON

PATRICK MONAHAN

KELLEY QUINN

BENJAMIN APPLE

DREW MORGAN

JULIE HOANG

NINA CONCEPCIÓN

MOLLY CAHEN

STEVE MARSHALL

BECKY JOHNSON

GREG BEHRENDT

JULIAN MCCULLOUGH

DRENNON DAVIS

NIKKI CARR

MATT HOBBY

JESSICA SEAY-KLATT

MO MANDEL

ADAM WADE

BRIAN MITCHELL

DAVE CHILD

CHANEL ALI

KEN BECK

PRATIMA MANI

LIZA TREYGER

HENRY PHILLIPS

JORDAN ARMSTRONG

KEVIN BARNETT

MATT BILLON

EVAN RABALAIS

NICK NANEY

WES HUDSON

ROBBY HOFFMAN

JARED FREID

ELLIE MCELVAIN

RUHA TASLIMI

JORDAN CARLOS

CHRISTEN SUSSIN

PAGE HURWITZ

ROBERT STEPHENS

TAYLOR CLARK

HEIDI GARDNER

DUSTY SLAY

EMMY BLOTNICK

CHRIS PORTER

CASSIE CAO

ELE WOODS

ASHLEY BROOKE ROBERTS

KATHE FARRIS

JULIE HARRISON-HARNEY

LEE BARATS

MATT CHADOURNE

ANTHONY JESELNIK

TEGAN FLANDERS

DJANGO GOLD

SHELBY FERO

RACHEL SENNOTT

LESLIE SEILER

TRAVIS IRVINE

CHRIS WILKES

ELIZA HURWITZ

JON FISCH

ABIGOLIAH SHAUMANN

ROSE SURNOW

PATRICK HIGGINS

TROY WALKER

GRANT GORDON

JON SCHABL

LAUREN OLSON

MONIKA SMITH

DAN KLEIN

SARA SCHAEFER

JOHN TIMOTHY

ALI REINGOLD

LOU WILSON

STEPHANIE ARD

PHIL DAVIDSON