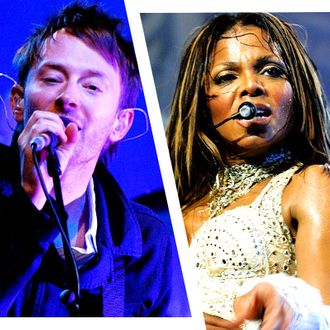 Photo: Mark Mainz; George De Sota/Getty Images
Your 2019 Rock and Roll Hall of Fame class is here and it's a wild bunch: Janet Jackson, Radiohead, Stevie Nicks, the Cure, Def Leppard, Roxy Music (including Brian Eno), and the Zombies will join rock canon next year, the Hall has announced. Those nominated this year but overlooked include LL Cool J, Rage Against the Machine, Kraftwerk, MC5, Rufus & Chaka Khan, Devo, Todd Rundgren, and John Prine.
Radiohead are, of course, a controversial choice considering their past comments making it clear that they don't want the honor. "I don't care," Jonny Greenwood told Rolling Stone in 2017, before they were nominated the first time. "Maybe it's a cultural thing that I really don't understand. I mean, from the outside it looks like … it's quite a self-regarding profession anyway." Ed O'Brien cheekily added, "I'd rather be sitting at home in front of the fire or going to a gig." Meanwhile, Thom Yorke stopped himself short of saying something rude. Only Colin Greenwood seemed thrilled at the idea of getting to play "Creep" on that illustrious stage, even if he had to do it alone. In a new statement reacting to the news of their pending induction, Radiohead said, "The band thanks the Hall of Fame voting body and extends congratulations to this year's fellow inductees." That leaves the door wide open as to whether or not they'll show up.
Janet, nodding to the Jackson 5 and Michael's inductions, said in her statement, "I am truly honored and I am happy to be in there with my brothers." On her solo induction, Stevie Nicks — who'll become the only woman to be inducted into the Hall twice, first with Fleetwood Mac — gave this ominous comment: "I have a lot to say about this but I will save those words for later." Will her war of words with Lindsey Buckingham continue? If the rock gods can only be so kind and petty. The Rock and Roll Hall of Fame induction ceremony happens live at Barclays Center on March 29 and will air later on HBO.