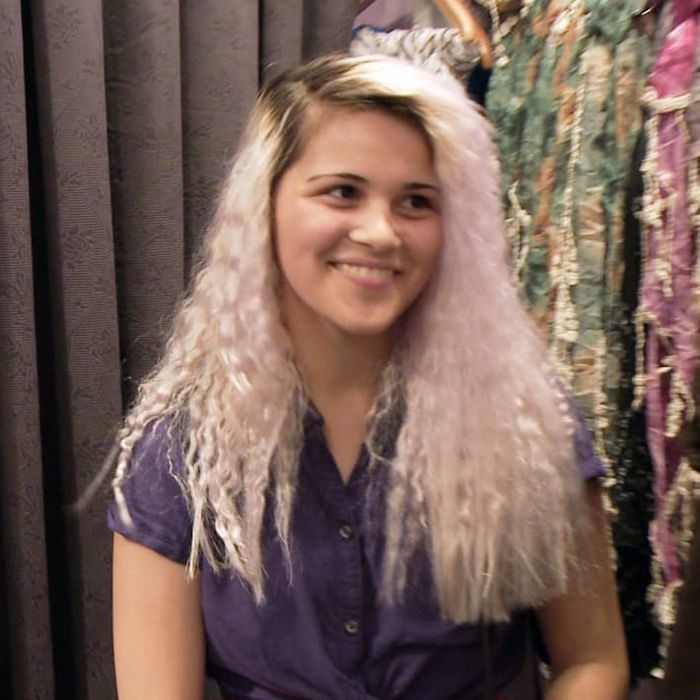 Another episode of 90 Day Fiancé, another opportunity for me to watch Steven verbally abuse Olga, because for some reason, TLC believes we don't get enough male aggression in our everyday lives.
In this edition of What's Steven Mad at Olga About This Time, Steven is mad at Olga for *spins the wheel* taking care of her newborn baby. Steven wants to go to the fancy park, but Olga doesn't want to take her child in the car seat because she's afraid the baby will break his back. Leave it to Steven to take something as pure and lighthearted as visiting a park with a baby and ruin it with his toxic masculinity. I dislike everything about this man-child and I hope that Russia deports him.
Ultimately, Steven's problem with Olga is that he's jealous of the attention the baby is getting over him. Imagine being jealous of a newborn baby; this is a level of narcissism rivaled only by Jenna Maroney. It's disgusting and I don't want to see it on my television screen. 90 Day Fiancé is for laughing at sad people who can't get laid in America, not for triggering its audience. At one point, Steven confronts Olga, demanding to know what she has done lately to make him feel special, as if Olga isn't single-handedly keeping his son alive. And the fact that Olga has to apologize to this monster? Wow! Someone needs to give him a vasectomy to make sure he can't subject this terror on any other unsuspecting women. The only reason I tolerate Steven's scenes is because they are documentation of how he treats Olga which will hopefully be used in court.
In Las Vegas, Colt and Larissa go apartment shopping since their lease is almost up. Larissa loves the first place they look at, probably because Colt's mother is nowhere to be found. The furnished apartment costs $1,650, which is a good deal to me considering that in New York that price would get you a shoebox covered in urine. After Larissa falls in love with what can best be described as genderless corporate housing, Colt tells her they can't have the place because he doesn't feel right abandoning his mother. Now, I understand that Colt and Deb are a package deal, like freshman year and mono, but Colt has got to stop taking Larissa places only to disappoint her by leaving with nothing. First it was the furniture shop, then the car dealership, now it's the apartment. If you can't afford something or refuse to change your lifestyle, keep your pancake butt at home. It's cruel and a waste of everyone's time.
Eventually, Colt and Larissa break the news to Deb that they'd like to move. Colt has lived with his mother for 33 years and this conversation is literally 15 years too late. Even Larissa believes it's time to cut the umbilical cord. Deb reacts by passive-aggressively saying she'll move to a senior living home. I respect her commitment to emotionally manipulating her son. And while Colt says he takes care of Deb, I can't help but remember that Deb cooks, cleans, and drives Colt to work, so really … who is taking care of whom? From my vantage point, Colt wants to have his cake and keep his mother-wife.
In Chicago, Fernanda and Jonathan's sister, Jackie, arrive at the wedding dress shop, but Jonathan's mom, Ceci, is tardy to the party. Last time Fernanda and Ceci chatted, it wasn't entirely clear whether or not she was attending the dress fitting, and Ceci's lateness only adds to their tension. Ceci eventually arrives with no explanation for where she was, but as someone who has spent a substantial amount of time in Chicago, I can safely assume Ceci was busy eating eat deep-dish pizza at Giordano's. Fernanda is relieved to see her future mother-in-law, and thus the dress shopping begins. (Ladies, don't let Fernanda encourage you to be adventurous on your wedding day; Fernanda is beautiful and thus she looks beautiful in everything, but this is not the case for everyone.) Ceci tries to encourage Fernanda to wear a dress fit for Cinderella cosplay, in a transparent attempt to sabotage the wedding. However, Fernanda chooses the plain Jackie O. dress, which I love, because the spirit of Grace Kelly lives through me. Everything seems to be going well until the nosy sales associate starts asking too many damn questions. This is why people need to mind their own business. This beautiful moment turns sour quickly when Fernanda is reminded that her mother won't be at the wedding. The silver lining is that this brings Fernanda and Ceci together, ultimately making Ceci embrace the fact that this wedding is "happening."
Next we head to Mechanicsburg, Pennsylvania. I should start off by saying that unless the ghost of James Baldwin is executive-producing 90 Day Fiancé, I do not believe this show is equipped to effectively discuss race relations in this country. Yet here we find ourselves with Ashley and Jay combating the ignorance and bigotry that comes with being an interracial couple in America. Ashley has apparently never experienced racism before and she's surprised that their wedding registry is receiving such racist comments. Honey, there is nothing surprising about racism if you've ever watched the news, been on the internet, or spoken to a black person. While Ashley claims to "have black friends," she does the wrong thing by continually exposing Jay to this racial trauma and reading all the bigoted comments aloud. This obviously pushes him to the brink of tears because … well, he is forced to listen to his white fiancé read racist comments on national television. I don't find listening to Ashley repeat the word "monkey" to be all that entertaining, I find it sad and humiliating. If anything, it's an indication of how much further our country has to go to heal these racial divides and accept interracial relationships, which were made legal as recently as 1967 with the Supreme Court's Loving v. Virginia case. Unfortunately, this context is lost on 90 Day Fiancé, with Ashley sharing insightful racial commentary like, "This is not okay." My heart is with Jay, who left Jamaica only to experience this bigotry and hatred.
Back in Baraboo, Wisconsin, Eric and Leida visit the combination Best Western/Dunkin' Donuts where they will be getting married. The exterior of the hall is cute, but inside, the overhead lighting is unforgiving. In fact, Leida is happy that her parents aren't attending the wedding so they can avoid the monstrosity that is this wedding venue. To calm herself down, Leida insists that the success of the wedding depends on their florist. I don't care if the inside of that venue looked like Alice in Wonderland's garden, nothing is going to fix the place's appearance, especially if Eric's budget is around $2,000. Eric has the impossible task of trying to compete with Leida's $300,000 wedding, in which one of her flower arrangements is worth more than Eric's entire being. Ultimately, Eric agrees to double the flower budget from $400 to $800, which, according to the very sassy florist, will get them 1.5 additional roses. This satisfies Leida immediately, but soon she realizes she'd have more money for her wedding if Eric wasn't paying child support. I cannot think of a more selfish ask. Leida needs to accept that she is never going to get her ideal wedding on Eric's budget. They are going to have Party Central decorations and the guests will be cutting a single slice of chicken into tiny portions. That's just the way it is. Although I do have sympathy for them when I learn that they've been sleeping on a box spring with a mattress pad. It is so bleak to realize that Leida is giving up her comfortable life in Indonesia so that her child can sleep on a floor. At this point, though, Eric has revealed that he has no money, so any choice that Leida makes from this point forward is entirely on her. It's absolutely unacceptable that she put her son in this situation and she shouldn't get married to Eric if his supporting his children is her non-negotiable.
In Utah, Kalani and Asuelu move full steam ahead with their wedding. Kalani goes wedding dress shopping with her sister Kolini, (not to be confused with Kalani). Kalani tries on dresses, all of which make her look like an American Girl Doll that lives on a prairie. She says she can't commit to a single dress because she isn't ready to commit to this marriage. (I love my metaphors like I love my men: heavy-handed.) Apparently, Kalani isn't ready to commit to Asuelu because she's unsure he'll be a good father to Oliver. I can tell you right now, Asuelu does not have the emotional maturity to father a turtle, much less a child. He will never live up to her and her family's expectations of him. But, if Kalani is so particular, why did she choose to have a child with a coconut farmer from an impoverished nation, and why is she marrying him? She knows exactly what she's going to get; it's not like Asuelu is suddenly going to transform into a junior associate at Goldman Sachs. Kalani needs to accept him or move on.
I will say that, in Kalani's defense, the more time I spend with Asuelu, the more I kind of hate him. I hate that his brother said that once Asuelu is done with her, he'd like a turn. I hate that when confronted with that information Asuelu doesn't apologize, he just shuts down. Asuelu suffers from the same ailment that afflicts Steven; he's an adult child. Where Steven is abusive, Asuelu is non-verbal. And, truth be told, when Asuelu accidentally says he's interested in Kalani because she's American and prosperous, he absolutely means that. This is not a language barrier thing; Asuelu is not interested in Kalani, he's interested in being a citizen. Either Kalani accepts that she's a single mother, or she welcomes the reality of having two children, Oliver and Asuelu.