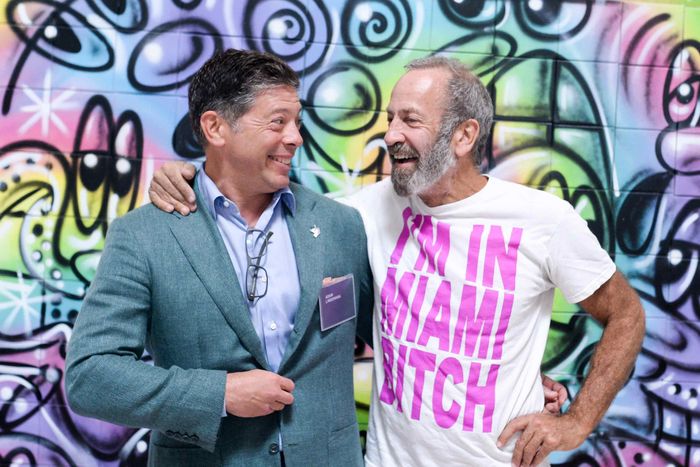 Adam Lindemann and Kenny Scharf.
Photo: Madison McGaw/BFA.com
Bitcoin and Basquiat, they both made certain people a lot of money. But for the investment-minded who might be interested in both, it's not just about a well-rounded portfolio. Blockchain technologies might make that investment easier, and more widely available to more people, at least according to people like collector and entrepreneur Adam Lindemann, who hope to get ahead of this disruption and make money off it themselves. He was the host of the conference, "The Art of Blockchains," during Art Basel Miami Beach, which he organized with the blockchain startup Artblx, in which, of course, he's an investor. "The world of tokenization of different asset classes is on its way here," he declared. But how might that work in the art world, and how might that be a good thing?
The conference took place at the Rem Koolhaus-designed Faena annex, and it brought together a curated selection of art collectors, gallerists, and developers. A focus of the discussion was how new tools that tokenize art works can make it possible to buy art cooperatively, making the securitization of the personal-relationships-based art world easier.
"The Art of Blockchains" wasn't the only blockchain-related event in Miami this week, though it was maybe the most A-list. Speakers included super-curator Hans-Ulrich Obrist and gallerist Marc Glimcher, as well as representatives from leading blockchain companies, like Ethereum's corporate marketing arm, ConsenSys. Investor, socialite, Artsy co-founder (and rumored Chinese spy) Wendi Deng Murdoch was there as an attendee. As was Brock Pierce, a tie-dye-clad millionaire who founded a crypto cult in Puerto Rico. Kenny Scharf live-painted a single work across 100 small canvases, which was supposed to be a metaphor for how blockchain can make co-op art-ownership possible. Art on display also included Richard Prince's Instagram girls and a CryptoKitty poster by Simon Denny.
Lindemann is well-known in the art market for his boundary-pushing showmanship, and selling a Basquiat for $57.3 million sale in 2016, but he only jumped on the blockchain bandwagon last year. "I took a Warholian view of this whole thing," he says about new blockchain startups. "Like, let's make it happen and just go for it. I like change, I'm a contrarian, so if blockchain could change the art world, I want to be a part of that."
There have already been several boom-and-bust cycles in the crypto-sphere, making Lindemann's wide-eyed interest in Bitcoin seem less contrarian and than part of the mainstreaming of the once-frontier technology. For him, both the tokenization and fractionalization of art are obvious next steps for managing an asset class that has already earned him millions, and the closed-door conference appeared to be a ploy to bring his powerful peers onboard. He sees the potential in collaboration as well as the parallel between how value is made in both art and crypto-spaces. "Art Basel and all the galleries in it, they've made art an asset class by promoting it jointly into these very expensive things," Lindemann says. "I mean, art is already a cryptocurrency at this point."
Not everyone at the conference was enthusiastic about fractional art ownership. Emmanuel Aidoo, head of distributed ledger and blockchain strategy at Credit Suisse, underscored the potential for fractional art ownership to bring liquidity to the market. But former chairman of Sotheby's Nanne Dekking, whose blockchain-based company Artory is already being used to record transactions and verify the authenticity of artworks and collectibles at auction houses like Christie's, was less convinced: "Is it really good for an artwork when all of the sudden there are 2,000 people involved? I'm leaning towards no."
Blockchain technology has the potential to change how art is traded in other ways. Right now, paintings and sculptures are much more collectible than artist-made GIFs and videos, but blockchain technology could be used to verify authorship and ownership of digital works, making them more own-able. Then, there are people fighting for artists to get a cut of all secondary sales, and Blockchain's ledger system could make this more feasible by tracing the sales of works over time.
Though never directly stated on stage, there was an implication that for collectors and dealers, the tokenization of the art market is a disturbing idea because of its potential to disrupt business as usual. Buying and selling works via blockchain could undermine the function of auction houses, while fractional ownership of works could reduce the ability of gallerists, dealers, and collectors to artificially inflate the value of works through high-profile sales, fundamentally altering the hierarchies of the market.
According to Andy Milenius, CTO of MakerDAO, fractionalized ownership also has the potential to create a market for less wealthy investors to "collect" without actually owning the work itself. In this digitally utopic art world, co-owned works would be displayed in publicly traded museums while new communities could form around lesser-known artists, who in turn could crowdsource funding for their works on the blockchain, or even sell shares in art that has yet to be produced (Jeff Koons has been doing a version of this for years, though it's not always gone so smoothly.)
But still some artists are wary. "I guess part of me is a bit scared to see a securitization of art," says Denny. "Is that something we want to accelerate into?" Denny doesn't see fractionalized art ownership affecting emerging artists like him and is skeptical of utopian narratives around blockchains. He recently curated the blockchain-themed "Proof of Work," on view at Schinkel Pavillon in Berlin, which he describes as "slightly trolly."
While the crypto enthusiasts talk their disruption talk and art world establishment worries what it might mean to business as usual, everyone agrees that blockchain technology is reaching a tipping point.
"We've been talking about art-meets-blockchain for about five years now," says Pierce. "When it's starting to become a topic of conversation at Art Basel, that means it's now at that point where enough artists are thinking about it and we're going to see some extraordinary use cases emerge that will lead to big things."
In the meantime, Lindemann and Pierce are trying to stake their claim as early investors of the most viable technology. Lindemann wouldn't say how much money he's invested in Artblx, but what he did say is that he's not putting all his eggs in one basket. "I've invested in a couple of different blockchain [companies]. Some tokens, some ICOs, an art protocol," he told me. "Actually I did this [conference] in part to invest in more."
But it's not only up to investors. Ben Vickers, CTO of Serpentine Gallery, says that it's up to artists, too — how they use blockchain technologies will determine how history plays out, and the fact that young artists usually favor radical, anti-market positions will have an influence. He predicts, "In the same way the conceptual art movement sought to dematerialize the object — artists will produce infrastructure using decentralized blockchain tools in order to create market structures."