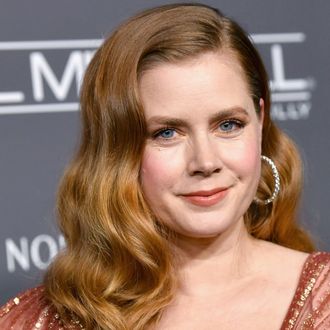 Amy Adams.
Photo: Emma McIntyre/Getty Images
If Amy Adams is going to win that Oscar, it probably won't be for playing Superman's girlfriend. Speaking to Nicole Kidman in an episode of Variety's Actors on Actors, Adams said "I think I'm out of the DC Universe now. I think they're revamping that. I don't know the details."
The DC Universe appears to be going in new, strange places. A Plastic Man movie is in the works, with The Mayor's Amanda Idoko hired to write. Plastic Man is Patrick "Eel" O'Brien, who is doused in chemicals that make him all stretchy and junk. He can stretch and turn into weird shapes to fight crime or make terrible visual puns. Ben Schwartz has already expressed interest in the role.
It's a shame that Adams is apparently out of the wacky new DCU. For one thing, her comedic chops haven't really been on display since The Muppets. Secondly, there's nothing kookier than midcentury Lois Lane stories. Who wouldn't want to see Amy Adams become a half-scorpion superhero?