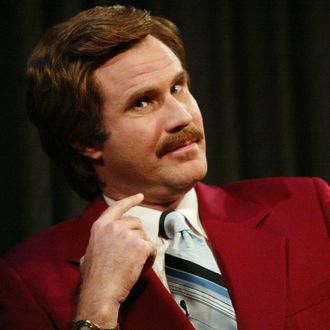 Anchorman
.
Photo: Evan Agostini/Getty Images
Sure, you know the Human Torch was denied a bank loan, but do you know why? Hopefully the truth will be revealed during the first season of the newly announced The Ron Burgundy Podcast. For those unfamiliar with Mr. Burgundy, he is Will Ferrell's obnoxious, headstrong newsman from 2004's Anchorman: The Legend of Ron Burgundy and 2013's Anchorman 2: The Legend Continues. For those unfamiliar with the term "podcast," it's a millennial word meaning "whale's vagina."
According to Variety, Funny or Die is launching the character podcast with iHeartRadio in early 2019, and it already has a two-season, 12-episode order. It's not immediately clear what format the podcast will take, but if nothing else, at least it'll be fun distraction from your job at the toilet store.