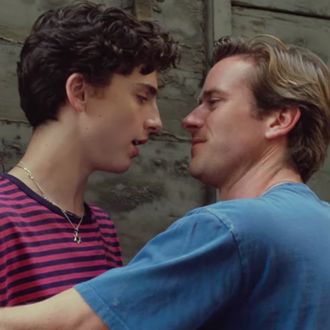 Call Me by Your Name.
Photo: Sony Pictures Classics
Last year, Call Me by Your Name writer André Aciman pondered aloud the idea of a sequel to his 2007 novel turned Luca Guadagnino film in an interview with Vulture. "[A] sequel would be wonderful," he explained. "The problem with a sequel is that you need plot." On Monday, however, the author revealed that he has apparently found that plot, and presumably so much more, on Twitter:
Now, we don't want to give Guadagnino too much of the credit here. (Sure, the director talks about his ideas for a Call Me by Your Name sequel all the time, but who knows if his concept will end up differing from Aciman's plot?) That being said, if the author needed a boost of enthusiasm and a constant reminder that the sequel could always use a Dakota Johnson–type character, than Luca's influence definitely couldn't have hurt. Until Aciman reveals his completed work, however, we'll just have to sit and wait to see how things turn out for Elio and Oliver in the end. You were already planning to sit, sobbing, by the fire anyway, so, not a whole lot of changes on your end.