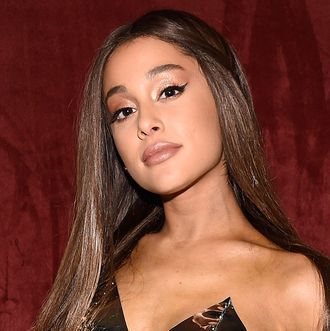 Ariana Grande.
Photo: Kevin Mazur/WireImage
Ariana Grande may have dipped on her engagement to Pete Davidson, but she hasn't left him totally in the dark. In her new Billboard cover story, Ari mostly avoids specifics about her tumultuous love life this year — "I'm really lucky and really unlucky at the same time" — but makes it clear that she's not out to hurt anyone. She reveals that before surprise-releasing "Thank U, Next" just 30 minutes before SNL, she had already sent the song to Davidson. "I wasn't going to blindside anybody," she says, noting that she also still loves the song she named after him on her last album. "I live fast and full-out, and I make mistakes, and I learn from them and I'm grateful no matter what happens." (No word on if Davidson got the same heads-up about his big presence in the "Thank U, Next" video.)
As for the song's unexpected drop, she notes that going forward, she'd prefer to put out all of her music the way rappers do, with little to no lead-up. "To drop a record on a Saturday night because you feel like it, and because your heart's going to explode if you don't — to take back your narrative," she says. "I don't want to do what people tell me to do, I don't want to conform to the pop star agenda. I want to do it on my own terms from now on. If I want to tour two albums at once, I'm going to tour two albums at once. If I want to drop a third album while I'm on tour [in 2019], I'll do that too! Please." Meanwhile, we just want all the Ari all the time. Thank u.