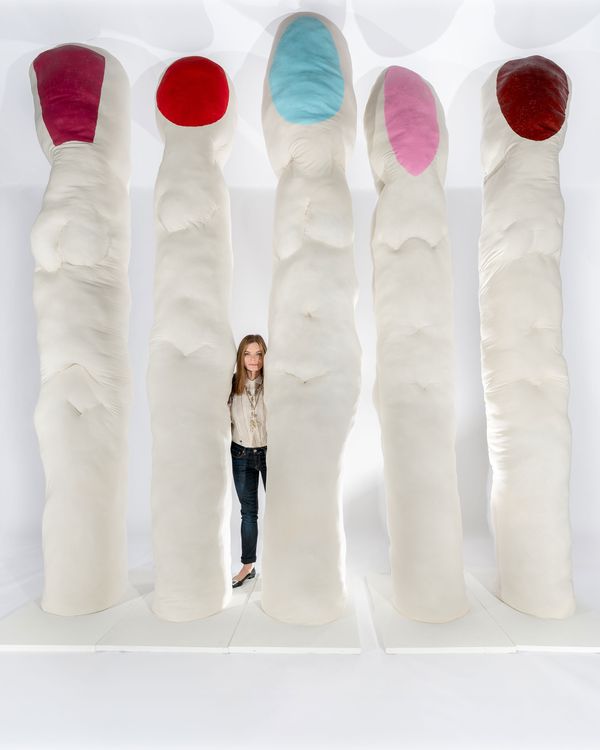 Suzy Kellems Dominik posing with her work
Invisible
prior to its installation at the Nautilus Hotel in Miami.
Photo: Courtesy of the artist. Photo: Christopher Yu.
Probably the most Instagrammed work of art during last year's Art Basel Miami Beach wasn't at the main fair — or any of the fairs at all. It was Suzy Kellems Dominik's 12-foot-tall orgasming neon vagina, I Can Feel, at the Nautilus Hotel. (It lit up for 26.8 seconds, "which represents a fantasy orgasm," she told Elle.) So working with the hotel again on a new piece was an "obvious collaboration" according to Kellems Dominik.
Her new work is less neon but just as big — a collection of 12-foot soft sculptures that Kellems Dominik describes as "the female form poetically objectified as a totem." While the piece is titled Invisible, due to its scale, it's anything but. Kellems Dominik explains that the idea behind her humanoid columns with lady lumps and fleshy folds is that "there's no way, especially right now, to disregard the female experience."
About her abstractly figurative sculptures, which kind of look like fingers or toes, Kellems Dominik says, "they're definitely not Victoria Secret models." (Though the bodies are white like most of the Victoria's Secret Angels, albeit with different-colored "faces.") "I thought it was very important to say, 'This woman of a certain age, she's not going to be invisible any longer.' It's this idea of taking something that is of so little value societally and saying, This is beautiful; this is real," explains Kellems Dominik. She adds, "I even have a mastectomy totem."
The sculptures' themes of female representation and aging might just be relatable for the art world, of which women are a fast-growing demographic, while their feminism craft aesthetic is reminiscent of those pink pussy hats we first saw at the Women's March on Washington.
Kellems Dominik mentions the #Metoo movement and Dr. Christine Blasey Ford's testimony as part of the sociopolitical conversation she's engaging in with her work, but Larry Nassar sexually assaulting the young women on the U.S. gymnastics team seems another recent moment of cultural reckoning that might have influenced her, considering that she herself was on the U.S. gymnastics team as a 16-year-old. "I was fortunate not to have had an experience like that," she says. "It's shocking to me and then not shocking. The fact is that in many sports, adult males have full control over the destiny of young women."
Keeping up with the art arms race going on between Miami Beach hotels, her installation (and the panel discussion on storytelling she's a part of on December 5) is just one element of Nautilus's art programming this year. There will be 14 works by Vik Muniz on view (and for purchase). Louise Bonnet's absurdly campy big-footed bikini babe, The Cyclops, has been rendered at the bottom of the pool, nearby to David Salle's enormous 60-by-30-foot piece Frost Free installed on a restaurant awning (while its twin is at New York gallery Skarstedt's booth over at the convention center). And Artnet columnist and art-fair evangelist Kenny Schachter will be stunting with an immersive environment of his writing.
The hotel was happy with their Instagram hit last year, and welcomed her back. "It sounds so simple but she had a clear message and it wasn't lost in translation," says the hotel's proprietor, Jason Pomeranc, adding that he gave Kellems Dominik complete "creative control" this year. "We could have never anticipated the impact and success her first installation had. I don't think Suzy did either! We appreciate that sort of bold approach to art as demonstrated in the additional programming at Nautilus this year. It sticks with you because it makes you stop and think."