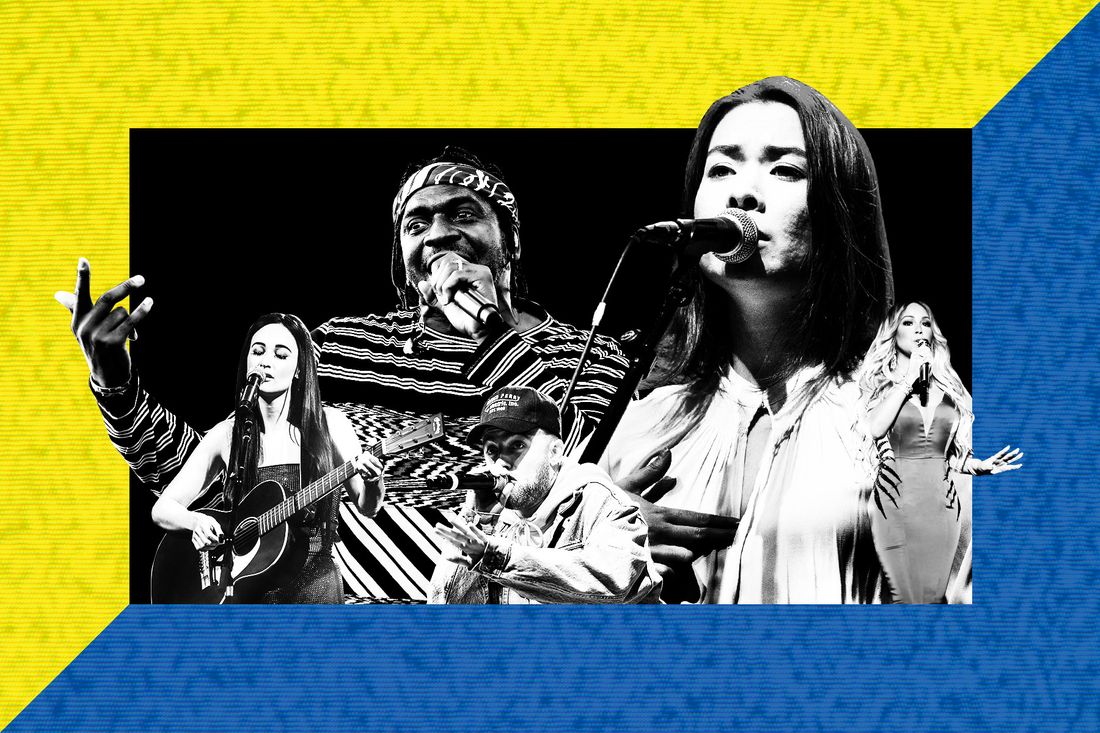 Photo-Illustration: Maya Robinson/Vulture and Photos by Getty Images
This year, pretty much every big name artist released an album…to varying degrees of success. Vulture music critic Craig Jenkins listened to all of them (plus just about everything else that was released this year) and put together this list of the fifteen best albums of 2018. Read on below.
15. The Breeders, All Nerve
All Nerve is the first new album from the Breeders since 2008's Mountain Battles and a reunion of the lineup that authored the 1993 alternative rock classic Last Splash. Deal sisters Kim and Kelley seem rejuvenated playing alongside '90s bandmates Jim Macpherson and Josephine Wiggs on tart power-pop tunes like "Wait in the Car" and suspenseful slow burners like "Walking with a Killer."
14. Blood Orange, Negro Swan
Negro Swan, the fourth studio album from singer, songwriter, and producer Dev Hynes' Blood Orange project, is an emotional stimulus package for the depressed and downtrodden. Hynes' message of self-love and acceptance is imparted across an unpredictable and restlessly ambitious blend of woozy hip-hop vibes, gospel moments, and R&B tunes with rock affectations. Guests include Diddy, Janet Mock, A$AP Rocky, and Project Pat.
13. The Weeknd, My Dear Melancholy,
Heinz does ketchup, McDonalds does burgers, and the Weeknd does heartbreak. The Canadian R&B star's surprise mini-album My Dear Melancholy, is a return to the well of sultry longing and noirish style that informed the 2011 mixtape trilogy that made him a household name. The Weeknd's only as effective as his production, and Melancholy pulls out the stops, crafting a limber, hybrid style pairing hip-hop hitmakers Mike Will Made It and Frank Dukes with electronic music luminaries Skrillex, Gesaffelstein, and Guy-Manuel of Daft Punk.
12. YOB, Our Raw Heart
Oregon doom metal trio YOB had a bad scare last year when an illness left singer-guitarist Mike Scheidt afflicted in a hospital bed he worried he'd never make it out of. Scheidt passed time writing intense lyrics about the feeling of his body failing him, and those missives power Our Raw Heart. The towering, majestic, eighth YOB album is a seamless journey through the psychedelic scenes of "Beauty Falling in Leaves" and the disquieting uncertainty of "The Screen" and "Lungs Reach."
11. Gorillaz, The Now Now
After the star-studded death disco of last year's Humanz, Gorillaz maestro Damon Albarn reins in his apocalyptic musings on The Now Now, the optimistic dawn to Humanz's dark night. Now is steeped in the Britpop legend's sleepy, lovelorn vocals and the underlying thesis of his work as a songwriter, which is that we can beat whatever it is that bugs us if we only stick together.
10. Mariah Carey, Caution
Mariah Carey's tally of Billboard chart toppers is second only to the Beatles, and this fall's Caution, her fifteenth album, is a short, sweet reminder of reasons people love the diva (spoiler: vocals) and reasons to fear her wrath. Step out of line, and get memorialized in a hit single, like the poor souls who inspired the harsh "GTFO" and "A No No" must have. Play nice, stay put, and enjoy a shower of love and affection.
9. Sleep, The Sciences
Stoner metal titans Sleep served fans a heady holiday gift on 4/20 with the release of The Sciences, the trio's first album since 2003's Dopesmoker. The new music lumbering and crushingly heavy, everything fans hope for when they dream for years of a follow-up to a beloved album and wake up one day to find that wish fulfilled. From the bong rip that kicks off "Marijuanaut's Theme" to the sedate, sublime closer "The Botanist," The Sciences deals in thick grooves that reveal their true depth with time… and trees.
8. Earl Sweatshirt, Some Rap Songs
Earl Sweatshirt's I Don't Like Shit, I Don't Go Outside was a masterclass in gruff, antisocial inscrutability, and this fall's Some Rap Songs is a trip even further down the rabbit hole, unexpectedly brighter and quirkier than the last one at no cost to the disorienting otherness that gives Earl records teeth. He's leaning into the weird, woolly sounds of indie rap here, away from the mannered rhyme patterns and detached ultraviolence of his early music. Follow his trail, and you'll see that time has made him older, wiser, and even funnier than before.
7. Mac Miller, Swimming
Like fuzzy sweaters and cozy couches, Mac Miller records were made for slipping in and shedding the day's troubles. He knew your day sucked. He crafted music to help get you through it. Swimming outfits the rapper's introspective rhymes and lilting melodies with stately embellishments from film score whiz Jon Brion. The artist's dynamic range is expressed through this album's unexpected twists; one minute he's a rapper, then he's a crooner in a funk band, and later, he's emoting over lush folk pop. Miller's craft grew by leaps and bounds every year; he deserved more time.
6. Arctic Monkeys, Tranquility Base Hotel & Casino
After 15 years as England's premiere trad punk revivalists, Arctic Monkeys sidelined the guitar in favor of the piano, disappeared into their record and film collections, and returned with Tranquility Base Hotel & Casino, a heady sci-fi song cycle obsessed with disorder, middle-period David Bowie, and the films of Rainer Werner Fassbinder. Alex Turner is just as deadly, delivering this album's cracked cabaret as he was sloshing through drunken pub crawls in his twenties. Like whiskey, spite gains flavor with age.
5. Pusha T, Daytona
The first cut in Kanye West's Wyoming wilderness retreat series remains the deepest. Pusha T's Daytona undercut the fuss about Ye's political affiliations and Push's famous enemies with a reminder that great hip-hop doesn't have to do much more than match the right sample chops to the right snarl. Luxury raps sound disrespectful pouring through the Virginia rapper's disdainful tone; at his peak, Kanye can give old soul songs outrageous new voicings. They need each other. Daytona's effortlessness is the evidence.
4. Kacey Musgraves, Golden Hour
2018 delivered great roots music (see: Colter Wall and Amanda Shires' latest) and some sharp pop-country (see: Kane Brown's Experiment), but the stately blend of plaintive guitars, psychedelic atmosphere, and disco glamor Kacey Musgraves struck on Golden Hour feels like a breakthrough because we aren't accustomed to having all its building blocks – lonesome early Neil Young sadness, trippy synth embellishments, and rap and disco drums – figure into the same piece. Why that is, is a matter for genre purists. The album is a joy.
3. Pistol Annies, Interstate Gospel
Miranda Lambert, Ashley Monroe, and Angaleena Presley are all country powerhouses in their own right, and when they unite as the Pistol Annies, it's like iron sharpening iron. Annies album three, this fall's Interstate Gospel, deals in rich harmonies and stories of women overcoming setbacks and breakups, alone and together. The Annies' reckoning can be brutal, as it is on the withering divorcee's kissoff "Got My Name Changed Back," or delicate, like "Cheyenne," where Lambert wishes she could borrow a barfly's capacity to love and leave and bounce back no worse for wear.
2. Low, Double Negative
Just like the rest of us, Duluth slowcore trio Low has been worrying that the last presidential election broke something in the collective American subconsciousness. The band dramatizes the current climate of uncertainty and political disorder through icy synths and crackling fuzz on Double Negative, its twelfth album. Songs like "Quorum" and "Tempest" manifest their outrage as much through flayed vocals as through coarse electronic textures. The final product feels like an exhausted machine reading humanity the riot act. Imagine Kid A with sharper teeth, or a Grandaddy whose Sopthware slapped rather than slumped, and you get the idea.
1. Mitski, Be the Cowboy
It seems impossible for Mitski songs to be both mannered and explosive, but the perfect two-minute wonders that populate her stunning fifth album Be the Cowboy manage to mine the full depth of human despair and disappointment in little more than a few chilly, economic turns of phrase. Cowboy observes relationships in disarray in an attempt to understand the reasons people stay in uncomfortable situations when it seems like smart business to leave; Mitski grew up bouncing around a dozen different countries, and it's tempting to see the stoic housewives and long-suffering girlfriends on display here as a withering indictment of the concept of emotional stasis.