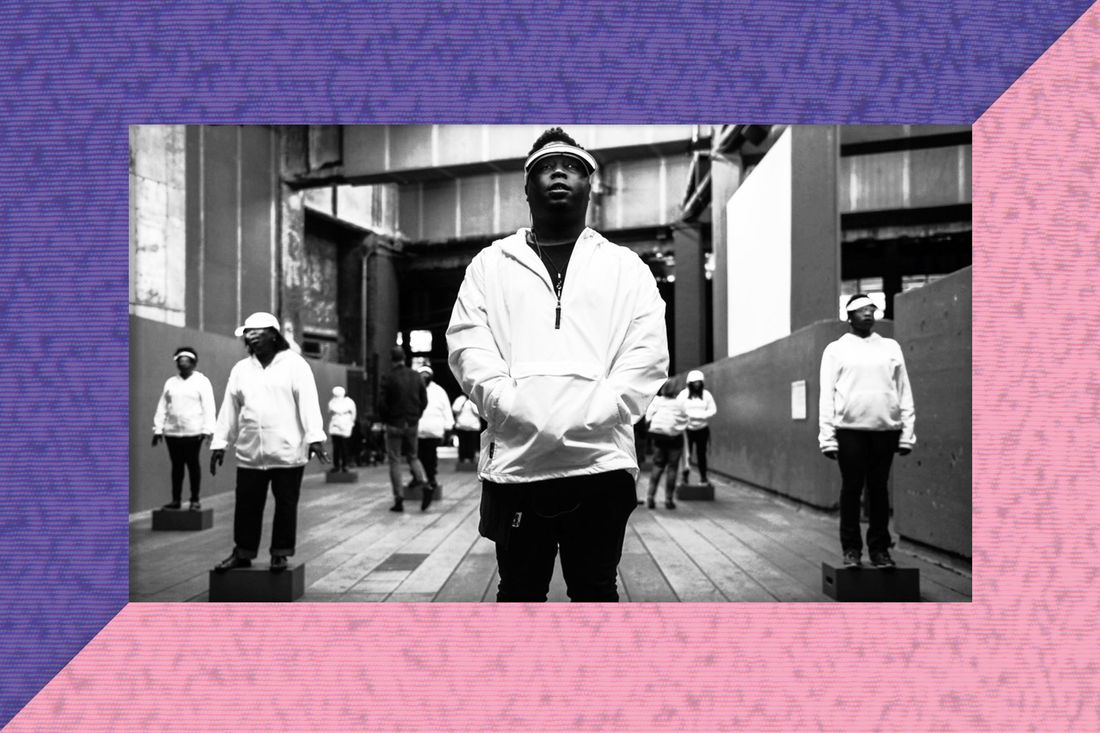 A few feet of
The Mile-Long Opera.
Photo-Illustration: Maya Robinson/Vulture and Photo by Timothy Schenck.
For a long time, the classical-music establishment approached change like a 7-year-old staring down a plateful of boiled zucchini. No longer. The New York Philharmonic and the Metropolitan Opera both have new music directors (Jaap van Zweden and Yannick Nézet-Séguin), who join a scene that welcomes living composers and new genres. After a lifetime of relying on reliably great music by great composers, greatly played, the music world has finally realized developed a tolerance for (modest) risk. Hallelujah.
10. The Queen of Sheba
The government of Hungary, which is also its chief supporter of opera, is generally seen as unfriendly to Jews. As if to say anti-Semites? Not us!, the Hungarian State Opera brought in Karl Goldmark's Old Testament opera, complete with tallit, chuppah, and chorus of righteous Israelites. More important, the powerful cast delivered on Goldmark's lush romanticism, a reminder of why this opera was a huge 19th-century hit.
9. Johnny Gandelsman's Bach
As a citizen of New York's hectically collaborative new-music scene, a member of the quartet Brooklyn Rider and the Silk Road Ensemble, Gandelsman is not known as a loner. Yet the violinist has taken his solo explorations of Bach's sonatas and partitas on the road and committed them to an extraordinary CD. This is music that requires titanium technique and — even rarer — a rich inner life. Live and on disc, Gandelsman shares them both.
8. Parsifal, at the Metropolitan Opera
With his light but tireless tenor, Klaus Florian Vogt headlined a spectacularly understated revival of François Girard's 2013 Metropolitan Opera production. Yannick Nézet-Séguin conducted a contemplative performance, and a perfectly pitched cast — Evelyn Herlitzius, Peter Mattei, and René Pape — populated Wagner's mythological opera with fallible, feeling humans.
7. Così Fan Tutte, at the Metropolitan Opera
Mozart and Da Ponte's chronicle of cynicism versus romance has proved rugged enough to withstand just about any directorial conceit. When Phelim McDermott drop-kicked the setting to 1950s Coney Island in the Met's latest production, the opera thrived yet again, thanks especially to an airborne Amanda Majeski singing "Per Pietà" from a hot-air balloon.
6. Mahler's Tenth, by the London Symphony Orchestra
After 16 years at the Berlin Philharmonic, Simon Rattle has moved to the London Symphony Orchestra, and the new partners made their Lincoln Center debut with a round of valedictory works. Mahler left his Tenth Symphony unfinished; Rattle, preferring clarity and nuance to hysteria, made an irresistible argument for Deryck Cooke's completion.
5. Mass
Even among aficionados of Leonard Bernstein, his rock-opera ritual from 1971 has a tendency to trigger eye-rolls, like the musical equivalent of hippie love beads. But the Mostly Mozart Festival's convincing revival, conducted by Louis Langrée, with Nmon Ford as the Celebrant, culminated in a blissed-out finale, with recitations of "Lauda" tolling like a scattered choir of church bells and a reverent chorale.
4. Metacosmos, at the New York Philharmonic
Anna Thorvaldsdóttir wound up her stint as the New York Philharmonic's resident composer with the premiere of this beguiling depiction of pure energy conducted by Esa-Pekka Salonen. Though her language is thoroughly original, Thorvalds​dóttir's portrait of disorder and creation draws on a long history running through Haydn, Beethoven, and Mahler.
3. Filament, at the New York Philharmonic
The New York Philharmonic launched the Jaap van Zweden era with a burst of disciplined clangor: whooshes, whispers, gusts, and clatters that ricocheted around the hall. The world premiere of Ashley Fure's new work was a powerful reminder that all music is born from noise, and it gave unclassifiable sounds a depth and drama that are the exact opposite of chaos.
2. The Mile-Long Opera
Nothing about this should have worked: Recruit 1,000 nonprofessional actors and singers, string them out along the High Line, and give them a few lines to repeat ad infinitum as the audience walks by. Somehow, though, this hour of immersive eavesdropping, a fragmentary portrait of the city conceived by composer David Lang and architect Elizabeth Diller, came together in patchwork magic.
1. Pierre-Laurent Aimard and Tamara Stefanovich at Zankel Hall
We're in a golden age of Oliver Messiaen. The French composer, whose life spanned nearly the entire 20th century, nurtured enough acolytes to ensure that his sound world would continue long after he was gone. A master of the immense orchestra, Messiaen could also pack a whole cosmos into piano music. Aimard and Stefanovich performed his Visions de l'Amen for two pianos at Zankel Hall, and created a sonic environment so vivid, enveloping, and multihued that it made virtual reality seem like a pale imitation.