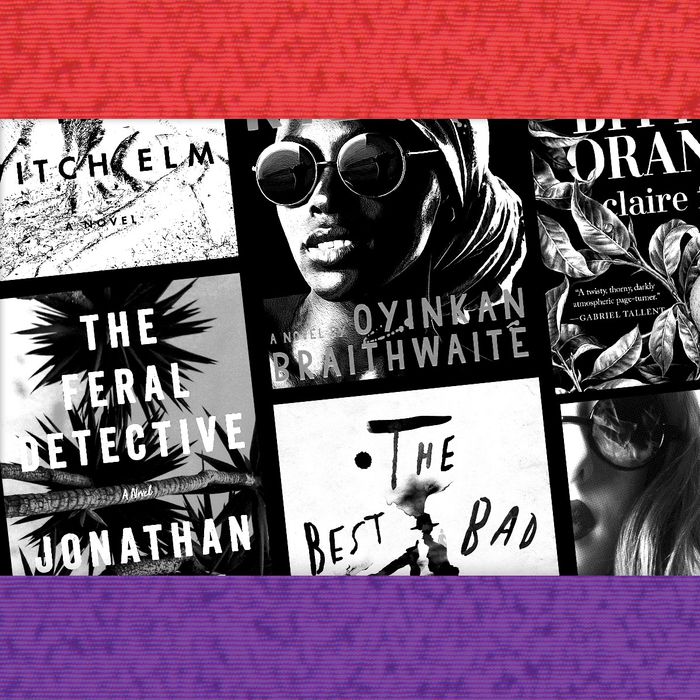 Photo-Illustration: Maya Robinson/Vulture
The best thrillers, mysteries, and true crime books of the year feature an array of unreliable narrators ready to flip the script at any moment; women really, really getting into their anger; and meticulously researched narratives that consider the real-life victims of terrible crimes.
The eccentrics who populate Lethem's fiction are his trademark, but rarely has he juxtaposed his lovable outsiders with a protagonist whose traits hit so painfully close to home. Phoebe is a New Yorker, a liberal media creature whose blue bubble bursts after the 2016 presidential election. Angry and unsettled, she heads to the California desert to search for a missing college student — her mentor's daughter. There she meets the titular PI, an old pro who happens to keep an opossum with a UTI in his desk drawer and seems custom-designed to take Phoebe out of her comfort zone. A wacky adventure ensues, but the most untraditional aspect of the novel is that the detective himself is a prop; the woman seeking his help is the one to sexualize him, to rescue him, to learn something about herself via her experience with him.
"He is so often two things at once," notes the heroine of Carrasco's raucous novel, observing a handsome opium smuggler whom she's not sure she can trust. Who better than a spy to notice the binary nature of a mark's personality, even as she herself models the fluidity of identity, of gender and sexuality, of loyalty? She goes by the name of Alma, except when she binds her breasts, modifies her gait, and dirties her hands to pose as scrappy Jack Camp. The Best Bad Things follows Alma/Jack's excesses — sex, violence, booze, opium, greed — in the Washington Territory in the 1880s, where honor among thieves is scarce, but the action scenes (not to mention the sex scenes) are plentiful and crackling with tension.
One of those brief yet expansive novels you can polish off in a few tense hours, Oyinkan Braithwaite's explosive debut is about as much fun as you can have while reading about multiple stabbings. Set in Nigeria, it's the story of Korede, a dutiful nurse who helps her magnetically beautiful younger sister, Ayoola, in cleaning up after the murders of a string of unfortunate men — Ayoola's boyfriends. Should Korede put a stop to her sister's crimes in the name of all that is right? Maybe. But Braithwaite's biting social satire certainly makes the case for why continuing to aid and abet Ayoola might not be the worst idea.
The High-Ho restaurant in Belleville, Delaware is a dump, one that most patrons usually pass through on their way to tonier beach towns. But when Polly, with her beautiful red hair and her checkered past, catches Adam's eye, the two end up sticking around in master crime writer Laura Lippman's tautly paced neo-noir. As in the James Cain books Lippman references, none of the characters in Sunburn — nor even its readers — quite know whom to trust. Rife with ulterior motives and hidden desires, Polly and Adam's relationship progresses rapidly, even though the two might as well be strangers. Have no fear, reader, you will soon know all, but don't expect the reveals to play out as you expect them to.
In an engaging work of literary criticism and a bold act of reclaiming a narrative from the abuser, Sarah Weinman uncovers the real-life case that at least partially influenced Vladimir Nabokov's most famous work. In 1948, 11-year-old Sally Horner was abducted from Camden, New Jersey by Frank LaSalle, a man with a history of pedophilia. Weinman ties Nabokov explicitly to the case even as she recreates the nearly two years Sally and LaSalle lived, to all outside appearances, as father and daughter. With excellent reporting and just enough educated guessing to fill in the blanks, Weinman restores a small shred of dignity to the child who unwillingly inspired the literary nymphet whose name became synonymous with sexual precocity.
When social media meets extreme wealth, prepare for binges of self-documentation that could double as Vogue photo-shoots. All you need to succeed in this universe, namely the Upper East Side, are charm and proper education and beautiful clothes and maybe a Black Amex. With such glamour comes ugliness, of course — an ugliness that lies at the heart of this Talented Mr. Ripley for the Instagram age. When Louise, an interloper from Brooklyn, comes to be friends with manic pixie dream socialite Lavinia, she's inducted into a world of four-figure bar bills and selfies at the Metropolitan Opera House. It's all deliciously thrilling until someone dies, and the cover-up is even more elaborate than the costumes at the Met Gala.
If Shirley Jackson's Hill House makes your spine tingle, you'll love Claire Fuller's Lyntons, a decrepit English manor that couldn't be nearly as haunted as the people who dwell inside. In the summer of 1969, Frances Jellico, a lonely and unworldly woman who's somewhat versed in garden architecture, is hired to survey the grounds and stay at Lyntons among artifacts from an earlier time. There are new roommates, too — an intriguing couple with whom Frances becomes unexpectedly tight. With lovely and lush prose that only adds to the sense of dread pervading the novel, Fuller depicts Frances's opening up and letting her new friends inside. What will they find? Bitter Orange is an absorbing exploration of the many lies we tell to others — and to ourselves.
What woman can't imagine, asks elite scientist Lena Severin in Abbott's latest page-turner, "that, one month, the usual cramps and moodiness might spiral up into something larger, something you can't control?" The threat of unbridled female rage looms over Give Me Your Hand, even as Dr.
Severin's lab team studies premenstrual dysphoric disorder, a condition defined by symptoms of PMS that escalate to dangerous degrees. While women remain underrepresented in STEM-related fields, Dr. Severin's most talented employee is Kit Owens, an ambitious up-and-comer with the furious work ethic that comes with being in the minority. All of the fruits of Kit's labor are put at risk when a former childhood friend reenters her life by way of the lab, reigniting the kind of toxic friendship/rivalry that makes heroes out of some women and monsters out of others.
If French's first standalone novel lacks the procedural structure of her beloved Dublin Police Squad series, it allows her to flex her skills at character study — especially when it comes to the most unreliable of narrators. The story of Toby, a self-proclaimed "lucky guy" whose status plummets when he's brutally beaten by intruders, The Witch Elm is a portrait of a man forced to confront his own privilege for the first time. After Toby revisits his family's estate in the hopes of recovering in peace and instead finds evidence of a murder on the property, "whodunnit" is almost the wrong question. Better to ask: What inequities has Toby previously been fortunate enough to be able to ignore, and how much evil exists in the everyday world if you only look closely enough? Toby's reckoning feels inevitable — though, this being Tana French, it still shocks.
This tale of not just true crime but unwavering obsession is as much about the author's own preoccupation with identifying the Golden State Killer as it is about how the serial rapist and murderer managed to terrorize large swaths of California for over a decade. The sheer amount of research McNamara lays out — maps linking crime locations and copious interviews, tons of footwork and meticulous record-keeping — display a level of amateur sleuthing that could teach the pros (especially those who failed to crack this case for years) a thing or two. McNamara's writing is also more than up to task, walking that fine line between being accurate and being lurid. The book was published after McNamara's untimely death in 2016, but only a few months after it reached bookstores the killer was apprehended, thanks to DNA testing and perhaps more than a little help from the author.