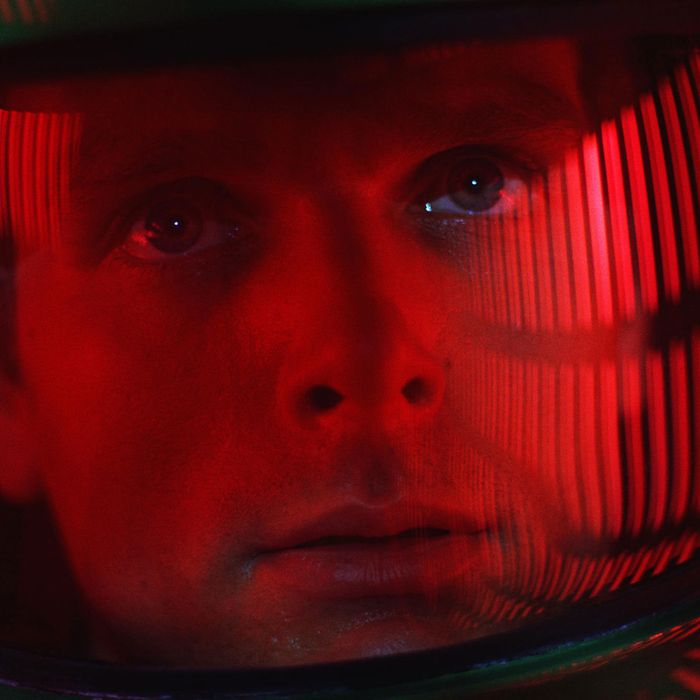 2001: A Space Odyssey
gets a new 4K release.
Photo: Warner Bros.
With competition from streaming services like Netflix and Hulu, it gets harder every year to find the right Blu-ray release to buy for that special person in your life. The physical media market may be slowly eroding, but we all know somebody who still values their collection of shiny discs. So what do you get that person this year that they may not already have? Let us guide the way to the best DVDs of 2018 for you to pick up this holiday season, including major Hollywood hits, Sundance premieres, 4K restorations of classics, and some amazing box sets.
Criterion Essentials
Undeniably the Blu-ray release of the year, the Criterion Collection recently assembled an amazing package to mark the 100th anniversary of the birth of one of cinema's masters, Ingmar Bergman. It's the most comprehensive home-video release ever for the director of The Seventh Seal, Wild Strawberries, Persona, and so much more. Of course, all three of those are included — along with 36 other films. The set also includes a massive book with essays about each of the films, plus hours of special features. One last interesting thing: The films aren't ordered chronologically but more like a film festival, with centerpiece films and thematic pairings.
One of the most interesting releases of the year was this new cut of Terrence Malick's 2011 masterpiece with 50 extra minutes recut into the film. It's a remarkably different experience, including a lot more flashback material with Jessica Chastain and Brad Pitt. That cut alone would make this a worthy addition to any collection, but the new 4K digital restoration, supervised and approved by Malick and Emmanuel Lubezki, is simply breathtaking as well. There are also new interviews and video essays, and an archival essay from editor Serena Bramble and Vulture's own Matt Zoller Seitz.
This six-film box set is a fascinating examination of how the star system in Hollywood used to work. In the 1930s, Josef von Sternberg knew how to make Marlene Dietrich a star, and that's exactly what he did over the course of these six films. Highlights include their best work together, Shanghai Express, as well as the underrated Morocco and The Scarlet Empress.
Modern Classics
Criterion may be the king of the 4K restoration on Blu-ray, but Arrow Films is right on its heels. There's no better example of its visual mastery this year than its Blu-ray release of Terry Gilliam's 12 Monkeys, restored from a 4K scan of the original negative and approved by Gilliam himself. You may have seen the film, but never like this. And, of course, the set includes hours of special features, including a commentary by Gilliam and producer Charles Roven, a feature-length doc called The Hamster Factor and Other Tales of Twelve Monkeys, and a brand-new appreciation by Ian Christie.
Another great house for special editions is over at Scream Factory, the horror branch of Shout Factory. One of its latest releases is for the underrated Candyman, a movie that has not only stood the test of time but arguably improved. With news this week that Jordan Peele is producing a sequel, it's the perfect time to catch up with the original thanks to this collector's edition, which includes two new audio commentaries, an unrated cut, and hours of new special features and new interviews with Tony Todd, Virginia Madsen, and Kasi Lemmons.
Scream Factory gets two in this year's guide due to this overwhelming release for the George A. Romero and Stephen King '80s horror anthology hit. Again, special features abound: There are two new audio commentaries, amazing interviews, and fascinating featurettes. In one, Terror and the Three Rivers, John Amplas, Tom Atkins, Tom Savini, and Marty Schiff sit for a roundtable discussion. Tons of archival material is included as well, including deleted scenes and original promotional material.
4K Remasters
Stanley Kubrick's masterpiece was an essential inclusion in any DVD and Blu-ray collection, and now it is so for 4K collectors as well. This new remastered release completely shows off the depth of picture in a way only 4K technology can, and the audio mixes are similarly mind-blowing.
In time for the release of Jurassic World: Fallen Kingdom this past summer, Universal unleashed the four previous films in a 4K box set, which has since been updated to include the fifth movie — but, face it, you're really here for the original Steven Spielberg classic, and maybe the second film. What feels so new about this edition of Jurassic Park is the audio mix, which is the best yet for the film. Use 2001 to show off your HD TV and Jurassic Park to show off your stereo system.
The three films from the Wachowski sisters were recently remastered into 4K and released by Warner Bros., all included in one nice box set. Of course, the main draw here is the breakthrough first film, one of the most influential flicks of the last two decades. And the two sequels have held up better than you remember, especially with the eye-popping factor of 4K transfers.
2018 Hits
"Hit" may be a strong word for Alex Garland's latest film, but it's definitely one of the must-own studio films of 2018, especially if you can pick it up in 4K. It's one of the best transfers in the history of home video, with stunning depth of field and a perfectly mixed audio track that enhances the stellar sound design of this terrifying piece of science fiction.
Marvel/Disney does a remarkable job of assembling their Blu-ray releases, and you could opt to grab the features-loaded release of Avengers: Infinity War or Ant-Man and the Wasp, but this is easily the best superhero movie of the year. Why settle for less?
If Black Panther has competition for the best action film of 2018, it's this one, the best Mission: Impossible film to date. Hitting stores on December 4, Fallout looks and sounds great on Blu-ray, but it's the quality of the movie overall that really makes this a great gift. Nine out of ten people who get this Christmas morning will be watching it by Christmas afternoon.
For Families
Again, Disney knows how to do the Blu-ray thing, often releasing gorgeous packages with tons of special features for its biggest hits. Of course, it did exactly that for the highest-grossing animated film of all time, giving it the full lavish Disney HD treatment — even including the short film Bao. (They sometimes hold back the shorts for stand-alone releases, but not this time.) It feels like everyone is going to own Incredibles 2 eventually, so you might as well get a jump by adding it to your collection now.
Yes, it still hurts that there will be no more adventures in Gravity Falls (at least for now), but the entire series was released this summer on Blu-ray, and it's a great box set for animation fans of all ages. This is one of the most rewatchable kids shows of its generation, and when you finish the depressingly small number of episodes, you're going to want to just start at the beginning again.
Sure, you probably own this and are tired of all the double-dipping that requires you to buy the same movie over and over again, but hear me out. The latest release of the Tim Burton & Henry Selick classic is not only the cheapest (under $10 on some outlets), but it's also a sing-along edition! You, too, can now work on your Jack Skellington impression with the karaoke version of the film. It also, of course, includes all the other special features and a digital code. Most importantly, the movie still rules.
2018 Indie Hits
The opening-night film of Sundance 2018 has become one of the year's biggest word-of-mouth hits, the kind of film that people are increasingly buzzing about on social media. Recently released on Blu-ray, now is your chance to catch up with this darkly funny, searing examination of race relations in Oakland before someone else tells you to do so.
Another Sundance hit comes courtesy of Debra Granik's long-awaited follow-up to her Oscar-nominated Winter's Bone. One of the best films of 2018, Leave No Trace stars Thomas Harcourt McKenzie and Ben Foster as a daughter and father who are living off the grid due to his PTSD. As they are forced to assimilate into society, they grow further apart as she realizes she doesn't have the same problems her father does. It's a heartbreaking, beautiful, must-see film.
You ain't seen nothing like Boots Riley's satire of corporate culture starring Lakeith Stanfield, Tessa Thompson, and Steven Yeun. A daring mix of hip-hop culture and Michel Gondry's filmmaking, it's one of the most striking and unforgettable debuts of 2018. Everyone is going to be buying big hits and lavish box sets this year — why not think outside the box? Sorry to Bother You is way outside the box.