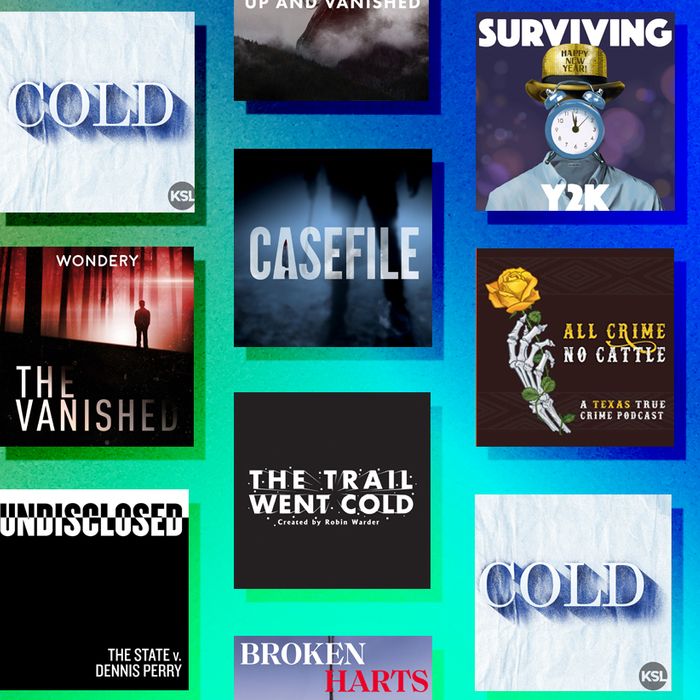 The true-crime podcast universe is ever expanding. We're here to make it a bit smaller, a bit more manageable. There are a lot of great shows and each has a lot of great episodes, so we want to highlight the exceptional, the noteworthy. Each week, our crack team of podcast enthusiasts and specialists will pick their favorites. To read last week's edition, click here.
Broken Harts: "Fear"
Jennifer and Sarah Hart and their family were, by all accounts, a picture-perfect portrait of a 21st-century family: Two white lesbians from the Midwest adopt six black children and live in post-racial happiness. That is, until 2018, when Jennifer drove their SUV off a cliff, killing Sarah and their children Abigail, Jeremiah, Markis, and Sierra; the bodies of Devonte and Hannah have never been found. Glamour editors Justine Harman and Elisabeth Egan, along with investigative reporter Lauren Smiley, delve into the story behind the Harts' progressive social-media posts to find out just what was happening with the family in real life. The first episode, hinting at an ugly reality of racism and abuse, has me hooked and heartbroken already. —Jenni Miller
Listen: Spotify | Apple | Website
The Trail Went Cold: "Trenny Gibson"
To truly comprehend the case of missing teenager Trenny Gibson, you need to know that this story takes place in 1976, which explains (though doesn't excuse) many of the head-scratching circumstances. A synopsis: On October 8, 1976, 16-year-old Gibson boarded a school bus for a field trip to an undisclosed location. That's right: The teacher (the only chaperone, aside from the bus driver, for 40-some kids) did not reveal the trip's destination until all were onboard, when they learned they would be going to the Great Smoky Mountains National Park in Tennessee. Near the end of the day's hike, Gibson broke away from the pack and was seen taking a right turn off of the trail. She was never heard from again, and after the teacher alerted the local authorities, he packed up the bus and returned to the school. Of course, theories abound as to what may have become of the high schooler. Some think she hatched an escape plan with the help of an accomplice, though that seems unlikely, given that she didn't know the field-trip location until she got on the bus. Others think she may have gotten injured on the trail. And still others think she was abducted, as sniffer dogs followed her scent until it met with a mountain road. Whatever the case may be, her whereabouts remain a mystery more than 40 years later — and may remain so for another 40. —Amy Wilkinson
Listen: Spotify | Apple | Website
Cold: "Find Susan"
In December 2009 police responded to a call to check on the Powell family home in West Valley City, Utah. The family's day care provider sounded the alarm when the Powell boys failed to arrive at her home. Their parents, Josh and Susan, didn't show up for work that day. Both their cell phones went straight to voice-mail. Officers feared the family may have died from carbon-monoxide gas, so they broke into the house. From there, things only got weirder. No one was home and the family car was missing. Susan's purse was still at home, undisturbed. Two box fans were blowing air at a damp spot on the couch. Around 5 p.m., Josh returned home with the two boys, but no Susan. And Susan has never been seen since. The first three episodes set all of this up masterfully, while this week's fascinating fourth episode really digs into Josh and the "camping trip" and what this could ultimately mean in relation to Susan's disappearance. —Hillary Nelson
Headlong: Surviving Y2K: "New Year's Eve" and "New Year's Day"
True confession time. When I started listening to Headlong: Surviving Y2K, it was mostly because Missing Richard Simmons is one of my all-time favorite podcasts, and this show was dropped — a little bit clumsily — into that show's feed. "I was there for Y2K," I thought. "What is Dan Taberski trying to talk me into?" I should've known better, because as listening to this podcast was quick to remind me, Taberski is probably the best storyteller in the business. The many tales he unpacks in Surviving Y2K are equal parts fascinating, funny, and ferocious, with a generous dose of true crime throughout. In addition to the frauds, cults, malpractices, and ax wielders in the podcast, episodes four and five, "New Year's Eve" and "New Year's Day," focus on a harrowing bank robbery. This story line alone could have made for its own podcast, with a complicated perpetrator, infuriating cops, and some damn heroic victims. But while it's tragic, it's also infused with a sense of joyful wonder, that magical and rare podcast thing I've come to think of as the "Taberski Touch." Needless to say, I'm all in, and will never doubt this feed again. —Rebecca Lavoie
Listen: Spotify | Apple | Website
Casefile: "Case 102: Britt Lapthorne"
If you've ever Googled the phrase "least murdery places for women to travel solo," this week's Casefile might have you stuffing your passport back into the junk drawer. The episode concerns the 2008 disappearance of Britt Lapthorne, a 21-year-old Aussie backpacker who vanished from a nightclub in Dubrovnik, Croatia (otherwise known as King's Landing to Game of Thrones nerds). What unravels is one of the twistiest true-crime tales I've ever heard — at turns you'll suspect her jovial travel companions, their hostel's shady co-owner, and even the local police. Unfortunately, there are no easy answers in Lapthorne's case. —Amy Wilkinson
Listen: Spotify | Apple | Website
Up and Vanished: "Q&A 12.3.18"
In the finale of Up and Vanished's second season, host Payne Lindsey and producer Meredith Stedman field questions from listeners about their investigation into the disappearance of Kristal Reisinger, a free spirit who found her way to the tiny town of Crestone, Colorado. I'm usually mixed on the Q&A episodes, primarily because some of the callers are fairly judgmental of Kristal and her lifestyle, and especially her fitness as a mother. (I do love that Stedman and Lindsey come to Kristal's defense over and over again.) In any case, this episode connected the dots of the timeline and all of the characters that populate the story — with monikers like Catfish, Big Cat, Dready Brian, and people whose names were bleeped out or were simply anonymous, it was difficult to keep track of Who's Who without one of those conspiracy boards. Lindsey also reveals that at one point he spent four hours on the phone with Catfish, whose acid-fried ramblings will sound uncomfortably familiar to anyone who has spent time in the subcultures of various southern or southwestern towns. Hopefully, someone will stop pussyfooting around and come forward with details about what really happened to Kristal. —Jenni Miller
Listen: Spotify | Apple | Website
The Vanished: "Nathaniel Holmes"
The Vanished is possibly one of the best podcasts at reporting on missing people out there. Focused only on missing people, particularly those who aren't making the news, the podcast's latest episode centers on the case of Nathaniel Holmes. It broke my heart: The 17-year-old walked out of school in 2017 and hasn't been seen since. He'd got in a bit of an argument with his father the day before, but nothing out of the normal for a teen. And while his family admits that there's a possibility that he ran away, they know he would've come back. So what happened to Nathaniel? Why didn't the school inform the family that he didn't show up for class? And why did the police shrug off their concerns? —Hillary Nelson
Listen: Spotify | Apple | Website
All Crime No Cattle: "The Axe Murders of Laredo"
This episode of my favorite Texas-centric true-crime podcast focuses on a brutal triple murder in the border town of Laredo, Texas, and the three teens who took part in it. Miguel Martinez and Miguel Venegas Jr. are in jail for the murders, while Milo Flores got off scot-free, possibly because his dad Manuel Flores was a lawyer and former district judge. Meanwhile, Martinez and Venegas can't even agree on exactly why they killed James Smiley, Ruben Martinez, and Daniel Duenez. Smiley was a local pastor who often went to Laredo's sister city in Mexico to spread the good word, but did he sexually abuse Martinez? Was it a simple burglary that got out of control because they were all super high? What about Venegas's on-again-off-again dabbling in Satanism? This crime was also the focus of an episode of the Netflix series I Am a Killer, which I haven't gotten a chance to watch yet, and I think they have different theories as to what exactly happened. But one thing's for sure — this case is messy in more ways than one. —Jenni Miller
Undisclosed: "Final Appeal"
If Serial was your gateway drug into true-crime podcasts, do yourself a favor and listen to "Final Appeal," this week's bonus episode of Undisclosed. Undisclosed is anchored by Rabia Chaudry, a lawyer and family friend of Adnan Syed's who's been working tirelessly to prove his innocence for almost 20 years. You may remember Rabia — she's the woman who alerted Sarah Koenig to Adnan's case in the first place, handing over legal files she'd been storing in the trunk of her car. After Serial's first season ended, she teamed up with fellow super-lawyers Colin Miller, a law professor who can cite case law as fluently as the rest of us can recall TV jingles, and Susan Simpson, who would go on to discover the fax cover sheet that helped overturn Syed's conviction. (Full disclosure, Rabia also teamed up with yours truly — I help Undisclosed with audio production, but not for this particular episode.) While Undisclosed has evolved into a broader podcast that covers all manner of injustice, the trio's coverage of any update in Adnan's case is essential listening. "Final Appeal" unpacks Adnan's most recent Court of Appeals hearing in detail, and while Rabia & Co. don't pretend to be objective about the case, they are the best sources for everything Serial diehards are dying to know. —Rebecca Lavoie
Listen: Spotify | Apple | Website
This week's reviewers: Rebecca Lavoie, Jenni Miller, Hillary Nelson, and Amy Wilkinson.