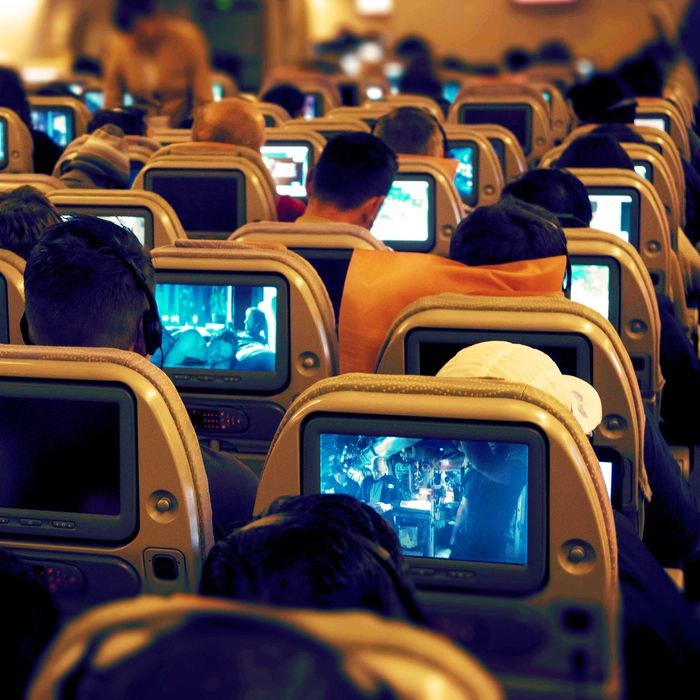 Photo-Illustration: J.W.Alker/Getty Images
The December holidays are upon us, which, for many, means a whole lot of time on a plane. But as you squeeze into your seat and peek at the row ahead to figure out if the guy in front of you is a recliner (he is), worry not: There will be plenty of entertaining content to help you get through the interminable taxiing, line waiting, taxiing again, deplaning, replaning, and, if things go as planned, actual flying.
Ahead of the holiday travel rush, we've taken a look at what each of the major airlines are offering on its in-flight movie collections this month and put together a guide of what you can — and should — watch during your trip. With a mixture of holiday fare, newish releases, and "classics" categories that feature movies from 2008, there's sure to be something worth viewing and/or falling asleep to.
Southwest
This airline is best if you want to … rewatch the summer movies worth rewatching.
The Lineup
The Meg
Crazy Rich Asians
The Wife
Incredibles 2
Elf
How the Grinch Stole Christmas
What to Watch: A compelling argument could be made for each new movie streaming through Southwest's in-flight Wi-Fi. Do you want to revisit an Über-charming summer smash hit that you just know will be a great airplane hang? Watch Crazy Rich Asians. How about a great, but thematically overstuffed animated sequel? Incredibles 2. Were you shocked to learn that Glenn Close is getting some serious Oscar buzz for a role in a movie you'd never heard of before? Here's The Wife. Hankering for some early 2000s Christmas nostalgia? Boom, Elf or The Grinch. Looking for dumb fun, only to regretfully discover that "dumb fun" actually requires creativity and a deft grasp on craft, so things might not end up being as much fun as you thought? I guess you could watch The Meg.
United
This airline is best if you want to … catch up on the quality indie releases you missed.
The Lineup
A.X.L.
Alpha
BlacKkKlansman
Christopher Robin
Crazy Rich Asians
Mile 22
Searching
The Catcher Was a Spy
The Predator
The Wife
What to Watch: Obviously, Crazy Rich Asians is still the best option, but if you're looking for something else, Searching is the way to go. Not only will you get to enjoy the all-too-rare charms of "John Cho, leading man," but you'll be able to watch a movie that's entirely contained to a laptop screen, entirely on a seat-back airplane screen. The way cinema was meant to be! Outside of those picks, BlacKkKlansman and The Wife offer good chances to catch up ahead of awards season. And if you were curious about the Shane Black–directed Predator movie, this one just clears the bar as a plane watch.
Delta
This airline is best if you want to … rewatch something you've seen a million times.
The Lineup
Crazy Rich Asians
RBG
Christopher Robin
The Children Act
The Predator
The Catcher Was a Spy
A.X.L.
The Wife
Elf
The Notebook
Rush Hour 2
Rat Race
Meet the Parents
Toy Story
Safe House
Predator
Secret Life of Bees
The Dark Knight
About Time
The Longest Ride
Chef
The Hangover
Sisterhood of the Traveling Pants
Gone With the Wind
Baby Mama
Sex and the City
Sex and the City 2
Lilo & Stitch
Ratatouille
The Joy Luck Club
What to Watch: Check out the big lineup from Delta! While a lot of these "new releases" aren't new releases, the selection really taps into the ethos of what a good plane movie should be. We're looking for comfort, familiarity, groups of friends sharing a pair of magical jeans. The choice is ultimately going to come down to whatever genre you prefer. The Dark Knight is a good general pick because it's longer than you remember, but really, you can't go wrong here — unless you decide not to watch Sisterhood of the Traveling Pants. Also worth mentioning: This is the only airline on our list that has the recent Ruth Bader Ginsburg documentary RBG — perfect for those with sky-high ideals! (Unrelated side note: Remember Rat Race? Delta does.)
American
This airline is best if you want to … roll the dice on a "I might watch that" movie.
The Lineup
A.X.L.
Alpha
Big Fish
BlacKkKlansman
The Children Act
Christopher Robin
City Heat (1984)
Crazy Rich Asians
Harold & Kumar Go to White Castle
Hooper (1978)
Inside Man
Jane Fonda in Five Acts
The Joy Luck Club
King Arthur: Legend of the Sword
Little Women (2018)
The Longest Yard (1974)
The Man Who Invented Christmas
Mile 22
Moulin Rouge
My Big Fat Greek Wedding
Need for Speed
Papillon (2017)
Predator (1987)
The Predator
Première Année (The Freshmen)
Searching
Sharky's Machine (1981)
Skate Kitchen
T2: Trainspotting
The Wife
What to Watch: In terms of new additions to the domestic headrests, American is dishing out a lot of what the other airlines are offering. The standout here is Skate Kitchen, a skater-girl indie from Crystal Moselle (The Wolfpack). Inside Man is also a bit of unique programming that will get you where you need to go. T2: Trainspotting (sadly not T2: Judgment Day) is also pretty good, and 35,000 feet is the perfect altitude for a low-stakes roll of the dice.
Alaska
This airline is best if you want to … get into the holiday spirit (well, one holiday specifically) or watch an entire franchise.
The Lineup
Avenger's: Infinity War
The Darkest Minds
The Meg
Teen Titans Go! To the Movies
Crazy Rich Asians
Die Hard
The Family Stone
National Lampoon's Christmas Vacation
Mary Poppins
The Darjeeling Limited
Garden State
Mr. & Mrs. Smith
Yes Man
P.S. I Love You
Hairspray
Hall Pass
Harry Potter 1-8
He's Just Not That Into You
Horrible Bosses 1 & 2
Monster-in-Law
My Sister's Keeper
Pleasantville
Rush Hour 1-3
Sex and the City 1 & 2
Starsky & Hutch
Summer Catch
The Bodyguard
The Bridges of Madison County
The Bucket List
The Dark Knight
The Dark Knight Rises
The Departed
The Fugitive
The Golden Compass
The Green Mile
The Incredible Burt Wonderstone
The Lake House
The Sisterhood of the Traveling Pants 1 & 2
The Time Traveler's Wife
The Wedding Singer
The Witches of Eastwick
This Is Where I Leave You
Tin Cup
Two Weeks Notice
Unknown
You've Got Mail
The Truth About Cats & Dogs
Empire Record
My Cousin Vinny
Office Space
There's Something About Mary
Austin Powers: International Man of Mystery
City Slickers
Curly Sue
Driving Miss Daisy
Dumb and Dumber
Free Willy
Grumpy Old Men
Little Giants
Space Jam
The Mask
The Matrix 1-3
Chain Reaction
Austin Powers 2 & 3
Bride Wars
The Banger Sisters
Dude, Where's My Car?
In Her Shoes
Life or Something Like It
Marley & Me
Night at the Museum 1 & 2
What to Watch: For its December additions, Alaska leans heavily into Yuletide fare. Hopefully, you either celebrate Christmas or enjoy the culture constructed around it! That being the case, what you ultimately decided to put on as you drift into a neck-ruining slumber will largely come down to what you grew up with. Die Hard, apart from being the ultimate "Aren't I clever!" holiday-movie pick, is infinitely rewatchable. The Polar Express is a relic from an era when computer-animated humans lacked the flicker of a soul in their pallid, dead eyes. And The Family Stone is a movie you may remember liking, but don't. Alternatively, you've got all eight Harry Potter movies on there, a perfect opportunity to revisit the Wizarding World during happier times.
JetBlue
This airline is best if you want to … avoid new movies and you enjoy a good rewatch.
The Lineup
A Christmas Story
As Good As It Gets
Beetlejuice
Caddyshack
Close Encounters of the Third Kind
Coraline
Crazy, Stupid, Love
Die Hard
Fantastic Beasts and Where to Find Them
Funny Girl
Furious 7
Garden State
Gigi
Gone Girl
Goodfellas
Harry Potter and the Sorcerer's Stone
Hocus Pocus
Home Alone 2: Lost in New York
Ice Age: Collision Course
Inception
It (2017)
Locos de Amor 2 (Crazy in Love 2)
Love Actually
Mary Poppins
Mi Obra Maestra (My Masterpiece)
Minority Report
Miracle on 34th Street (1947)
Monsters Inc.
My Cousin Vinny
National Lampoon's Christmas Vacation
Ocean's 8
Office Space
Papillon (2017)
Pick of the Litter
Polar Express
Psycho (1960)
Re Loca (Super Crazy)
Scrooged
Shaun of the Dead
Skyfall
Tag
Teen Titans Go! To the Movies
The Addams Family
The Darkest Minds
The Departed
The Fault in Our Stars
The Goonies
The Holiday
The King's Speech
The Meg
The Predator
The Shining
The Sixth Sense
Willy Wonka and the Chocolate Factory
What to Watch: There's a good chance you've seen most, if not all, of these movies, but therein lies the strength of JetBlue's lineup. It's a mix of oldish and newish quality films that will lull you with a sense of familiarity. And isn't that what we really want here? But if we're picking highlights, there's never a bad time to turn on My Cousin Vinny, and if you've got a good fast-forward button, the Emma Stone–Ryan Gosling segments of Crazy, Stupid, Love are still good.
Spirit
This airline is best if you want to … question whether spending more money would have been worth it.
The Lineup
Twiddling Thumbs
Neighbor's iPad: Somebody Prepared
Old Photos on Your Phone
What Hath Capitalism Wrought?
A book
What to Watch: The budget airline's December entertainment offerings are the same as its usual fare: nothing at all. But it does give you an opportunity to catch up on any existential dread you may have missed out on. Happy travels!