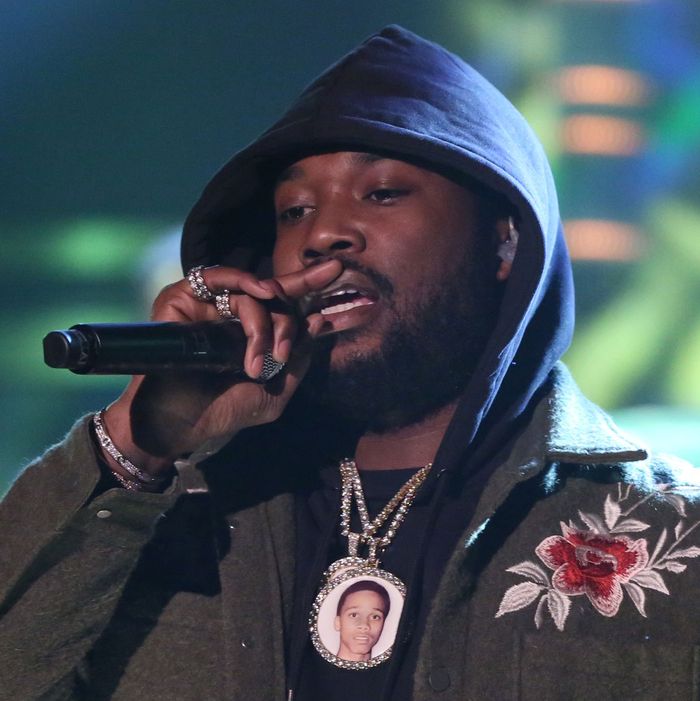 Photo: Andrew Lipovsky/NBC/NBCU Photo Bank via Getty Images
Every week, Vulture runs through the best, most interesting, and sometimes most confusing rap releases. In this installment: Meek Mill's triumphant return, and his new place in rap's hierarchy, Lil Baby continues to impress, Ski Mask the Slump God's vocal gymnastics, and DaBoii breaks out from SOB x RBE.
Meek Mill, Championships
Meek Mill's career is beginning to mirror Jay-Z's. There was no critical-darling album like Reasonable Doubt at the front end, but Meek, like Jay, graduated from earnest, ambitious amateur to become a rapper's rapper who was both fluent in and a driver of popular styles, before finally vaulting — like Jay did — into a world of prestige albums that are Serious and Expensive and Important. No one is Jay, of course, but if you doubt Meek's centrality to rap this decade — a centrality that was under-covered by critics until the Drake beef — go to a high school and ask teenage rap fans about him. (Both ended up in the Times opinion pages).
Championships is Meek's first proper album since he was freed from prison earlier this year. It's not the unqualified success of his prior LP, Wins & Losses, but seems to be aware of the ever-increasing gravity that Meek's mere presence on a song can carry.
It suffers in the early going from uneven pacing and from a frustrating reliance on overfamiliar samples — flipping "In the Air Tonight," or "What's Beef," or "Dead Presidents" might be forgivable, but not all three in the first six songs. And there are a couple of wholesale misfires. Meek has become a very shrewd vocalist, finding dynamics and natural arcs in a voice that could seem, from a brief snippet, to always be turned up to ten, and that ability —combined with the raw sound of his voice and the urgency with which he uses it — means he's usually magnetic over nearly any beat and on nearly any subject. But on "Almost Slipped" and "100 Summers," he turns in flat, anonymous impressions of Future and his children, respectively.
Fortunately, there are still a couple of remarkable moments. The title track is the sort of blistering social commentary that allows both speaker and listener to covet Wraiths without losing sight of Feds and early deaths; "Trauma" is self-explanatory. Meek can carry an album because, at his best, he has no trouble skipping back and forth between furious urgency and an emotional clarity that is nearly childlike in its optimism.
Most of the early headlines from Championships come from "What's Free," the "What's Beef" flip that includes Rick Ross and Jay-Z. The latter does his current halting thing where he zigs to prison reform and zags to unfathomably tedious inside-corporate-baseball; the former drops a very regrettable "faggots" in his last bar, but also says "Mona Lisa to me ain't nothing but a bitch," which is the sort of Ross line that doesn't really mean anything but seems to imply that he's wildly rich and has fun giving older, whiter rich men their second coronaries. But it's really Meek who serves as the song's emotional center, nodding to the fans who demonstrated in his support while he was locked up, and to Drake, who appears later on the album. Championships is a transitional record, but it's a relief to have Meek back at all.
DaBoii, Neva Lookin Back
From the moment SOB x RBE emerged from Vallejo, Yhung T.O. was tagged as the group's inevitable breakout star. (This is not a perfect 1:1 analogy, but for a rough approximation of his musical role in the crew, think Quavo's coronation as the best part of Migos.) But to my ears, DaBoii was always SOB's charging, careening MVP. Neva Lookin Back, his second solo effort in two years, is by far his strongest showing to date — solo or otherwise. It sounds, like much of SOB's best material, as if it was made in the Reagan years, but on a spaceship. See specifically the serrated, pained "Tragedy." The truth is that the textures of the SOB members' voices made the group the ideal format, but if there's going to be one album artist who strikes out on his own, let it be DaBoii.
Ski Mask the Slump God, Stokeley
When XXXTentacion was breaking early last year, the Washington Post music critic Chris Richards wrote an especially compelling piece that wasn't about the economics or broader narratives that define SoundCloud rap, but rather about a very specific musical element of the young subgenre: its abrasive, hot-blooded use of vocal distortion. While X moved on to experiment with a seemingly endless palette of sounds, some of his peers doubled down on his initial approach. His childhood friend, Ski Mask the Slump God, uses his debut album, Stokeley, to explore a few different vocal styles, but it's at its most effective when it verges on a screamed threat. Ski Mask is a rather ordinary writer, but on the most minimal songs here — "Adults Swim," "Foot Fungus," "La La" — are intriguing for the pure athleticism of the rapping.
Lil Baby, Street Gossip
A label named Quality Control is really playing with fire when it insists on sticking with a saturation model. Lil Baby is a derivative artist whose music is, at least half the time, so brimming with personality that it doesn't exactly erase or surpass its influence so much as it makes its influences seem like wet blankets. Street Gossip is neither a creative leap forward nor a the skeleton key that will unlock the couch on Kimmel, but it's manageable and smartly made. For as charismatic as he is — his verses practically grin through the speakers — Baby is a surprisingly unshowy writer and performer, and some of this tape's subtlest moments are its most memorable, like when he tacks the thought "I'm from poverty" on to the end of a tangent on "Time."