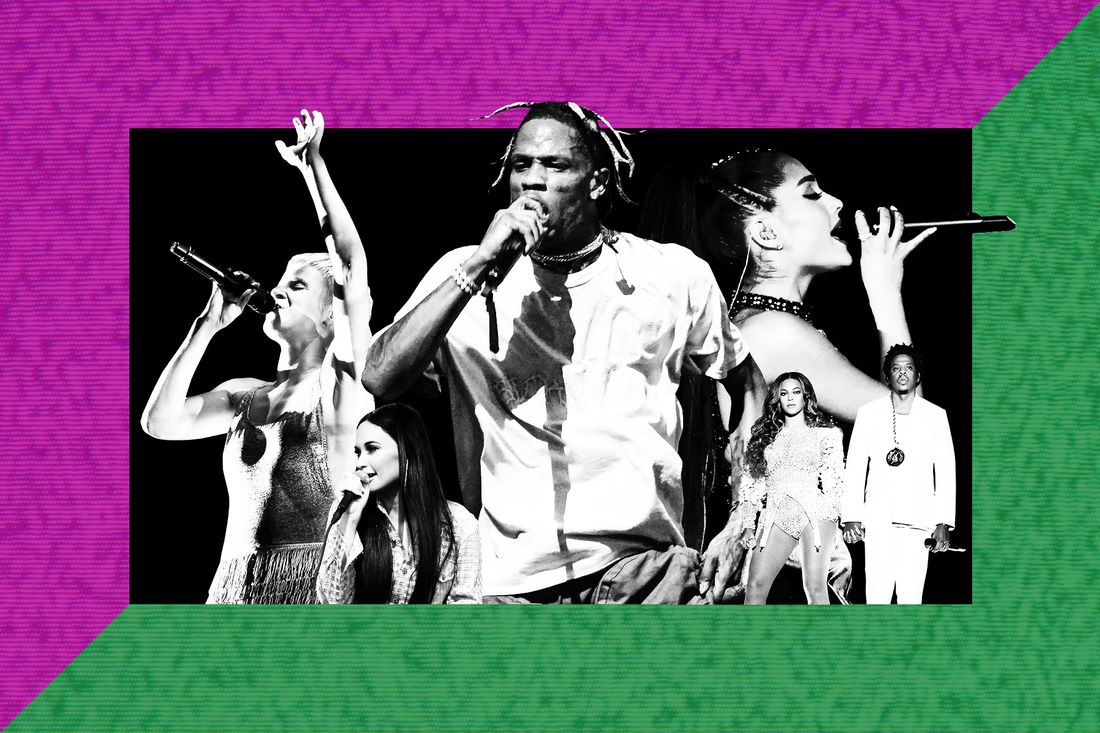 Photo: Photo-illustration: Maya Robinson/Vulture and Photos by Getty Images
There is no denying that we currently have more music immediately available to us than at any other point in the history of recorded music. This is a gift and a curse: There's so much good stuff out there, but there's also just so much stuff. As such, top-ten lists like this serve a dual purpose. On one hand, these are ten songs that altered the course of popular music as we understand it, and the hope here is to emphasize that fact. On the other hand, these are also just very good songs, even devoid of the context of where they sit in the 2018 musical canon. These are either the very best songs of the year, or ten of many very best songs of the year, but they're here because they are undeniable jams, or they said something about who we are or the world we live in. In a couple cases, they just held up really well.
10. The Carters, "Apeshit"
In Beyoncé and Jay-Z's world, black opulence isn't a luxury but the standard. "Apeshit," a "Niggas in Paris" for 2018 where Bey out-raps both members of the original Throne, outlines its master plan for dismantling the racial class divide brazenly: trade debt for equity, calculate your worth then triple it, and flex accordingly. Who knew you could have the run of the Louvre until Bey and Hov unlocked the doors? "Apeshit" functions as a petri dish of aspirational candy for a generation to devour, a gold mine of Migos-brand gaudiness and one-percenter reverie that remains in awe of its own excess ("I can't believe we made it," the Carters repeat). That Bey can reduce her own rap legend of a husband into background hype man for her own dizzying bars ("She went crazy!" he ad-libs) only further serves their point: The time for abiding by limitations is over. —Dee Lockett
9. Travis Scott ft. Drake, "Sicko Mode"
No one was surprised that "Sicko Mode" was good. It's Drake and Travis Scott in top form: Drake manages to make reminiscing about how he used to take the bus to dances in high school, but now takes Xanax to go to sleep on the plane, sound like the biggest come-up in the world, instead of just, like, some adult shit that happens because everyone — including Drake — is anxious and tired all the time. But "Sicko Mode" ultimately shines as the centerpiece of Astroworld, an album that is credited to Travis Scott alone, but is actually more of an ensemble piece that welds blown-out bass to blurry organ runs and sucks the entire history of hip-hop into a psychedelic universe grounded by absolutely nothing at all. "Sicko Mode" changes up so much that it sounds like it's a million minutes long, and that isn't a bad thing. —Sam Hockley-Smith
8. The 1975, "Love It If We Made It"
If every generation needs its clarion call to address the times, Matty Healy won't give it to this one the way history's used to. The 1975's "Love It If We Made It" takes stock of all that is wrong with the world in the language that speaks loudest to this Zeitgeist: by shouting, sans context, references to the headlines of the last two years. From Lil Peep's death, to the Syrian refugee crisis, to quoting Donald Trump praising Kanye West, and also the time Trump said "moved on her like a bitch," our societal grievances are all presented in one giant clusterfuck of a scrawl. But what to do about it? This is not a diagnosis with an antidote. Healy proposes no action, just sentiment: hope that we'll make it out of this alive. It's all there's really left to say. —D.L.
7. Pusha T, "If You Know You Know"
A great bane of social media is that too many people using it know too little about the history of what they're speaking on. Case in point: Pusha T, whom the uninitiated thought to be acting out of pocket when he dropped the bomb about Drake's secret son in his juicy diss track over the summer. How did this guy, a supposed relic of the Clipse days to anyone under the age of, say, 25, acquire that kind of intel? "If You Know You Know" won't answer that (though he did eventually reveal his sources) because Push is the rap type whose old-school ethos trades in quiet, calculated movements, the code of the streets he used to run. If you know Push's story, then you'll know how he's always finessed the game to put himself in the position of those in the know. If you don't, you'll just have to take his word for it. —D.L.
6. Kacey Musgraves, "Slow Burn"
There's a specific quality to a Kacey Musgraves turn of phrase that she's perfected over the years: featherweight verses heavy with emotion. "Slow Burn" comes at you like a long exhale after a lifetime of breathing in hot air. "Good in a glass, good on green / good when you're putting your hands all over me" are maybe all things you're not supposed to say when you're a woman in country music, but Musgraves has never cared much for tradition and gatekeeping. If she wants to take the edge off life a bit — and shed some of the self-seriousness of this genre while she's at it — by sparking up a blunt paired with a stiff glass of whiskey, she will. Her life, her career, on her terms. Musgraves knows exactly who she is and what kind of artist she wants to be and, amazingly, even so, will keep pace with everyone else while they're still catching up to where she's at: "Taking my time, let the world turn." —D.L.
5. Robyn, "Human Being"
You know those videos of those Boston Dynamics robots that all for some reason look like large dogs and move so fluidly that for a brief second you can envision a very near future (maybe tomorrow?) where they take over and suddenly America is run by a robot with four legs and no discernible face? "Human Being," a song about a probably not-so-distant-future (also maybe tomorrow?) where AI is the majority, and run-of-the-mill humans with hearts and blood, etc. are the minorities, is not about those robots, but if it were then it would probably lose some of its emotional resonance, of which there is quite a bit. To wit: If you listen to this song without knowing that Robyn wrote it after reading Sapiens: A Brief History of Humankind and began to compare that book's description of humans' relationship to animals to a hypothetical relationship we might have with AI, you'll hear it as an affecting piece about emotional disconnect and what happens when we forget about the interior histories of those around us. In other words, it's about the future, but it's also about right now. —S.H-S.
4. Mitski, "Nobody"
Written while Mitski was on a very long tour and was stranded in Malaysia over the holidays due to the evils of capitalism (very expensive plane tickets), and a misguided idea that because she'd spent a lot of time there as a kid she'd feel at home as an adult, "Nobody" is about being completely alone. It is also about time-zone-based alienation and the primal desire to just have someone around when you're at your loneliest. The disco backbeat prevents it from veering into mopey territory, and also helps make a case for the song as an instant classic. You know the kind: It's new, but may as well have been a radio staple for the last 40 years. —S.H-S.
3. Juice WRLD, "Lucid Dreams"
If Juice WRLD never makes another great song, he will always have "Lucid Dreams," which crashes the best (and a couple of the worst) parts of the Ghosts of Emo's Past with a fluid, singsong flow that sounds like a run-on sentence. Yes, this song is built on a sample of Sting's "Shape of my Heart," but the appeal of the song is all Juice WRLD. It's not what he's saying — which is at times rote ("You were my everything / Thoughts of a wedding ring." Come on, man!) and at other times heartbreaking ("I take prescriptions to make me feel okay." That vocal lilt!) Basically, it's not perfect, but it is still great. —S.H-S.
2. Lady Gaga and Bradley Cooper, "Shallow"
We don't need to wonder about when Bradley Cooper first knew he had a hit on his hands, because in interviews he talks about A Star Is Born like it was the movie he was destined to make, and we were all destined to love with the same furor the entire population of the year 1997 had for Titanic. Still, it's surprising that the songs were, well, so good. "Shallow" is the song that everyone you know loves: your old college roommate, that snobby dude who cloaks his love of big hits in karaoke performances he pretends are ironic, your mom, her sister, your dad, and probably your small child, pet, fish, or other living thing whose thoughts are not easily communicable, too. "Shallow" is undeniably the hit of the movie, and a major song in general, and it's due to the interplay between Lady Gaga and Cooper. Gaga in particular soars (is there a more triumphant moment than around 2:33 into the track?), but it's a testament to the power of this song that even the fake crowd noise sounds legit. Cooper may have manufactured the triumphant moment as a plot point in his movie, but it has officially crossed over into reality. —S.H-S.
1. Ariana Grande, "Thank U, Next"
Following a year that culturally conditioned people to feed off of spite and vengeance, Ariana Grande decided for the public good to end it with an alternative: maturity. The past year and a half for Grande has been defined by more tragedy than most will encounter in a lifetime, from the Manchester massacre to the sudden death of her ex-boyfriend Mac Miller to the fast rise and faster fall of her relationship with former fiancé Pete Davidson. She'd already released one album this year, Sweetener, trying to rebound from the bombing, but then every other shoe that could drop did so with a seismic thud. Musicians create to pull through, so Ari returned to the studio to make a whole other forthcoming album, Thank U, Next. Its title track is the anthem 2018 deserves: Rather than zap the pain from memory, Grande assesses the damage — specifically, her history with love — and rebuilds from the ground up, rekindling her most crucial relationship: Ariana and Ariana. Though she gives her exes their flowers, do not mistake this for a song about men; it's dedicated to the woman at the eye of their storm who survived. So 2018 will go down as the year that Ariana Grande entered pop immortality. What can she possibly do next? —D.L.