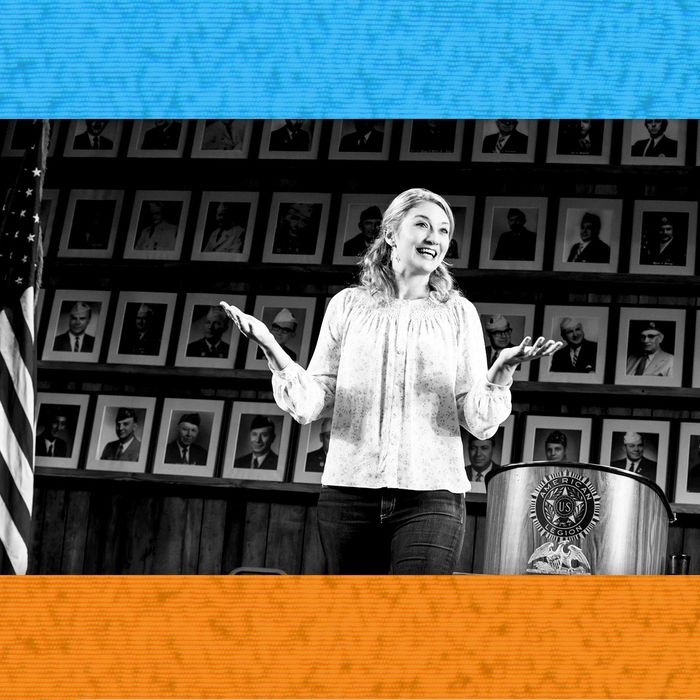 Heidi Schreck in
What the Constitution Means to Me
.
Photo-Illustration: Maya Robinson/Vulture and Photo by Joan Marcus
The year 2018 was full of spectacle, from boy wizards to big apes. Icemen came and went, lots of high schoolers — some meaner than others — danced their hearts out, and plays, unsurprisingly if not always inspiringly, had issues. It's always hard for me to pull a list together: It feels like comparing apples and astronauts, and it inevitably leaves out plenty of meaningful nights at the theater. When I look at what knocked me sideways in the past 12 months, I see a collection of plays that looks disparate at first glance, but all of them are shouting, in their own languages and with their own urgency, from their very cores. I see visionary directors cracking open old, sometimes even ancient, stories, and brave artists working in multiple capacities on their own creations. I see humor and experimentation and honesty, plays that weren't afraid to seek terror and plays that weren't ashamed to seek joy. I see nights where plays followed me out of the theater, sat with me on the subway or hitched a ride on my bike, and filled my little apartment with exhilarated conversation. By my count, I've seen 142 shows in 2018, with a few still to go. Here are ten that stuck (plus three to grow on).
Never before have I been as moved in performance by Chekhov's story of self-pity and lost potential in the deadening Russian countryside as I was in this giddy mash-up, where director Eric Tucker used Shakespeare's Romeo and Juliet like a heady, youthful lever to pry open Uncle Vanya's glorious eccentricities and its real heartbreak. Susannah Millonzi and Zuzanna Szadkowski were magnificent as Vanya's women: Their take on Sonya and Yelena's weird, desperate late-night bonding session got right to the heart of Chekhov's hard, strange, brilliantly aching play.
I didn't know how much I needed to watch a chocolate-cream-pie wrestling match between a vainglorious mortal and a high-heeled deity, or how much sheer, childlike joy I'd get from bouncing on the edge of my seat while an ensemble of frolicking, half-clothed actors chased an enormous glow-in-the-dark balloon around the theater. Nikos Karathanos's production of the almost 2,500-year-old comedy by Aristophanes — all the way from the Onassis Cultural Centre in Athens — was a trippy, shameless delight, a sweaty, celebratory party with a satirical wink at our corrupted human pursuit of happiness inside the merriment. I left feeling genuinely lightheaded, which seems just about right for a visit to cloud-cuckoo-land.
Full disclosure: This was my first live Angels, so I came to the theater without comparisons and left overwhelmed by the continuing vitality of Tony Kushner's sprawling, game-changing opus. Marianne Elliott's spare, muscular staging and a score of fine performances — from Nathan Stewart-Jarrett's smooth, take-no-shit Belize and the many scene-stealing incarnations of Susan Brown, to the Tony-winning turns by Andrew Garfield as Prior Walter and Nathan Lane as Roy Cohn — cut to the heart of the thunderous, humane epic. And that fractured, feral Angel was a stroke of brilliance. More life, indeed!
Jackie Sibblies Drury sent an electrified wrecking ball through the fourth wall with her vehement, searching play Fairview. The performance I attended led to real-time (and really emotional) commentary from more than one audience member, and I left the theater physically shaken, contemplating thorny questions of spectatorship, identity, and power. Drury constructed a familiar box — inside it, the seemingly sitcom-ish story of a black family gathering for a birthday — and then shattered it, and then picked up the pieces and held them up to us, forcing us to reckon with the meaning and responsibility of being a witness.
Clare Barron's vibrant, vulnerable barbaric yawp of a play told the story of a preteen dance squad from Middle America gunning for national championships, but its real story took place across time, as Barron explored the complex relationship between each girl and the woman she would become. A defiant, thrillingly messy ode to female ambition — and an honestly wrenching examination of how long our teenage baggage stays with us, how much it defines us — Dance Nation aimed its brave, unconventional high kick straight at the gut.
Enda Walsh's dark fable about the imagination in confinement found the playwright viscerally investigating his favorite Beckettian themes: people trapped in musty purgatories, passing the time with wild and whirling words. Anchored by sharp, gut-wrenching performances (especially the combustible Tadhg Murphy and the elegant, ominous Olwen Fouéré), Ballyturk asked deep, self-eviscerating questions about the courage (or cowardice) and the ultimate utility (or not) of our human impulse to tell stories.
4. Yerma
Billie Piper stalked and seethed like a caged cat inside the glass box that sat in the center of the cavernous Park Avenue Armory for Simon Stone's shattering adaptation of Federico García Lorca's Yerma. The production was a magnificent Gesamtkunstwerk, bringing Piper's stark and riveting performance together with Lizzie Clachan's stunning set and Stefan Gregory's exquisite, magnified soundscape for an overall effect of high-definition, near excruciating intimacy combined with creepy digital distance. Stone masterfully unleashed the power of Lorca's original tragedy — about a woman maniacally obsessed with bearing a child — for an age of screens, followers, and screaming into the online void.
Three cheers for Patrick Marber's whip-smart, brilliantly bonkers, sneakily poignant revival of Tom Stoppard's 1974 masterpiece of intellectual madcappery, Travesties. The historical-political-literary-farce-slash-senile-memory-play (about artists and revolutionaries in Zurich during WWI, and the stuffy, starry-eyed British factotum who knew them when) is often considered Stoppard at his most exhibitionist, but I say, when you got it, flaunt it. Marber's acrobatic cast — especially the splendid Tom Hollander as the story's unsteady center — knew how to keep the play's dozens of glittering balls in the air, and the results were a vivid, celebratory, brain-buzzing delight.
The thirsty internet has dubbed it "Sexy Oklahoma!" but to me, Daniel Fish's menacing excavation of the Rodgers and Hammerstein classic is more like Scary Oklahoma! — or really, the Oklahoma! that was there all along. Staged in a broad, brightly lit alley rigged out for a barn dance — with real chili in the Crock-Pots and a fleet of guns mounted on the wall — Fish's production burrows right to the troubled American core of this sunny musical, revealing its shadows without sacrificing its humor or its melodic beauty. Jud is an incel, Curly's a charming, toxic indie bro, and Laurie — and the young nation — might not have a third option. The bright golden haze on the meadow has never looked so ominous, or so theatrically exhilarating.
Part of me — the part that believes fervently in the specific, inimitable capabilities of theater — is resisting saying this, but Heidi Schreck's intimate, candid, and frankly revelatory act of storytelling needs to be made into a Netflix special like, yesterday. The more people who end up hearing her mischievously dissect our harrowing political past and present through the lens of her teenage relationship with the nation's founding document, the better. Schreck's play begins as a memory exercise: In high school, she won all of her college money by making speeches about the Constitution in American Legion Hall rhetoric competitions, and she's going to re-create those speeches for us. Is the Constitution a patchwork quilt, or is it a sizzling, steamy crucible? What's the "penumbra" of Amendment 9? What are we to make of a document that spoke so eloquently of inalienable human rights, while also helping to institutionalize the dehumanization of hundreds of thousands? Schreck accesses the political through the deeply personal, weaving history and powerful research together with stories of her own family, her own pain, and her own hard questions in an attempt to get at the heart of where we are as a nation and how we got here. She's generous, inquisitive, unsparing, and seriously funny, and her show is a work of real intelligence and courage.
Honorable Mentions
You know it's not looking great for America when my runners-up include two cautionary tales about Hitler and one more play about dancing cowboys. But here's a shout-out to three more pieces that stuck with me long after the lights came up:
• Nature Theater of Oklahoma's surreal, riotous, supersmart satire Pursuit of Happiness — a collaboration with the Slovenian dance company EnKnapGroup that visited the Public's Under the Radar Festival with its off-kilter Western world of missing teeth and barroom brawls, along with its sly commentary on artistic opportunism.
• Ivo van Hove's methodically brutal adaptation of Luchino Visconti's 1969 film The Damned, which filled the Park Avenue Armory with tar and feathers and machine-gun fire in an examination of the rise of Nazism that felt nauseatingly close to home.
• John Doyle's sharp, confidently simple slice of Brechtian wit and wisdom, The Resistible Rise of Arturo Ui, featuring a blistering central performance by Raúl Esparza in a poetical gangster allegory that's all fun and games, until it's not.