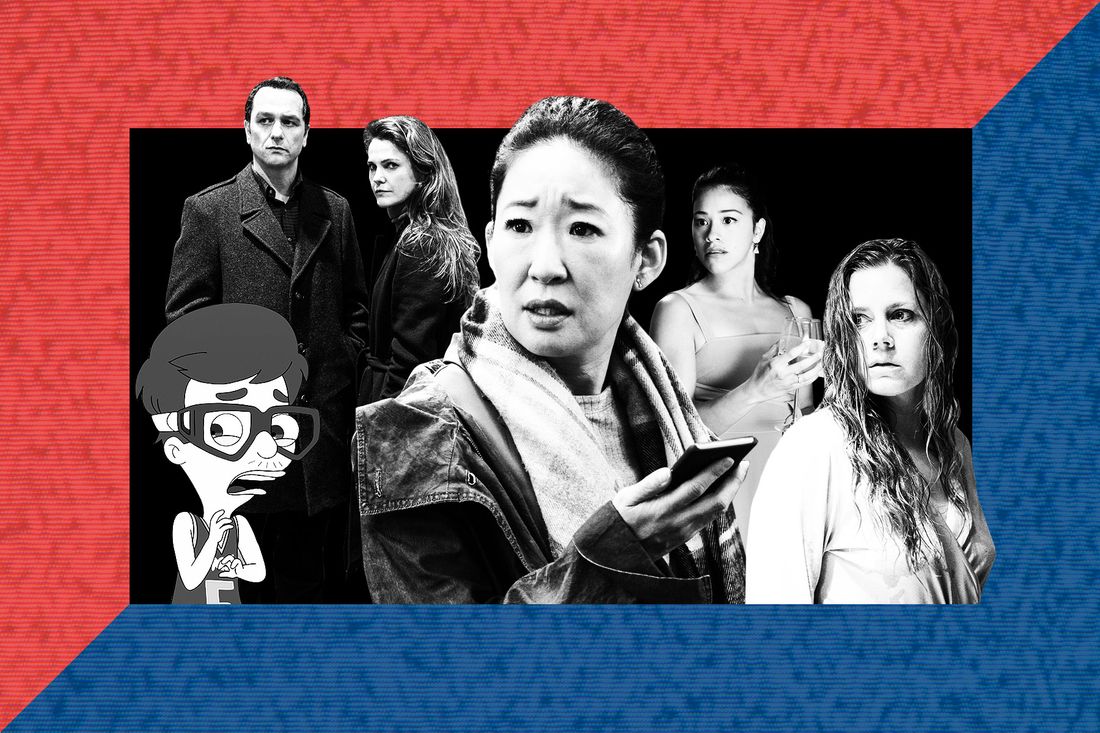 Photo-Illustration: Maya Robinson/Vulture and Photos by Netflix, AMC, BBC America, CW and HBO
This list of the year's best TV shows is an eclectic mix of genres, tones, and moods. It includes serious dramas about Russian spies, animated comedies about hormonal preteens, and more than one entry that straddles the line between the humorous and the sobering. What they all have in common is that each of these terrific shows provided an absorbing escape from reality in another year when those retreats seemed even more valuable and necessary than usual.
This animated masterpiece — yeah, you heard me! — could easily have been a series of boner jokes. Sometimes it is a series of boner jokes. But it's also a hilarious, inventive, empathetic portrait of puberty that not only gives equal time to the concerns of boys and of girls, but also low-key suggests that perhaps we'd all be better off if members of both genders talked more openly about their sexualities with each other. Big Mouth also features some of the best voice work in the business. (Female lust and rage is now synonymous with the sound of Maya Rudolph's growly Female Hormone Monster.) This was also the only series I watched this year that featured a talking diaphragm with a smoker's cough, and dammit, that's enough by itself to earn a place on a top ten list.
The Breaking Bad prequel keeps getting better and better, and not just because it's inching closer to the events of the show that inspired it. Against considerable odds, it has made us just as invested in Jimmy's (Bob Odenkirk) fall from grace and the increasingly dicey dealings of Mike Ehrmantraut (Jonathan Banks) as we are in the woman who (mostly) supports Jimmy, the complex, loyal Kim Wexler (Rhea Seehorn), owner of TV's finest ponytail. This show is written and directed with a great precision that never comes across as too showy. It's a slower burn than Breaking Bad, but a consistently, deeply satisfying one.
You think you know what Forever is, then the end of the first episode changes your mind. Then the end of the second changes it again. By the third episode, it's a whole different series entirely, one that teaches us to embrace the unexpected while its characters attempt to learn that same lesson. As a longtime married couple, Fred Armisen and Maya Rudolph wear each other's company like a pair of old, fuzzy socks. Thanks to the inventive world-building by series creators Alan Yang and Matt Hubbard, Forever serves as a both a funny, Charlie Kaufman-esque piece of work and a television series that raises philosophical and spiritual questions. It also allows Rudolph to do a spirited cover of "This Is How We Do It," and I'll just stop myself right there since that's reason enough to watch.
From minute one, when the psychopathic assassin Villanelle knocks a little girl's ice cream into her lap simply because she can, Killing Eve establishes its sense of propulsive daring. Things only escalates from there. It's delicious, instantly addictive stuff that, in the hands of creator Phoebe Waller-Bridge and its two fantastic stars, Sandra Oh and Jodie Comer, infuses the cat-and-mouse thriller with so much feminine energy that the BBC America series feels like something fresh and radical. Just try turning it off after one episode. I dare you.
This underappreciated California dramedy ended its run with a lovely, clever final season that flashed forward to a not-so-distant future filled with sneak previews of new technology. But while the Hulu original series — especially early on — explored how the digital sphere affects the way we relate to one another, it was ultimately a story about human relationships, particularly the dysfunctional but very tight bond between siblings Alex (Tommy Dewey) and Valerie (Michaela Watkins). In this last season, we see them at a crossroads in their lives, each poised to go in a direction that may take them away from the other. Dewey and Watkins beautifully capture how hard it is for these two to let go of the security blanket from childhood they've never been able to give up: each other.
Atlanta's "Robbin' Season" was a series of thematically interconnected, ambitious, and often wonderfully odd episodes that starkly exposed the obstacles that stand in the way of black men attempting to achieve success in America. Its highlight was "Teddy Perkins," the oddest episode of comedy that aired in 2018 and one that buried star and series creator Donald Glover under a pound of Michael Jackson-esque prosthetics, all in service of illustrating what a number fame, ambition, and screwed-up parenting can do on a person. On first viewing, this season of Atlanta played almost like an anthology series, with each installment feeling like a standalone story. By the end, it was clear that as a collective whole, Glover and co. had created a piece of work that spoke to the choices African-American men have to make, from the barbers they use to the career paths they take, and how unfairly limited their lives can too often be.
There are plenty of anthropomorphic animal-based animated series that address gender inequality with intelligence, laser-precision comedy, and heartbreaking candor — actually, no, there aren't. BoJack Horseman, especially in season five, is the only blessed one, and it continues to be so fantastic season after season that it qualifies as a miracle for which we should be continually thankful. The most recent batch of episodes reflected the #MeToo undercurrents running through the entertainment industry with dark humor, but subtly moved the focus away from its damaged horseman protagonist to the women who have supported him. It dealt with grief and addiction and workplace abuse, and was also packed with hilarious visual jokes and one-liners. BoJack Horseman is, primarily, funny. But its visual richness and profundity make it demand repeat viewings.
In its fourth season, Jennie Snyder Urman's underappreciated CW series took its multitasking abilities to another level, going even more meta with its soap-opera satire while poignantly dealing with a breast cancer diagnosis, a timely attempt by Jane's abuela (Ivonne Coll) to earn her American citizenship, and a truly surprising, perfectly telenovela-esque final twist. Jane dances between tones more deftly than any other show on television. It can be sprightly and silly in one moment, genuinely touching the next, and in yet another, wry and smartly aware of itself. As magically real and romantic as the series can be, it also succeeds in showing us characters living in real circumstances, ones that sometimes require working the job you need instead of the one you want, taking the bus to get to that job, and figuring out how to get your child into a better school district when you don't have the means to move. At the center of it all, Gina Rodriguez plays a heroine who embodies the best qualities of the show, most notably authenticity and a boundless, energetic optimism.
Sharp Objects was not just a show you watched. It was a weekly agreement to allow HBO to hypnotize you for an hour. The adaptation of the Gillian Flynn novel about Camille Preaker, an alcoholic journalist (played by a wrenching Amy Adams) intent on exhuming the truth about a pair of murders as well as her relationship with her controlling mother (Patricia Clarkson, also terrific), stayed true to the spine of its source material. But as directed by Jean-Marc Vallée, it wound its way in and out of Camille's subconscious, marrying imagery from her childhood to her hazy present in a way that gave the viewer a melancholy buzz. This limited series also featured some of the best, earworm-y use of music this year. "In the Evening" by Led Zeppelin will never sound the same again.
It is rare to see a superb TV drama pull off everything you could have hoped for and more in its final season. But that's exactly what the sixth season of The Americans did, unspooling a series of riveting final episodes that delivered genuine, moving surprises. As they had since the beginning, Keri Russell and Matthew Rhys delivered superb, incredibly layered performances as compromised commies hiding in the suburbs, and the writers built a sense of tension and dread that implied with each passing episode that the finale would be something epic and heartbreaking. And it was, in that beautifully understated, Americans way. I hesitate to call anything perfect. But as a swan song of a TV series, this was damn near perfection.