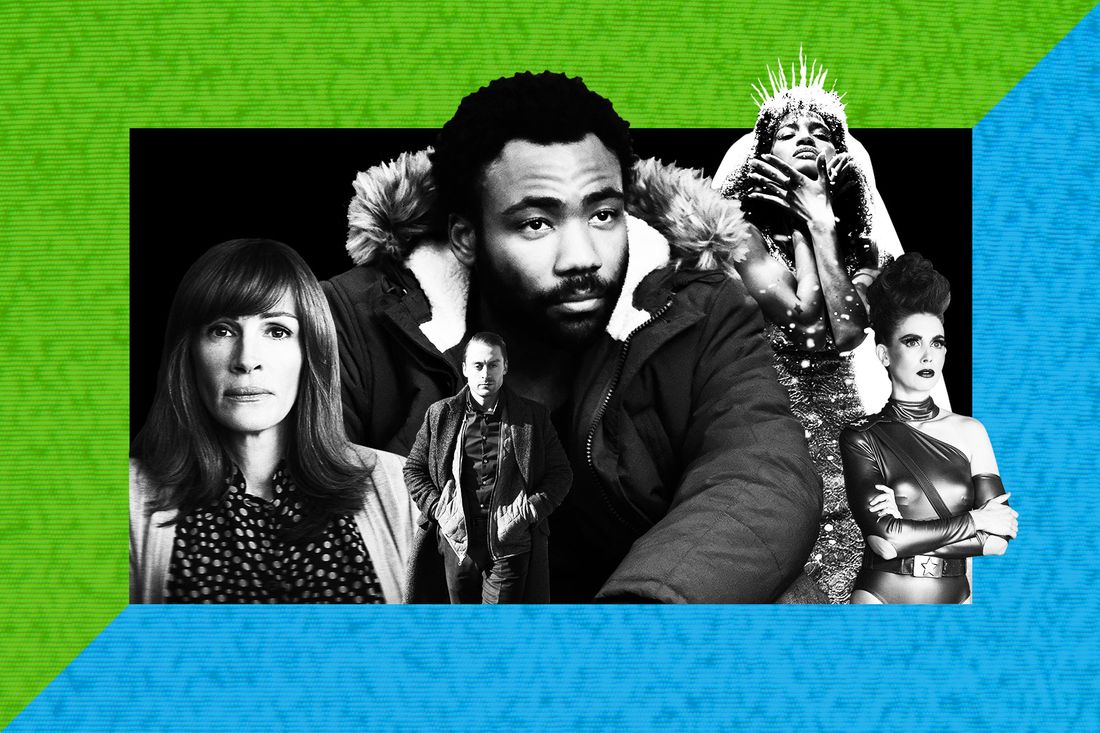 Photo-Illustration: Maya Robinson/Vulture and Photos by Amazon, HBO, FX and Netflix
This was another extraordinary year of growth and evolution for television, and it was harder than ever before to pare this list down to 10 picks. The array of styles, formats, and narrative experiments on TV in 2018 was staggering, and unfortunately the 24-hour-in-a-day rule prevented me from watching everything. For 2019, I'm considering investing in a cloning machine.
Gillian Flynn, Marti Noxon, and Jean-Marc Vallée teamed up for this southern-Missouri potboiler based on Flynn's novel about a troubled big-city reporter (Amy Adams) who returns to her hometown to investigate two murders. The entire ensemble (including Patricia Clarkson as the heroine's controlling mom) was outstanding, the sweltering atmosphere alternately sensual and oppressive—and Vallée's elliptical storytelling would've done the late, great Nicolas Roeg proud.
Jesse Armstrong's look at the Roy family, a billionaire New York clan seemingly modeled on the Murdochs, nailed a pitiless, blackly comedic tone, puncturing the delusions of the filthy rich while still making us care for the emotional casualties among them—and the victims they leave in their wake.
Kit Steinkellner's series about an extended family dealing with a sudden death eventually moved beyond its specific story line to become a meditation on different kinds of loss, large and small. Its attention to specifics of race, class, and mental illness was a surprising and welcome bonus.
7. GLOW (Netflix)
In its sophomore outing, Liz Flahive and Carly Mensch's series about the Gorgeous Ladies of Wrestling widened the show's lens, giving the full ensemble more attention and going deeper into resentment, fear, and anguish than you might expect. A pile driver of a season, with an unexpected finishing move hereby dubbed "the Las Vegas."
This live broadcast of Andrew Lloyd Webber and Tim Rice's musical about Christ's last days was one of the most electrifying TV events of the year, featuring knockout lead performances by John Legend, Sara Bareilles, and Brandon Victor Dixon and weaving the audience into the drama.
Joe Weisberg and Joel Fields's spy thriller–family drama went out with an eerie quiet that suited its often counterintuitive brilliance. The finale was one of the most surprising yet satisfying conclusions in recent memory. Stars Keri Russell, Matthew Rhys, Noah Emmerich, and Holly Taylor all topped themselves.
A tight, sleek, formally dazzling thriller about a top-secret military research project anchored to brilliant performances by Julia Roberts, Shea Whigham, and Bobby Cannavale, adapted by Eli Horowitz and Micah Bloomberg from their podcast of the same name, and directed within an inch of its 1970s-vintage, conspiracy-thriller-loving life by Mr. Robot creator Sam Esmail.
The fourth season of Peter Gould and Vince Gilligan's Breaking Bad prequel was its bleakest, following the main characters on parallel tracks that all end in momentous decisions that redefine them, yet somehow it still managed to be laugh-out-loud funny, and every subplot and scene was exquisitely shaped and paced.
Created by Ryan Murphy, Brad Falchuk, and Steven Canals, with deep contributions from such transgender storytellers as Janet Mock and Our Lady J, this 1980s period piece focuses on LGBTQ New Yorkers in a time of intolerance and promise. It succeeds as cultural anthropology about ballroom culture, a passionate quasi-musical about the devastation of AIDS, and a refreshingly old-fashioned melodrama about motherhood and family.
Donald Glover's comedy-drama became even more defiantly unique in its second outing. This batch of episodes was advertised in promotional materials as "Robbin' Season" because it's set during the run-up to Christmas, when desperate people resort to extreme measures to get money for presents. But it ended up as an anthology of short stories starring the Atlanta characters, all dealing with feelings of having something precious stolen from them—be it a marriage-bound relationship, career autonomy, or childhood itself. Every episode is superb, but "Alligator Man," "Money Bag Shawty," "Teddy Perkins," and "Woods" are all-timers.