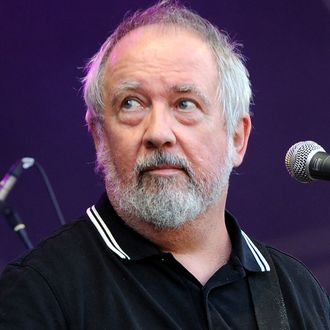 Pete Shelley.
Photo: Shirlaine Forrest/WireImage
Pete Shelley, the lead singer of influential British punk band Buzzcocks, has died at age 63. The band's management confirmed the news to the BBC, saying he died on Thursday of a suspected heart attack in Estonia where he's been living. Buzzcocks tweeted the announcement as well, calling Shelley "one of the UK's most influential and prolific songwriters." Shelley and former front man Howard Devoto formed Buzzcocks in the mid-1970s and went on to debut as openers for the Sex Pistols. They released their debut EP, Spiral Scratch, in 1977 shortly after which Devoto exited the band citing creative differences; Shelley took over as both lead singer and songwriter. The Buzzcocks released three albums, including their most-known song "Ever Fallen in Love (With Someone You Shouldn't've)," before originally breaking up in 1981.
Shelley then transitioned into a solo artist, releasing multiples albums and the song "Homosapien" that sparked controversy for speaking openly about gay sex. Shelley came out as bisexual around that time, reflecting on the moment to Pitchfork in 2009: "They [other punk artists] didn't seem to bat an eyelid, really. Because the idea of what people know, or the stereotype of a punk, hadn't been formed." Buzzcocks later reunited in 1989 and released six more albums; their latest was 2014's The Way.